Click a logo to find voices for your team.
Suggest A Voice To Feature
@GoldenKnights (official)
Jesse Granger
Reading
@DownGoesBrown
today & this stood out to me. McPhee, McCrimmon & capologist Andrew Lugerner deserve credit for constantly trying to improve despite little cap space. They find a way. To the point opposing fans are constantly wondering if the cap even exists in Vegas.
t.co/3Z1AaBGl62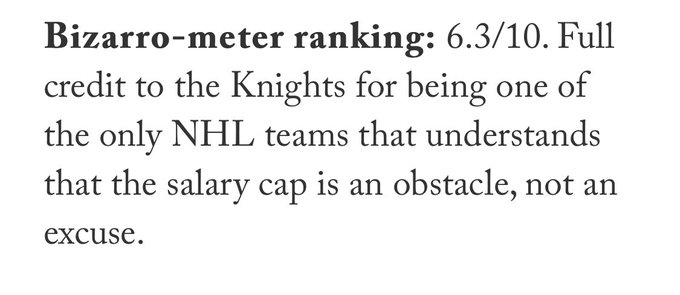 RT
@JesseGranger_
: Golden Knights players teamed up with
@helpsonv
yesterday morning to deliver Thanksgiving meals to 800 Las Vegas familie…
Golden Knights players teamed up with
@helpsonv
yesterday morning to deliver Thanksgiving meals to 800 Las Vegas families. "As players giving back to your community is the most important thing." — Mark Stone Full story with photos & video from the event-
t.co/bfiGAUK7t3
Who To Follow
Podcast Twitter Feed Blog or Website
---