Anaheim Ducks
San Diego Gulls
(AHL)
Tulsa Oilers
(ECHL)
| | |
| --- | --- |
| Projected Cap Hit | $69,719,699 |
| Projected Cap Space | $11,780,301 |
| Current Cap Space | $15,399,086 |
| LTIR Pool | $0 |
| Roster | 22/23 |
| Contracts | 47/50 |
Transactions
| | |
| --- | --- |
| John Gibson | Gibson will face the Maple Leafs at home Sunday, Mark Masters of TSN.ca reports. | Nov 28 |
| Benoit-Olivier Groulx | Groulx was promoted from AHL San Diego on Sunday. | Nov 28 |
| Vinni Lettieri | Lettieri was reassigned to AHL San Diego on Saturday, Elliott Teaford of The Orange County Register reports. | Nov 27 |
| Benoit-Olivier Groulx | Groulx was assigned to AHL San Diego on Saturday, Elliott Teaford of The Orange County Register reports. | Nov 27 |
| Jakob Silfverberg | Silfverberg was credited with an assist and three shots on goal in Friday's 4-0 win over the Senators. | Nov 26 |
No games currently scheduled
Line Combinations
Updated: Nov 28 (4:35pm)
Line 1 $10,275,000
Pairing 1 $6,130,556
Line 2 $6,414,444
Pairing 2 $10,600,000
Line 3 $6,998,250
Pairing 3 $4,709,166
Line 4 $3,250,000
Goalies $7,350,000
Injury Report
Expected Return Sun Jan 2, 2022

Max Comtois - IR - Hand

Surgery

Fri Nov 19, 2021

Maxime Comtois | Comtois had surgery on his hand Thursday and is expected to miss the next six weeks, John Hoven of SiriusXM (NHL) Network Radio reports.

---

Tue Nov 16, 2021

Maxime Comtois | Comtois (upper body) won't play Tuesday versus the Capitals.

---

Sun Nov 14, 2021

Maxime Comtois | Comtois (upper body) didn't play Sunday versus the Canucks.

Expected Return Mon Jan 31, 2022

Max Jones - IR - Pectoral

Surgery

Fri Oct 22, 2021

Max Jones

| Jones will be sidelined for 4-6 months after undergoing surgery to repair a torn pectoral muscle Wednesday.

---

Mon Oct 18, 2021

Max Jones

| Jones (upper body) left in the third period of Monday's 3-2 overtime win over the Flames, Eric Stephens of The Athletic reports.

Expected Return Thu Sep 1, 2022

Ryan Kesler - IR-LT - Hip

Surgery

Mon Sep 13, 2021

Ryan Kesler

| Kesler is not expected to return to the (NHL) after multiple hip surgeries, Adam Kimelman of (NHL).com reports.
We're back for the second! No score...yet. 📺: Bally Sports SoCal 🎙: AM 830
#FlyTogether
t.co/UwW3MLXAjq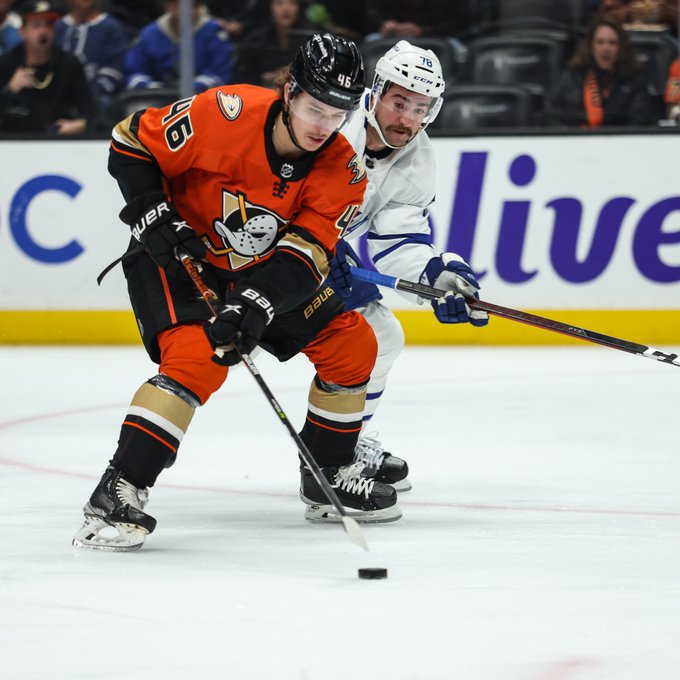 We're so proud to welcome physician, breast cancer survivor and great Ducks fan Julia Buchfuhrer (far left) to Coach Eakins' Seats tonight. Julia is joined by (L-R) fiancée Sona and friends Mary and Arlene. To submit your own nominee, visit
t.co/OW883cmeUt.
t.co/WUHL36cTqE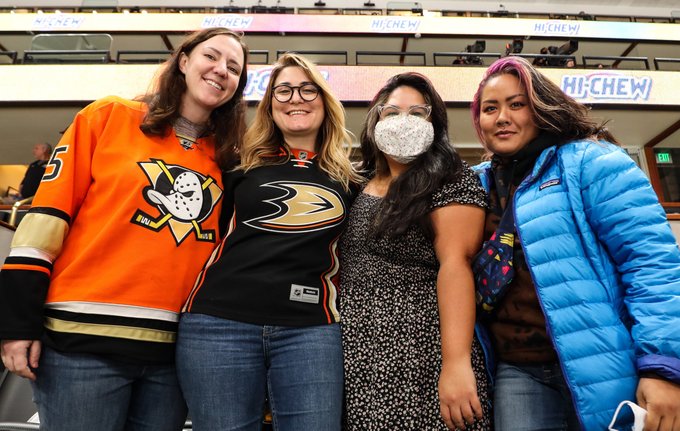 Active first period at Honda. Ducks have been good so far in the neutral zone, disrupting several Leafs rushes. Several chances created but Jack Campbell has been up to the task. As he has done this season. No goals. SOG: Anaheim, 14-10.
Not that he doesn't on other nights but it appears Trevor Zegras has come to play against these Leafs.
Entry Level Contract
Waiver Exempt
Has Arbitration Rights
Two-way contract
(13) Forwards
$37,967,694
46.6% of cap
Player
POS

Age

2021-2022
2022-2023
2023-2024
2024-2025
2025-2026
Kesler, Ryan
IR
C

IR --> 0

37

$6,875,000

M-NTC

$0

UFA

Getzlaf, Ryan
C

NHL --> 0

36

$3,000,000

NMC

$0

UFA

Backes, David
RW

NHL --> 0

37

$0

UFA

Henrique, Adam
C

NHL --> 0

31

$5,825,000

M-NTC

$5,825,000

M-NTC

$5,825,000

M-NTC

$0

UFA

Deslauriers, Nicolas
LW

NHL --> 0

30

$1,000,000

$0

UFA

Silfverberg, Jakob
RW

NHL --> 0

31

$5,250,000

M-NTC

$5,250,000

M-NTC

$5,250,000

M-NTC

$0

UFA

Carrick, Sam
C

NHL --> 0

29

$750,000

$0

UFA

Rakell, Rickard
LW

NHL --> 0

28

$3,789,444

$0

UFA

Rieder, Tobias
RW

NHL --> 0

28

$0

UFA

Grant, Derek
C

NHL --> 0

31

$1,500,000

$1,500,000

$0

UFA

Milano, Sonny
LW

NHL --> 0

25

$1,700,000

$0

RFA

$0

UFA

Terry, Troy
RW

NHL --> 0

24

$1,450,000

$1,450,000

$0

RFA

$0

UFA

Jones, Max
IR
LW

IR --> 0

23

$1,295,000

$1,295,000

$1,295,000

$0

RFA

$0

UFA

Steel, Sam
C

NHL --> 0

23

$874,125

$0

RFA

$0

UFA

Comtois, Max
IR
LW

IR --> 0

22

$2,037,500

$2,037,500

$0

RFA

Lundestrom, Isac
C

NHL --> 0

22

$874,125

$0

RFA

Groulx, Benoit-Olivier

C

MIN --> 0

21

$822,500

$822,500

$0

RFA

Zegras, Trevor

C

NHL --> 0

20

$925,000

$925,000

$0

RFA

TOTALS

$37,967,694

$19,105,000

$12,370,000
(7) Defence
$22,189,722
27.2% of cap
Player
POS

Age

2021-2022
2022-2023
2023-2024
2024-2025
2025-2026
Shattenkirk, Kevin
D

NHL --> 0

32

$3,900,000

M-NTC

$3,900,000

M-NTC

$0

UFA

Fowler, Cam
D

NHL --> 0

29

$6,500,000

M-NTC

$6,500,000

M-NTC

$6,500,000

M-NTC

$6,500,000

M-NTC

$6,500,000

M-NTC

$0

UFA


(2026)
Manson, Josh
D

NHL --> 0

30

$4,100,000

M-NTC

$0

UFA

Lindholm, Hampus
D

NHL --> 0

27

$5,205,556

$0

UFA

Mahura, Josh
D

NHL --> 0

23

$750,000

$750,000

$0

RFA

$0

UFA

Benoit, Simon

D

NHL --> 0

23

$809,166

$0

RFA

Drysdale, Jamie

D

NHL --> 0

19

$925,000

$925,000

$0

RFA

TOTALS

$22,189,722

$12,075,000

$6,500,000

$6,500,000

$6,500,000
(2) Goalies
$7,350,000
9.0% of cap
Player
POS

Age

2021-2022
2022-2023
2023-2024
2024-2025
2025-2026
Miller, Ryan
G

NHL --> 0

41

$0

UFA

Gibson, John
G

NHL --> 0

28

$6,400,000

M-NTC

$6,400,000

M-NTC

$6,400,000

M-NTC

$6,400,000

M-NTC

$6,400,000

M-NTC

$0

UFA


(2027)
Stolarz, Anthony
G

NHL --> 0

27

$950,000

$950,000

$0

UFA

TOTALS

$7,350,000

$7,350,000

$6,400,000

$6,400,000

$6,400,000
(1) Buried
$75,000
0.1% of cap
Player
POS

Age

2021-2022
2022-2023
2023-2024
2024-2025
2025-2026
Larsson, Jacob
D

MIN --> 0

24

$75,000

$0

RFA

$0

UFA

TOTALS

$75,000
(1) Buyout & Retained Salary
$2,000,000
2.5% of cap
Player
POS

Age

2021-2022
2022-2023
2023-2024
2024-2025
2025-2026
Perry, Corey
Buyout
RW

NHL --> 0

36

$2,000,000

$2,000,000

TOTALS

$2,000,000

$2,000,000
Cap Summary Projection Share Copy Link Embed Tweet It
2021-2022
2022-2023
2023-2024
2024-2025
Roster Size
22
14
5
2
Standard Player Contracts

Number of players signed to Standard Player Contracts (SPC's). Cannot exceed 50 players. Some players do not count towards this, such as 18/19 Year-Old players in Junior with less than 10 NHL Games Played in Season.

Learn More Or Ask A Question

47
25
10
2
Upper Limit

The maximum Salary Cap Hit of all players counting towards the active roster. Often referred to as "Salary Cap". This is determined in the summer and is based on the previous season's revenues, per the CBA.

Learn More Or Ask A Question

$81,500,000
$81,500,000
$81,500,000
$81,500,000
Projected Cap Hit

Anticipated Season-End Cap Hit based on the current roster, calculated by summing all Cap Hits of players currently counting towards the Salary Cap. Assumes current roster is in effect for the remainder of season.

Learn More Or Ask A Question

$69,719,699
$40,530,000
$25,270,000
$12,900,000
Projected Cap Space

Amount of Cap Space projected to be available at end of year. Calculated as Annual Salary Cap minus Projected Cap Hit.

Learn More Or Ask A Question

$11,780,301
$40,970,000
$56,230,000
$68,600,000
Current Cap Space

Amount of Annual Cap Hit that can be added to the roster without exceeding the Upper Limit (Salary Cap Maximum) based on the current roster. For teams using LTIR, Current Cap Space is the amount of annual cap hit that can be added without exceeding the Salary Cap by more than the team's LTIR Pool.

Learn More Or Ask A Question

$15,399,086
$40,970,000
$56,230,000
$68,600,000
Maximum LTIR Pool

The maximum amount of Long Term Injured Reserve space potentially available. This is the Cap Hit of player on LTIR less the Cap Space available for team at time player was on LTIR. A player can go on LTIR when they expect to miss 10 games and 24 days in the season. A player on LTIR does not come off of the salary cap, instead a team is allowed to exceed the cap by the LTIR amount.

Learn More Or Ask A Question

$0
$0
$0
$0
Current Roster Annual Cap Hit

Anticipated Cap Hit based on the current roster, calculated by summing all Cap Hits of players currently counting towards the Salary Cap + retained salary + buyouts.

Learn More Or Ask A Question

$69,582,416
$40,530,000
$25,270,000
$12,900,000
Carryover Bonus Overages

Teams can exceed the salary cap due to players receiving performance bonuses. If a team exceeds the salary cap due to performance bonuses, they carryover to the previous season and reduce the cap space a team has.

Learn More Or Ask A Question

$0
$0
$0
$0
Potential Bonuses

Performance Bonuses that players on the active roster are eligible to achieve. A team can exceed the salary cap due to performance bonuses, but they carry over to the following season.

Learn More Or Ask A Question

$3,415,000
$1,700,000
$0
$0
Retained Salary Remaining

Teams can retain salary/cap hit when they trade a player. A team can only have a maximum of 3 players that they retained salary on.

Learn More Or Ask A Question

3
3
3
3
(22) Non-Roster
Player
POS

Age

2021-2022
2022-2023
2023-2024
2024-2025
2025-2026
Pateryn, Greg
D

MIN --> 0 -->

31

$750,000

$0

UFA

Carrick, Trevor
D

MIN --> 0 -->

27

$750,000

$0

UFA

Cooper, Brian
D

--> 0 -->

28

$0

O'Regan, Danny
C

MIN --> 0 -->

27

$750,000

$750,000

$0

UFA

Robinson, Buddy
RW

MIN --> 0 -->

30

$750,000

$0

UFA

Larsson, Jacob
D

MIN --> 0 -->

24

$1,200,000

$0

RFA

$0

UFA

Guhle, Brendan
D

MIN --> 0 -->

24

$800,000

$0

RFA

$0

UFA

Gates, Brent
LW

--> 0 -->

24

$0

$0

UFA

Ruggiero, Steven
D

--> 0 -->

24

$0

$0

UFA

Soy, Tyler
C

--> 0 -->

24

$0

$0

UFA

Lettieri, Vinni
RW

MIN --> 0 -->

26

$750,000

$0

UFA

Badini, Jack

C

MIN --> 0 -->

23

$805,000

$0

RFA

$0

UFA

Eriksson Ek, Olle

G

MIN --> 0 -->

22

$771,667

$0

RFA

Ortega, Austin
RW

--> 0 -->

27

$0

Saar, Zach
RW

--> 0 -->

28

$0

Ottenbreit, Turner
D

--> 0 -->

24

$0

$0

UFA

Andersson, Axel

D

MIN --> 0 -->

21

$772,500

$772,500

$0

RFA

McLaughlin, Blake
LW

--> 0 -->

21

$0

Dostal, Lukas

G

MIN --> 0 -->

21

$822,500

$822,500

$0

RFA

Perbix, Jackson
D

--> 0 -->

23

$0

$0

UFA

Durny, Roman

G

MIN --> 0 -->

23

$807,500

$0

RFA

$0

UFA

Drew, Hunter

D

MIN --> 0 -->

23

$793,333

$793,333

$0

RFA

Ducharme, Justin
RW

--> 0 -->

21

$0

$0

UFA

Forney, Chris
D

--> 0 -->

27

$0

$0

UFA

Moldenhauer, Scott
D

--> 0 -->

27

$0

$0

UFA

Golod, Maxim

LW

MIN --> 0 -->

21

$793,333

$793,333

$0

RFA

Rafferty, Brogan
D

MIN --> 0 -->

26

$750,000

$0

UFA

Tracey, Brayden

LW

MIN --> 0 -->

20

$863,334

$863,334

$863,334

$0

RFA

LaCombe, Jackson
D

--> 0 -->

20

$0

$0

UFA

Thurn, Henry
LW

--> 0 -->

27

$0

$0

UFA

Janicke, Trevor
C

--> 0 -->

20

$0

$0

UFA

Francis, William
D

--> 0 -->

25

$0

$0

UFA

Hill, Mathew
D

--> 0 -->

20

$0

$0

UFA

Davidson, Dawson
D

--> 0 -->

23

$0

$0

UFA

May, Johno
RW

--> 0 -->

28

$0

$0

UFA

Riley, Conor
D

--> 0 -->

29

$0

$0

UFA

Wouters, Chase
C

--> 0 -->

21

$0

$0

UFA

Kindopp, Bryce

RW

MIN --> 0 -->

22

$925,000

$925,000

$0

RFA

Curran, Kodie
D

MIN --> 0 -->

31

$1,000,000

$0

RFA

Perreault, Jacob

RW

MIN --> 0 -->

19

$894,167

$894,167

$894,167

$0

RFA

Colangelo, Sam
RW

--> 0 -->

19

$0

$0

UFA

Moore, Ian
D

--> 0 -->

19

$0

$0

UFA

Nickl, Thimo
D

--> 0 -->

19

$0

$0

UFA

Galimov, Artyom
C

--> 0 -->

22

$0

$0

UFA

Sundsvik, Albin
C

--> 0 -->

20

$0

$0

UFA

Bowen, Ethan
C

--> 0 -->

19

$0

$0

UFA

McTavish, Mason

C

MIN --> 0 -->

18

$925,000

$925,000

$925,000

$0

RFA

Hinds, Tyson
D

--> 0 -->

18

$0

Zellweger, Olen

D

MIN --> 0 -->

18

$897,500

$897,500

$897,500

$0

RFA

Pastujov, Sasha

LW

MIN --> 0 -->

18

$870,000

$870,000

$870,000

$0

RFA

Lopina, Josh
C

--> 0 -->

20

$0

$0

UFA

Tschigerl, Sean
LW

--> 0 -->

18

$0

$0

UFA

Alexander, Gage
G

--> 0 -->

19

$0

$0

UFA

Kukkonen, Kyle

--> 0 -->

19

$0

$0

UFA

TOTALS

$17,240,834

$9,306,667

$4,450,001