| | |
| --- | --- |
| Cap Hit | $86,398,290 |
| Cap Space | $-4,898,290 |
| LTIR Pool | $5,302,501 |
| Roster | 23/23 |
| Contracts | 49/50 |
Transactions
| | |
| --- | --- |
| Jujhar Khaira | Khaira was assigned to the taxi squad Saturday. | Jan 16 |
| Joakim Nygard | Nygard was recalled from the taxi squad Saturday. | Jan 16 |
| Mikko Koskinen | Koskinen will start in Saturday's home matchup against the Canadiens, Jack Michaels of the Oilers Radio Network reports. | Jan 16 |
| Troy Grosenick | Grosenick was claimed off of waivers by the Oilers on Saturday, Elliotte Friedman of Sportsnet reports. | Jan 16 |
| Olivier Rodrigue | Rodrigue was recalled from the Austrian League and will join Edmonton's taxi squad, Sportsnet's Chris Johnston reports. | Jan 15 |
Line Combinations
Updated: Jan 16 (3:57pm)
Line 1 $20,000,000
Pairing 1 $7,600,000
Line 2 $10,369,167
Pairing 2 $5,016,667
Line 3 $3,825,000
Pairing 3 $4,600,000
Line 4 $3,725,000
Goalies $5,284,166
Injury Report
Expected Return Mon Jan 18, 2021

Zack Kassian - OUT - Personal

Sat Jan 16, 2021

Zack Kassian

| Kassian (personal) won't suit up in Saturday's game against the Canadiens, Guillaume Lefrancois of Lapresse.ca reports.

Expected Return Sat Feb 6, 2021

Mike Smith - IR-LT - Undisclosed

Fri Jan 15, 2021

Mike Smith

| Smith (undisclosed) won't be available for Saturday's matchup with Montreal.

---

Fri Jan 15, 2021

Mike Smith

| According to sources, Smith (undisclosed) may be facing a multi-week absence, The Province's Patrick Johnston reports.

---

Fri Jan 15, 2021

Mike Smith

| Smith (undisclosed) was placed on long-term injured reserve Friday, Sportsnet's Chris Johnston reports.

---

Thu Jan 14, 2021

Mike Smith

| Smith will patrol the crease during Thursday's home game versus the Canucks, Jason Gregor of Oilers Nation reports.

---

Thu Jan 14, 2021

Mike Smith

| Contrary to a previous report, Smith (undisclosed) will not start Thursday's game versus the Canucks, Bob Stauffer of the Oilers Radio Network reports.

Expected Return Thu Jul 1, 2021

Oscar Klefbom - IR-NR - Shoulder
Nygard making his season debut tonight on a line with Shore & Chiasson!
#LetsGoOilers
t.co/PKO4UUDM0q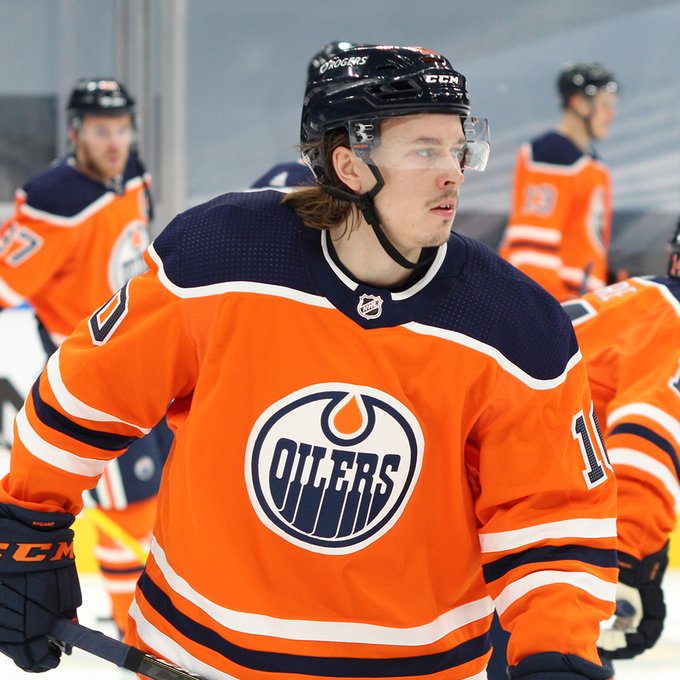 RT
@EdmontonJack
: Today vs MTL: RNH-McDavid-Archibald Kahun-Draisaitl-Yamamoto Ennis-Turris-Puljujarvi Nygard-Shore-Chiasson Nurse-Bear…
During the 2019-20 regular season The
@EdmontonOilers
with McDavid-Draisaitl on the same line (up to Dec. 31st) went: 20-17-4 (.536%) From Dec. 31st on with McDavid and Draisaitl centering their own line (coinciding with Yamamoto's recall): 17-8-5 (.650%)
t.co/XdrDl2qTTl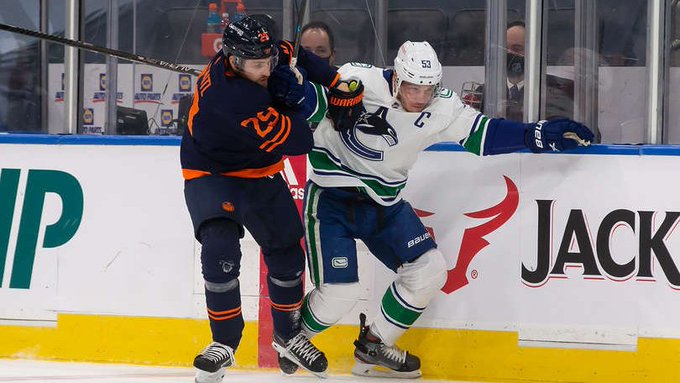 More pro experience. But he won't be available to dress in a game until the 28th. He can isolate for 7 days but can't leave province. Skinner will be back up until then, and possibly longer.
t.co/4y1u8bi6tS
Entry Level Contract
Waiver Exempt
Has Arbitration Rights
Two-way contract
(13) Forwards
$47,784,167
58.6% of cap
Player
POS
Age
2020-2021
2021-2022
2022-2023
2023-2024
2024-2025
Neal, James
IR
LW

IR --> 0

33

$5,750,000

$5,750,000

$5,750,000

$0

UFA

Turris, Kyle
C

NHL --> 0

31

$1,650,000

$1,650,000

$0

UFA

Ennis, Tyler
RW

NHL --> 0

31

$1,000,000

$0

UFA

Kassian, Zack
RW

NHL --> 0

29

$3,200,000

$3,200,000

$3,200,000

$3,200,000

$0

UFA

Chiasson, Alex
RW

NHL --> 0

30

$2,150,000

$0

UFA

Nugent-Hopkins, Ryan
C

NHL --> 0

27

$6,000,000

$0

UFA

Archibald, Josh
RW

NHL --> 0

28

$1,500,000

$1,500,000

$0

UFA

Shore, Devin
LW

NHL --> 0

26

$700,000

$0

RFA

$0

UFA

Draisaitl, Leon
C

NHL --> 0

25

$8,500,000

$8,500,000

$8,500,000

NMC

M-NTC

$8,500,000

NMC

M-NTC

$8,500,000

NMC

M-NTC

$0

UFA

(2025)
McDavid, Connor
C

NHL --> 0

24

$12,500,000

$12,500,000

$12,500,000

NMC

$12,500,000

NMC

$12,500,000

NMC

$0

UFA

(2026)
Puljujarvi, Jesse
RW

NHL --> 0

22

$1,175,000

$1,175,000

$0

RFA

$0

UFA

Yamamoto, Kailer

RW

NHL --> 0

22

$894,167

$0

RFA

Kahun, Dominik
RW

NHL --> 0

25

$975,000

$0

RFA

$0

UFA

Nygard, Joakim
LW

MIN --> 0

28

$875,000

$0

UFA

Haas, Gaetan
IR
C

IR --> 0

28

$915,000

$0

UFA

TOTALS
TOTALS

$47,784,167

$34,275,000

$29,950,000

$24,200,000

$21,000,000

$0
(8) Defence
$26,108,667
32.0% of cap
Player
POS
Age
2020-2021
2021-2022
2022-2023
2023-2024
2024-2025
Russell, Kris
D

NHL --> 0

33

$4,000,000

NMC

M-NTC

$1,250,000

$0

UFA

Barrie, Tyson
D

NHL --> 0

29

$3,750,000

$0

UFA

Larsson, Adam
D

NHL --> 0

28

$4,166,667

M-NTC

$0

UFA

Klefbom, Oscar
LTIR
D

LTIR --> 0

27

$4,167,000

$4,167,000

M-NTC

$4,167,000

M-NTC

$0

UFA

Koekkoek, Slater
D

NHL --> 0

26

$850,000

$0

UFA

Nurse, Darnell
D

NHL --> 0

25

$5,600,000

$5,600,000

$0

UFA

Lagesson, William
D

NHL --> 0

24

$725,000

$725,000

$0

RFA

$0

UFA

Jones, Caleb
D

NHL --> 0

23

$850,000

$850,000

$0

RFA

$0

UFA

Bear, Ethan
D

NHL --> 0

23

$2,000,000

$2,000,000

$0

RFA

$0

UFA

TOTALS
TOTALS

$26,108,667

$14,592,000

$4,167,000

$0

$0

$0
(2) Goalies
$7,484,166
9.2% of cap
Player
POS
Age
2020-2021
2021-2022
2022-2023
2023-2024
2024-2025
Smith, Mike
LTIR
G

LTIR --> 0

38

$1,500,000

$0

UFA

Grosenick, Troy
IR
G

IR --> 0

31

$700,000

$0

UFA

Skinner, Stuart

G

NHL --> 0

22

$784,166

$0

RFA

Koskinen, Mikko
G

NHL --> 0

32

$4,500,000

M-NTC

$4,500,000

M-NTC

$0

UFA

TOTALS
TOTALS

$7,484,166

$4,500,000

$0

$0

$0

$0
(1) Buried
$125,000
0.2% of cap
Player
POS
Age
2020-2021
2021-2022
2022-2023
2023-2024
2024-2025
Khaira, Jujhar
LW

NHL --> 0

26

$125,000

$0

RFA

$0

UFA

TOTALS
TOTALS

$125,000

$0

$0

$0

$0

$0
(3) Buyout & Retained Salary
$4,583,333
5.6% of cap
Player
POS
Age
2020-2021
2021-2022
2022-2023
2023-2024
2024-2025
Lucic, Milan
Retained Salary
LW

NHL --> 0

32

Pouliot, Benoit
Buyout
LW

NHL --> 0

34

$1,333,333

Sekera, Andrej
Buyout
D

NHL --> 0

34

$2,500,000

$1,500,000

$1,500,000

TOTALS
TOTALS

$4,583,333

$2,250,000

$2,250,000

$0

$0

$0
Cap Summary Projection Share Copy Link Embed Tweet It
2020-2021
2021-2022
2022-2023
2023-2024
Roster Size
23
14
5
3
Standard Player Contracts

Number of players signed to Standard Player Contracts (SPC's). Cannot exceed 50 players. Some players do not count towards this, such as 18/19 Year-Old players in Junior with less than 10 NHL Games Played in Season.

Learn More Or Ask A Question

49
26
10
3
Upper Limit

The maximum Salary Cap Hit of all players counting towards the active roster. Often referred to as "Salary Cap". This is determined in the summer and is based on the previous season's revenues, per the CBA.

Learn More Or Ask A Question

$81,500,000
$81,500,000
$81,500,000
$81,500,000
Projected Cap Hit

Anticipated Season-End Cap Hit based on the current roster, calculated by summing all Cap Hits of players currently counting towards the Salary Cap. Assumes current roster is in effect for the remainder of season.

Learn More Or Ask A Question

$86,398,290
$55,955,000
$36,367,000
$24,200,000
Projected Cap Space

Amount of Cap Space projected to be available at end of year. Calculated as Annual Salary Cap minus Projected Cap Hit.

Learn More Or Ask A Question

$-4,898,290
$25,545,000
$45,133,000
$57,300,000
Current Cap Space

Amount of Cap Space that can be added to the roster without exceeding the Upper Limit (Salary Cap Maximum) based on the current roster.

Learn More Or Ask A Question

$-4,898,290
$25,545,000
$45,133,000
$57,300,000
Maximum LTIR Pool

The maximum amount of Long Term Injured Reserve space potentially available. This is the Cap Hit of player on LTIR less the Cap Space available for team at time player was on LTIR. A player can go on LTIR when they expect to miss 10 games and 24 days in the season. A player on LTIR does not come off of the salary cap, instead a team is allowed to exceed the cap by the LTIR amount.

Learn More Or Ask A Question

$5,302,501
$0
$0
$0
Current Roster Annual Cap Hit

Anticipated Cap Hit based on the current roster, calculated by summing all Cap Hits of players currently counting towards the Salary Cap + retained salary + buyouts.

Learn More Or Ask A Question

$86,423,333
$55,955,000
$36,367,000
$24,200,000
Carryover Bonus Overages

Teams can exceed the salary cap due to players receiving performance bonuses. If a team exceeds the salary cap due to performance bonuses, they carryover to the previous season and reduce the cap space a team has.

Learn More Or Ask A Question

$338,000
$338,000
$0
$0
Potential Bonuses

Performance Bonuses that players on the active roster are eligible to achieve. A team can exceed the salary cap due to performance bonuses, but they carry over to the following season.

Learn More Or Ask A Question

$837,500
$0
$0
$0
Retained Salary Remaining

Teams can retain salary/cap hit when they trade a player. A team can only have a maximum of 3 players that they retained salary on.

Learn More Or Ask A Question

2
2
2
3
(21) Non-Roster
Player
POS
Age
2020-2021
2021-2022
2022-2023
2023-2024
2024-2025
Cracknell, Adam
RW

MIN --> 0 -->

35

$700,000

$0

UFA

Stanton, Ryan
D

MIN --> 0 -->

31

$0

UFA

Manning, Brandon
D

MIN --> 0 -->

30

$0

UFA

Granlund, Markus
LW

MIN --> 0 -->

27

$0

UFA

Lowe, Keegan
D

MIN --> 0 -->

27

$0

UFA

Quine, Alan

C

MIN --> 0 --> 1

27

$750,000

$0

UFA

Malone, Brad
C

MIN --> 0 -->

31

$0

UFA

Khaira, Jujhar

LW

NHL --> 0 --> 1

26

$1,200,000

$0

RFA

$0

UFA

Griffith, Seth
C

MIN --> 0 -->

28

$725,000

$725,000

$0

UFA

Yakimov, Bogdan
C

--> 0 -->

26

$0

RFA

$0

UFA

Slepyshev, Anton
LW

MIN --> 0 -->

26

$0

RFA

$0

UFA

Norell, Robin
D

MIN --> 0 -->

25

$0

UFA

$0

UFA

Hawkey, Hayden
G

--> 0 -->

25

$0

$0

UFA

Marody, Cooper

C

MIN --> 0 -->

24

$925,000

$0

RFA

$0

UFA

Russell, Patrick

RW

MIN --> 0 --> 1

28

$700,000

$0

UFA

Benson, Tyler

LW

MIN --> 0 -->

22

$808,333

$0

RFA

Niemelainen, Markus

D

MIN --> 0 -->

22

$817,500

$817,500

$0

RFA

Cairns, Matthew
D

--> 0 -->

22

$0

Berglund, Filip

D

MIN --> 0 -->

23

$817,500

$817,500

$0

RFA

$0

UFA

Wells, Dylan

G

MIN --> 0 -->

23

$745,000

$0

RFA

Rasanen, Aapeli

--> 0 -->

19

$0

Desharnais, Vincent
D

--> 0 -->

24

$0

$0

UFA

Gambardella, Joseph
C

MIN --> 0 -->

27

$700,000

$0

UFA

Samorukov, Dmitri

D

MIN --> 0 -->

21

$825,000

$825,000

$0

RFA

Safin, Ostap

RW

MIN --> 0 -->

21

$775,000

$775,000

$0

RFA

Maksimov, Kirill

RW

MIN --> 0 -->

21

$773,333

$773,333

$0

RFA

Brind'Amour, Skyler
C

--> 0 -->

21

$0

Kemp, Philip

D

MIN --> 0 -->

21

$786,667

$786,667

$786,667

$0

RFA

Redmond, Angus
G

MIN --> 0 -->

25

$0

UFA

$0

UFA

Bouchard, Evan



D

MIN --> 0 --> 1

21

$863,334

$863,334

$863,334

$0

RFA

McLeod, Ryan



C

MIN --> 0 --> 1

21

$834,167

$834,167

$0

RFA

Rodrigue, Olivier



G

MIN --> 0 --> 1

20

$778,334

$778,334

$778,334

$0

RFA

Kesselring, Michael
D

--> 0 -->

21

$0

Siikanen, Patrik
C

--> 0 -->

20

$0

Vesel, Tyler
C

MIN --> 0 -->

26

$0

UFA

$0

UFA

Vesey, Nolan
LW

MIN --> 0 -->

25

$0

UFA

$0

UFA

Christoffer, Braden
LW

--> 0 -->

26

$0

$0

UFA

$0

UFA

Crevier-Morin, Marc-Olivier
D

--> 0 -->

24

$0

$0

UFA

$0

UFA

Hebig, Cameron
C

MIN --> 0 -->

23

$0

UFA

$0

UFA

Kulevich, Jake
D

--> 0 -->

27

$0

$0

UFA

$0

UFA

Larkin, Colin
C

MIN --> 0 -->

27

$0

UFA

$0

UFA

Wilson, Jared
D

--> 0 -->

26

$0

$0

UFA

$0

UFA

Kuffner, Ryan
LW

MIN --> 0 -->

24

$0

UFA

$0

UFA

Broberg, Philip

D

MIN --> 0 -->

19

$894,167

$894,167

$894,167

$0

RFA

Lavoie, Raphael

C

MIN --> 0 -->

20

$870,000

$870,000

$870,000

$0

RFA

Konovalov, Ilya

--> 0 -->

20

$0

$0

UFA

$0

UFA

Blumel, Matej
RW

--> 0 -->

20

$0

$0

UFA

$0

UFA

Mazura, Tomas
C

--> 0 -->

20

$0

$0

UFA

$0

UFA

Denezhkin, Maxim
C

--> 0 -->

20

$0

$0

UFA

$0

UFA

Burdasov, Anton
RW

--> 0 -->

29

$0

$0

UFA

$0

UFA

Lennstrom, Theodor

D

MIN --> 0 -->

26

$925,000

$0

RFA

$0

UFA

Holloway, Dylan
C

--> 0 -->

19

$0

$0

UFA

$0

UFA

Savoie, Carter
LW

--> 0 -->

18

$0

$0

UFA

$0

UFA

Tullio, Tyler
C

--> 0 -->

18

$0

$0

UFA

$0

UFA

Berezkin, Maksim
LW

--> 0 -->

19

$0

$0

UFA

$0

UFA

Engaras, Filip
C

--> 0 -->

21

$0

$0

UFA

$0

UFA

Lindewall, Jeremias
LW

--> 0 -->

19

$0

$0

UFA

$0

UFA

TOTALS
TOTALS

$16,013,335

$9,760,002

$4,192,502

$0

$0

$0