Line Combinations
Updated: Oct 17 (8:12am)
Line 1 $19,666,666
Pairing 1 $6,900,000
Line 2 $5,063,333
Pairing 2 $8,100,000
Line 3 $4,400,000
Pairing 3 $2,125,000
Line 4 $3,525,000
Goalies $9,750,000
Injury Report
David Krejci - Upper Body

Krejci left the previous game with an upper-body injury, and he will not suit up against the Lightning on Thursday.

out - Out Thurs

Updated Oct 17, 2019

Tuukka Rask - Rest

Rask is not expected to participate in Monday's game versus the Ducks due to a day of rest.

questionable - Ques Mon

Updated Oct 13, 2019

Tuukka Rask - Lower Body

Rask is dealing with a lower-body cramping, but he is expected to be available for Thursday's tilt with the Avalanche.

probable - Prob Thurs

Updated Oct 10, 2019

Matt Grzelcyk - Leg

Grzelcyk exited the last game due to a left leg injury, but he is likely to suit up against the Avalanche on Thursday.

probable - Prob Thurs

Updated Oct 10, 2019
@NHLBruins (official)
.
@connorcliff28
chats with the media about getting back into the lineup tonight against Tampa Bay:
t.co/YLO0nUjlwK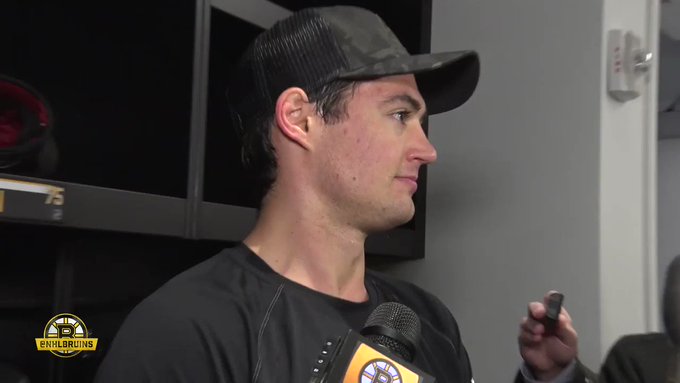 Kevan Miller and John Moore skated before practice this morning at
@WarriorIceArena
.
#NHLBruins
t.co/DgTqsskDo3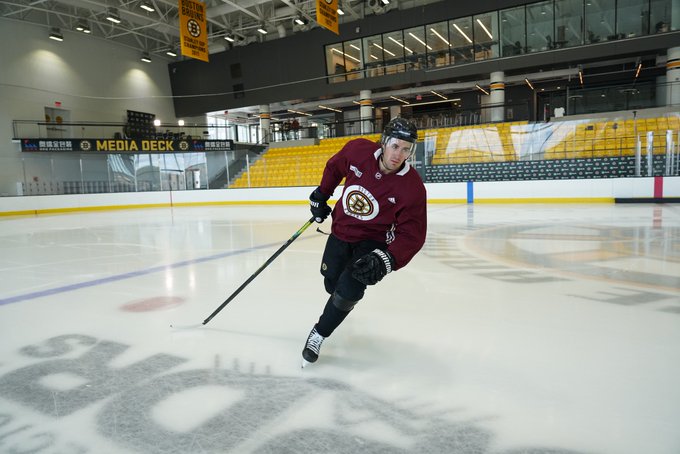 #NHLBruins
pregame updates per Bruce Cassidy: David Krejci is out tonight, will see how he progresses tomorrow. Par Lindholm goes in. Charlie Coyle will center Jake DeBrusk and Brett Ritchie. Connor Clifton is also back in. Tuukka in between the pipes.
t.co/ITw2kl8W7T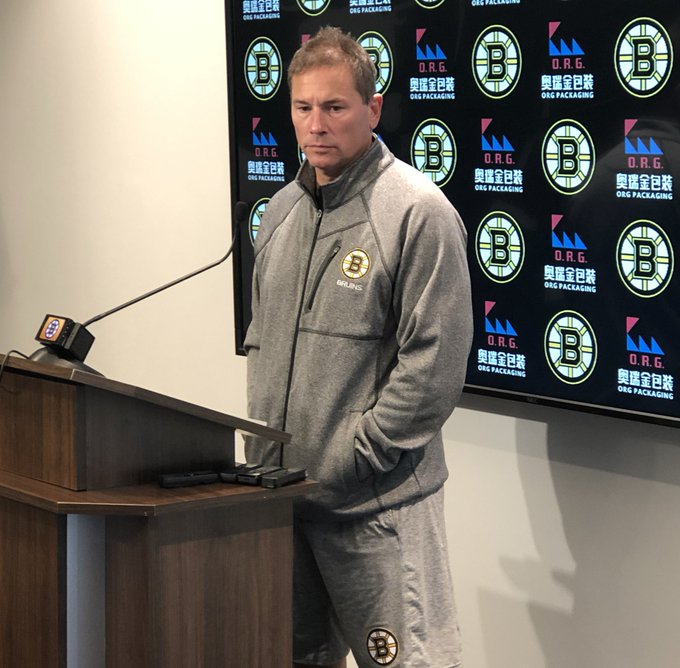 Boston Bruins Tweets
Tonight's lineup: Marchand-Bergeron-Pastrnak DeBrusk-Coyle-Ritchie Heinen-Lindholm-Kuhlman Nordstrom-Kuraly-Wagner Chara-McAvoy Krug-Carlo Grzelcyk-Clifton Rask
Kevan Miller (knee) and John Moore (shoulder) are skating before practice.
Entry Level Contract
Waiver Exempt
Has Arbitration Rights
Two-way contract
(14) Forwards
$45,904,999
56.3% of cap
Player
POS
Age
2019-2020
2020-2021
2021-2022
2022-2023
2023-2024
Bergeron, Patrice
C

NHL --> 0

34

$6,875,000

NMC

$6,875,000

NMC

M-NTC

$6,875,000

NMC

M-NTC

$0

UFA

Backes, David
RW

NHL --> 0

35

$6,000,000

M-NTC

$6,000,000

M-NTC

$0

UFA

Krejci, David
C

NHL --> 0

33

$7,250,000

M-NTC

$7,250,000

M-NTC

$0

UFA

Marchand, Brad
LW

NHL --> 0

31

$6,125,000

NMC

$6,125,000

NMC

$6,125,000

NMC

$6,125,000

M-NTC

$6,125,000

M-NTC

$0

UFA

(2025)
Coyle, Charlie
C

NHL --> 0

27

$3,200,000

$0

UFA

Nordstrom, Joakim
C

NHL --> 0

27

$1,000,000

$0

UFA

Wagner, Chris
RW

NHL --> 0

28

$1,250,000

$0

UFA

Ritchie, Brett
RW

NHL --> 0

26

$1,000,000

$0

UFA

$0

UFA

Kuraly, Sean
C

NHL --> 0

26

$1,275,000

$1,275,000

$0

UFA

Pastrnak, David
RW

NHL --> 0

23

$6,666,666

$6,666,666

$6,666,666

NMC

M-NTC

$6,666,666

NMC

M-NTC

$0

UFA

DeBrusk, Jake

LW

NHL --> 0

23

$863,333

$0

RFA

Heinen, Danton
LW

NHL --> 0

24

$2,800,000

$2,800,000

$0

RFA

$0

UFA

Lindholm, Par
C

NHL --> 0

28

$850,000

$850,000

$0

UFA

Kuhlman, Karson

C

NHL --> 0

24

$750,000

$0

RFA

$0

UFA

TOTALS
TOTALS

$45,904,999

$37,841,666

$19,666,666

$12,791,666

$6,125,000

$0
(7) Defence
$23,175,000
28.4% of cap
Player
POS
Age
2019-2020
2020-2021
2021-2022
2022-2023
2023-2024
Chara, Zdeno

+35

D

NHL --> 0

42

$2,000,000

NMC

$0

UFA

Moore, John
LTIR
D

LTIR --> 0

28

$2,750,000

$2,750,000

$2,750,000

$2,750,000

$0

UFA

Kampfer, Steven
D

NHL --> 0

31

$800,000

$800,000

$0

UFA

Miller, Kevan
LTIR
D

LTIR --> 0

31

$2,500,000

$0

UFA

Krug, Torey
D

NHL --> 0

28

$5,250,000

M-NTC

$0

UFA

Grzelcyk, Matt
D

NHL --> 0

25

$1,400,000

$0

RFA

$0

UFA

Carlo, Brandon
D

NHL --> 0

22

$2,850,000

$2,850,000

$0

RFA

$0

UFA

McAvoy, Charlie
D

NHL --> 0

21

$4,900,000

$4,900,000

$4,900,000

$0

RFA

Clifton, Connor
D

NHL --> 0

24

$725,000

$1,000,000

$1,000,000

$1,000,000

$0

RFA

TOTALS
TOTALS

$23,175,000

$12,300,000

$8,650,000

$3,750,000

$0

$0
(2) Goalies
$9,750,000
12.0% of cap
Player
POS
Age
2019-2020
2020-2021
2021-2022
2022-2023
2023-2024
Halak, Jaroslav
G

NHL --> 0

34

$2,750,000

$0

UFA

Rask, Tuukka
G

NHL --> 0

32

$7,000,000

M-NTC

$7,000,000

M-NTC

$0

UFA

TOTALS
TOTALS

$9,750,000

$7,000,000

$0

$0

$0

$0
(0) Buried
$0
0.0% of cap
| Player | POS | Age | 2019-2020 | 2020-2021 | 2021-2022 | 2022-2023 | 2023-2024 | |
| --- | --- | --- | --- | --- | --- | --- | --- | --- |
| TOTALS | TOTALS | $0 | $0 | $0 | $0 | $0 | $0 | |
(2) Buyout & Retained Salary
$3,066,667
3.8% of cap
Player
POS
Age
2019-2020
2020-2021
2021-2022
2022-2023
2023-2024
Beleskey, Matt
Retained Salary
LW

MIN --> 0

31

Seidenberg, Dennis
Buyout
D

NHL --> 0

38

$1,166,667

TOTALS
TOTALS

$3,066,667

$0

$0

$0

$0

$0
Cap Summary Projection Share Copy Link Embed Tweet It
2019-2020
2020-2021
2021-2022
2022-2023
Roster Size
25
14
6
4
Standard Player Contracts

Number of players signed to Standard Player Contracts (SPC's). Cannot exceed 50 players. Some players do not count towards this, such as 18/19 Year-Old players in Junior with less than 10 NHL Games Played in Season.

Learn More Or Ask A Question

48
26
12
4
Upper Limit

The maximum Salary Cap Hit of all players counting towards the active roster. Often referred to as "Salary Cap". This is determined in the summer and is based on the previous season's revenues, per the CBA.

Learn More Or Ask A Question

$81,500,000
$81,500,000
$81,500,000
$81,500,000
Projected Cap Hit

Anticipated Season-End Cap Hit based on the current roster, calculated by summing all Cap Hits of players currently counting towards the Salary Cap. Assumes current roster is in effect for the remainder of season.

Learn More Or Ask A Question

$81,906,281
$57,141,666
$28,316,666
$16,541,666
Projected Cap Space

Amount of Cap Space projected to be available at end of year. Calculated as Annual Salary Cap minus Projected Cap Hit.

Learn More Or Ask A Question

$-406,281
$24,358,334
$53,183,334
$64,958,334
Current Cap Space

Amount of Cap Space that can be added to the roster without exceeding the Upper Limit (Salary Cap Maximum) based on the current roster.

Learn More Or Ask A Question

$-406,281
$24,358,334
$53,183,334
$64,958,334
Maximum LTIR Pool

The maximum amount of Long Term Injured Reserve space potentially available. This is the Cap Hit of player on LTIR less the Cap Space available for team at time player was on LTIR. A player can go on LTIR when they expect to miss 10 games and 24 days in the season. A player on LTIR does not come off of the salary cap, instead a team is allowed to exceed the cap by the LTIR amount.

Learn More Or Ask A Question

$5,065,833
$0
$0
$0
Current Roster Annual Cap Hit

Anticipated Cap Hit based on the current roster, calculated by summing all Cap Hits of players currently counting towards the Salary Cap + retained salary + buyouts.

Learn More Or Ask A Question

$81,896,666
$57,141,666
$28,316,666
$16,541,666
Carryover Bonus Overages

Teams can exceed the salary cap due to players receiving performance bonuses. If a team exceeds the salary cap due to performance bonuses, they carryover to the previous season and reduce the cap space a team has.

Learn More Or Ask A Question

$0
$0
$0
$0
Potential Bonuses

Performance Bonuses that players on the active roster are eligible to achieve. A team can exceed the salary cap due to performance bonuses, but they carry over to the following season.

Learn More Or Ask A Question

$2,220,000
$0
$0
$0
Retained Salary Remaining

Teams can retain salary/cap hit when they trade a player. A team can only have a maximum of 3 players that they retained salary on.

Learn More Or Ask A Question

2
3
3
3
(23) Non-Roster
Player
POS
Age
2019-2020
2020-2021
2021-2022
2022-2023
2023-2024
Petrovic, Alexander
D

MIN --> 0

27

$700,000

$0

UFA

Carey, Paul
C

MIN --> 0

31

$700,000

$700,000

$0

UFA

Gaunce, Brendan
C

MIN --> 0

25

$700,000

$0

UFA

$0

UFA

Lagace, Maxime
G

MIN --> 0

26

$700,000

$0

RFA

Arnesson, Linus
D

--> 0

25

$0

RFA

$0

UFA

Cehlarik, Peter
LW

MIN --> 0

24

$700,000

$0

RFA

$0

UFA

Fitzgerald, Ryan
C

MIN --> 0

24

$700,000

$0

RFA

$0

UFA

Sherman, Wiley

D

MIN --> 0

24

$792,500

$0

RFA

$0

UFA

Blidh, Anton
LW

MIN --> 0

24

$700,000

$700,000

$0

RFA

$0

UFA

Bjork, Anders

LW

MIN --> 0

23

$925,000

$0

RFA

Zboril, Jakub

D

MIN --> 0

22

$863,333

$0

RFA

Senyshyn, Zach

RW

MIN --> 0

22

$863,333

$0

RFA

Forsbacka Karlsson, Jakob
C

MIN --> 0

22

$0

RFA

Lauzon, Jeremy

D

MIN --> 0

22

$747,500

$0

RFA

Vladar, Dan

G

MIN --> 0

22

$728,333

$0

RFA

Hughes, Cameron

C

MIN --> 0

23

$792,500

$792,500

$0

RFA

Becker, Jack
C

--> 0

22

$0

Frederic, Trent

C

MIN --> 0

21

$925,000

$925,000

$0

RFA

Koppanen, Joona

LW

MIN --> 0

21

$753,334

$753,334

$0

RFA

Clarke, Cameron
D

--> 0

20

$0

Steen, Oskar

C

MIN --> 0

21

$809,167

$809,167

$809,167

$0

RFA

Vaakanainen, Urho

D

MIN --> 0

20

$894,167

$894,167

$894,167

$0

RFA

Studnicka, Jack

C

MIN --> 0

20

$769,167

$769,167

$769,167

$0

RFA

Swayman, Jeremy
G

--> 0

20

$0

Pare, Cedric
C

--> 0

20

$0

Berglund, Victor
D

--> 0

20

$0

Bukac, Daniel
D

--> 0

20

$0

Andersson, Axel

D

MIN --> 0

19

$795,000

$795,000

$795,000

$0

RFA

Lauko, Jakub

C

MIN --> 0

19

$786,667

$786,667

$786,667

$0

RFA

Hall, Curtis
C

--> 0

19

$0

McFaul, Dustyn
D

--> 0

19

$0

Shen, Pavel

C

MIN --> 0

20

$809,167

$809,167

$809,167

$0

RFA

Keyser, Kyle

G

MIN --> 0

20

$716,666

$716,666

$0

RFA

Bonar, Sean
G

--> 0

28

$0

$0

UFA

$0

UFA

Dun, Derek
G

--> 0

25

$0

$0

UFA

$0

UFA

Galipeau, Olivier
D

--> 0

22

$0

$0

UFA

$0

UFA

Messner, Joel
D

--> 0

25

$0

$0

UFA

$0

UFA

Noebels, Marcel
C

--> 0

27

$0

$0

UFA

$0

UFA

Pond, Tanner
C

--> 0

26

$0

$0

UFA

$0

UFA

Sakellaropoulos, Alex
G

--> 0

25

$0

$0

UFA

$0

UFA

Beecher, John
C

--> 0

18

$0

$0

UFA

$0

UFA

Olson, Quinn
LW

--> 0

18

$0

$0

UFA

$0

UFA

Bychkov, Roman
D

--> 0

18

$0

$0

UFA

$0

UFA

Mantykivi, Matias
C

--> 0

18

$0

$0

UFA

$0

UFA

Schmaltz, Jake
LW

--> 0

18

$0

$0

UFA

$0

UFA

Asselin, Samuel
C

--> 0

21

$0

$0

UFA

$0

UFA

Lantosi, Robert
RW

--> 0

24

$0

$0

UFA

$0

UFA

Zech, Cooper
D

--> 0

20

$0

$0

UFA

$0

UFA

Legace, Maxime
G

--> 0

26

$0

$0

UFA

$0

UFA

TOTALS
TOTALS

$17,870,834

$9,450,835

$4,863,335

$0

$0

$0