Edmonton Oilers Injury Report
Eric Martinsson - Hand
Day will spend an undetermined length of time on the sidelines due to hand surgery.

out - Out indefinitely

Updated Sep 22, 2019

out - Out indefinitely

Updated Sep 22, 2019

Connor McDavid - Knee
McDavid is recovering from surgery to repair a torn PCL, but it is likely that he will be available for the season opener versus the Canucks.

probable - Prob Oct 2

Updated Sep 18, 2019

probable - Prob Oct 2

Updated Sep 18, 2019

Kyle Brodziak - Back
Brodziak is expected to miss the 2019-20 season due to a back injury.

out - out for season

Updated Sep 11, 2019

out - out for season

Updated Sep 11, 2019
@EdmontonOilers (official)
Back-to-back
#Oilers
pre-season homecomings of sorts for Leon. Last year, Cologne. This year, Kelown(a).
t.co/uj7y6Lo3td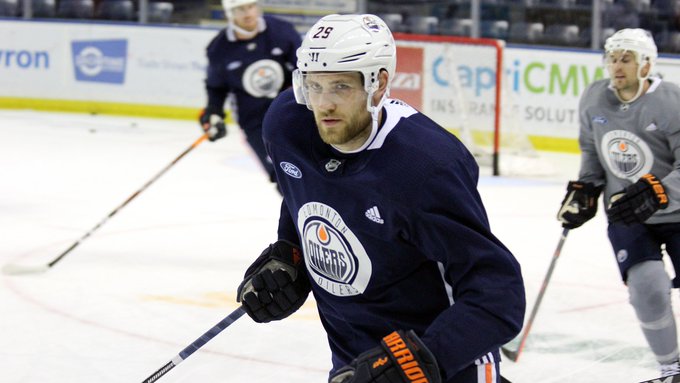 Drai with the slick pass, Nurse with the shot attempt & Nygard with the rebound finish for his first tally in
#Oilers
colours last night! 👏
t.co/4MmDj8QgwQ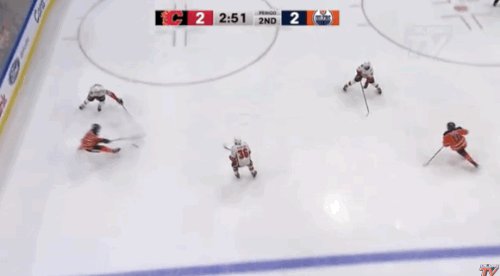 Edmonton Oilers Tweets
RT
@AndrewPeard
: Brett Davis got Red Deer to within a goal but David Kope provides the insurance as the
@EdmOilKings
have a 4-2 season open…
Watching
@Hubbard_RMN
and Oklahoma State take on Texas. Great game. 21-20 for Texas at the half and Hubbard has his 8th TD of the season. Very exciting player.
Yup. true. But Alex wasn't the fourth player chosen in his draft year. Expectations a tad higher for him.
t.co/kv5yiik4Zg
Entry Level Contract
Waiver Exempt
Has Arbitration Rights
Two-way contract
(14) Forwards
$48,150,000
59.1% of cap
Player
POS
Age
2019-2020
2020-2021
2021-2022
2022-2023
2023-2024
Brodziak, Kyle
IR
C

IR --> 0

35

$1,150,000

$0

UFA

Neal, James
LW

NHL --> 0

32

$5,750,000

$5,750,000

$5,750,000

$5,750,000

$0

UFA

Gagner, Sam
C

NHL --> 0

30

$3,150,000

$0

UFA

Kassian, Zack
RW

NHL --> 0

28

$1,950,000

$0

UFA

Chiasson, Alex
RW

NHL --> 0

28

$2,150,000

$2,150,000

$0

UFA

Sheahan, Riley
C

NHL --> 0

27

$900,000

$0

UFA

Nugent-Hopkins, Ryan
C

NHL --> 0

26

$6,000,000

$6,000,000

$0

UFA

Jurco, Tomas
LW

NHL --> 0

26

$750,000

$0

UFA

Granlund, Markus
C

NHL --> 0

26

$1,300,000

$0

UFA

Archibald, Josh
RW

NHL --> 0

26

$1,000,000

$0

UFA

Khaira, Jujhar
LW

NHL --> 0

25

$1,200,000

$1,200,000

$0

RFA

$0

UFA

Draisaitl, Leon
C

NHL --> 0

23

$8,500,000

$8,500,000

$8,500,000

$8,500,000

NMC

M-NTC

$8,500,000

NMC

M-NTC

$0

UFA

(2025)
McDavid, Connor
C

NHL --> 0

22

$12,500,000

$12,500,000

$12,500,000

$12,500,000

NMC

$12,500,000

NMC

$0

UFA

(2026)
Puljujarvi, Jesse
RW

NHL --> 0

21

$0

RFA

Nygard, Joakim

LW

--> 0

26

$925,000

$0

UFA

Haas, Gaetan

C

--> 0

27

$925,000

$0

UFA

TOTALS
TOTALS

$48,150,000

$36,100,000

$26,750,000

$26,750,000

$21,000,000

$0
(7) Defence
$19,153,667
23.5% of cap
Player
POS
Age
2019-2020
2020-2021
2021-2022
2022-2023
2023-2024
Russell, Kris
D

NHL --> 0

32

$4,000,000

NMC

M-NTC

$4,000,000

NMC

M-NTC

$0

UFA

Larsson, Adam
D

NHL --> 0

26

$4,166,667

M-NTC

$4,166,667

M-NTC

$0

UFA

Klefbom, Oscar
D

NHL --> 0

26

$4,167,000

$4,167,000

$4,167,000

M-NTC

$4,167,000

M-NTC

$0

UFA

Benning, Matt
D

NHL --> 0

25

$1,900,000

$0

RFA

$0

UFA

Nurse, Darnell
D

NHL --> 0

24

$3,200,000

$0

RFA

$0

UFA

Bear, Ethan

D

MIN --> 0

22

$720,000

$0

RFA

Persson, Joel
D

MIN --> 0

25

$1,000,000

$0

RFA

$0

UFA

TOTALS
TOTALS

$19,153,667

$12,333,667

$4,167,000

$4,167,000

$0

$0
(2) Goalies
$6,500,000
8.0% of cap
Player
POS
Age
2019-2020
2020-2021
2021-2022
2022-2023
2023-2024
Smith, Mike
G

NHL --> 0

37

$2,000,000

NTC

$0

UFA

Koskinen, Mikko
G

NHL --> 0

31

$4,500,000

M-NTC

$4,500,000

M-NTC

$4,500,000

M-NTC

$0

UFA

TOTALS
TOTALS

$6,500,000

$4,500,000

$4,500,000

$0

$0

$0
(1) Buried
$1,175,000
1.4% of cap
Player
POS
Age
2019-2020
2020-2021
2021-2022
2022-2023
2023-2024
Manning, Brandon
D

MIN --> 0

29

$1,175,000

$0

UFA

TOTALS
TOTALS

$1,175,000

$0

$0

$0

$0

$0
(4) Buyout & Retained Salary
$4,883,333
6.0% of cap
Player
POS
Age
2019-2020
2020-2021
2021-2022
2022-2023
2023-2024
Lucic, Milan
Retained Salary
LW

NHL --> 0

31

Pouliot, Benoit
Buyout
LW

NHL --> 0

32

$1,333,333

$1,333,333

Gryba, Eric
Buyout
D

MIN --> 0

31

$300,000

Sekera, Andrej
Buyout
D

NHL --> 0

33

$2,500,000

$2,500,000

$1,500,000

$1,500,000

TOTALS
TOTALS

$4,883,333

$4,583,333

$2,250,000

$2,250,000

$0

$0
Cap Summary Projection Share Copy Link Embed Tweet It
2019-2020
2020-2021
2021-2022
2022-2023
Roster Size
24
10
5
4
Standard Player Contracts

Number of players signed to Standard Player Contracts (SPC's). Cannot exceed 50 players. Some players do not count towards this, such as 18/19 Year-Old players in Junior with less than 10 NHL Games Played in Season.

Learn More Or Ask A Question

48
23
12
6
Upper Limit

The maximum Salary Cap Hit of all players counting towards the active roster. Often referred to as "Salary Cap". This is determined in the summer and is based on the previous season's revenues, per the CBA.

Learn More Or Ask A Question

$81,500,000
$81,500,000
$81,500,000
$81,500,000
Projected Cap Hit

Anticipated Season-End Cap Hit based on the current roster, calculated by summing all Cap Hits of players currently counting towards the Salary Cap. Assumes current roster is in effect for the remainder of season.

Learn More Or Ask A Question

$79,862,000
$57,517,000
$37,667,000
$34,839,501
Projected Cap Space

Amount of Cap Space projected to be available at end of year. Calculated as Annual Salary Cap minus Projected Cap Hit.

Learn More Or Ask A Question

$1,638,000
$23,983,000
$43,833,000
$46,660,499
Current Cap Space

Amount of Cap Space that can be added to the roster without exceeding the Upper Limit (Salary Cap Maximum) based on the current roster.

Learn More Or Ask A Question

$1,638,000
$23,983,000
$43,833,000
$46,660,499
Maximum LTIR Pool

The maximum amount of Long Term Injured Reserve space potentially available. This is the Cap Hit of player on LTIR less the Cap Space available for team at time player was on LTIR. A player can go on LTIR when they expect to miss 10 games and 24 days in the season. A player on LTIR does not come off of the salary cap, instead a team is allowed to exceed the cap by the LTIR amount.

Learn More Or Ask A Question

$0
$0
$0
$0
Current Roster Annual Cap Hit

Anticipated Cap Hit based on the current roster, calculated by summing all Cap Hits of players currently counting towards the Salary Cap + retained salary + buyouts.

Learn More Or Ask A Question

$79,862,000
$57,517,000
$37,667,000
$34,839,501
Carryover Bonus Overages

Teams can exceed the salary cap due to players receiving performance bonuses. If a team exceeds the salary cap due to performance bonuses, they carryover to the previous season and reduce the cap space a team has.

Learn More Or Ask A Question

$0
$0
$0
$0
Potential Bonuses

Performance Bonuses that players on the active roster are eligible to achieve. A team can exceed the salary cap due to performance bonuses, but they carry over to the following season.

Learn More Or Ask A Question

$2,407,500
$0
$0
$0
Retained Salary Remaining

Teams can retain salary/cap hit when they trade a player. A team can only have a maximum of 3 players that they retained salary on.

Learn More Or Ask A Question

2
2
2
2
(26) Non-Roster
Player
POS
Age
2019-2020
2020-2021
2021-2022
2022-2023
2023-2024
Montoya, Al
G

MIN --> 0

34

$0

UFA

Stanton, Ryan
D

MIN --> 0

30

$0

UFA

Callahan, Mitch
RW

MIN --> 0

28

$0

UFA

Manning, Brandon
D

MIN --> 0

29

$2,250,000

$0

UFA

Lowe, Keegan
D

MIN --> 0

26

$675,000

$0

UFA

Malone, Brad
C

MIN --> 0

30

$700,000

$0

UFA

Yakimov, Bogdan
C

--> 0

24

$0

RFA

$0

UFA

Slepyshev, Anton
LW

MIN --> 0

25

$0

RFA

$0

UFA

Norell, Robin
D

MIN --> 0

24

$0

UFA

$0

UFA

Lagesson, William

D

MIN --> 0

23

$741,667

$0

RFA

$0

UFA

Mantha, Ryan

D

MIN --> 0

23

$870,000

$0

RFA

$0

UFA

Dudek, Joey
C

--> 0

23

$0

$0

UFA

Hawkey, Hayden
G

--> 0

24

$0

$0

UFA

Cave, Colby
C

NHL --> 0

24

$675,000

$0

RFA

$0

UFA

Jones, Caleb

D

MIN --> 0

22

$720,000

$0

RFA

Marody, Cooper

C

MIN --> 0

22

$925,000

$925,000

$0

RFA

Russell, Patrick
RW

MIN --> 0

26

$700,000

$0

UFA

Benson, Tyler

LW

MIN --> 0

21

$808,333

$808,333

$0

RFA

Niemelainen, Markus
D

--> 0

21

$0

Cairns, Matthew
D

--> 0

21

$0

Berglund, Filip
D

--> 0

22

$0

Wells, Dylan

G

MIN --> 0

21

$745,000

$745,000

$0

RFA

McPhee, Graham
LW

--> 0

21

$0

Rasanen, Aapeli
C

--> 0

18

$0

Desharnais, Vincent
D

--> 0

23

$0

$0

UFA

Gambardella, Joseph
C

MIN --> 0

25

$700,000

$700,000

$0

UFA

Yamamoto, Kailer

RW

MIN --> 0

20

$894,167

$894,167

$0

RFA

Skinner, Stuart

G

MIN --> 0

20

$784,166

$784,166

$0

RFA

Samorukov, Dmitri

D

MIN --> 0

20

$825,000

$825,000

$825,000

$0

RFA

Safin, Ostap

RW

MIN --> 0

20

$775,000

$775,000

$775,000

$0

RFA

Maksimov, Kirill

RW

MIN --> 0

20

$773,333

$773,333

$773,333

$0

RFA

Brind'Amour, Skyler
C

--> 0

20

$0

Kemp, Philip
D

--> 0

20

$0

Bouchard, Evan

D

MIN --> 0

19

$894,167

$894,167

$894,167

$0

RFA

McLeod, Ryan

C

--> 0

20

$834,167

$834,167

$834,167

$0

RFA

Rodrigue, Olivier

G

--> 0

19

SLIDE

$778,334

$778,334

$778,334

$0

RFA

Kesselring, Michael
D

--> 0

19

$0

Siikanen, Patrik
C

--> 0

19

$0

Vesel, Tyler
C

MIN --> 0

25

$0

UFA

$0

UFA

Vesey, Nolan

LW

MIN --> 0

24

$817,500

$0

RFA

$0

UFA

Currie, Josh
RW

MIN --> 0

26

$687,500

$0

UFA

Christoffer, Braden
LW

--> 0

25

$0

$0

UFA

$0

UFA

Crevier-Morin, Marc-Olivier
D

--> 0

23

$0

$0

UFA

$0

UFA

Day, Logan

D

--> 0

25

$750,000

$0

RFA

$0

UFA

$0

UFA

Gust, Dave
RW

--> 0

25

$0

$0

UFA

$0

UFA

Hebig, Cameron

C

MIN --> 0

22

$759,166

$0

RFA

Kulevich, Jake
D

--> 0

26

$0

$0

UFA

$0

UFA

Larkin, Colin
C

MIN --> 0

25

$0

UFA

$0

UFA

Starrett, Shane
G

MIN --> 0

25

$700,000

$0

RFA

$0

UFA

Wilson, Jared
D

--> 0

25

$0

$0

UFA

$0

UFA

Broberg, Philip

D

--> 0

18

$925,000

$894,167

$894,167

$894,167

$0

RFA

$0

UFA

$0

UFA

Lavoie, Raphael
C

--> 0

18

$0

$0

UFA

$0

UFA

Konovalov, Ilya
G

--> 0

19

$0

$0

UFA

$0

UFA

Blumel, Matej
RW

--> 0

19

$0

$0

UFA

$0

UFA

Mazura, Tomas
C

--> 0

18

$0

$0

UFA

$0

UFA

Denezhkin, Maxim
C

--> 0

18

$0

$0

UFA

$0

UFA

TOTALS
TOTALS

$19,488,333

$10,630,834

$5,774,168

$1,672,501

$0

$0