Edmonton Oilers
Bakersfield Condors
(AHL)
Wichita Thunder
(ECHL)
| | |
| --- | --- |
| Projected Cap Hit | $87,612,760 |
| Projected Cap Space | $-6,112,760 |
| Current Cap Space | $1,092,138 |
| LTIR Pool | $5,748,769 |
| Roster | 25/23 |
| Contracts | 47/50 |
Transactions
| | |
| --- | --- |
| Mikko Koskinen | Koskinen played 4:15 during Sunday's 4-1 win over the Flames in Game 3 while Mike Smith was being examined for a possible concussion. | May 22 |
| Mike Smith | Smith stopped 32 of 33 shots in Sunday's 4-1 win over the Flames in Game 3. | May 22 |
| Mike Smith | Smith will get the starting nod at home against Calgary on Sunday, per the (NHL)'s media site. | May 22 |
| Ryan Nugent-Hopkins | Nugent-Hopkins notched a shorthanded assist, two hits and two PIM in Friday's 5-3 win over the Flames in Game 2. | May 20 |
| Evander Kane | Kane notched a power-play assist, four PIM, three shots on goal, two hits and a plus-2 rating in Friday's 5-3 win over the Flames in Game 2. | May 20 |
Line Combinations
Updated: May 20 (7:36pm)
Line 1 $23,108,696
Pairing 1 $8,850,000
Line 2 $11,800,000
Pairing 2 $6,401,796
Line 3 $4,759,167
Pairing 3 $5,425,000
Line 4 $5,950,000
Goalies $6,700,000
Injury Report
Expected Return Thu Sep 15, 2022

Oscar Klefbom - IR-LT - Shoulder

Surgery

Mon Jul 12, 2021

Oscar Klefbom

| Klefbom (shoulder) has a "very slim chance" at playing during the 2021-22 season, Mark Spector of Sportsnet.ca reports.

---

Thu Mar 11, 2021

Oscar Klefbom

| Klefbom will undergo surgery on his injured shoulder in late March, Jason Gregor of OilersNation.com reports.
ICYMI (incase you missed it) 🚨WE DROPPED A THING 🚨 NEW: SCHMIDDY BATTLES SHIRT Get your own 👇👇
t.co/ESfmMgtndG
t.co/3VSYEwx3Yw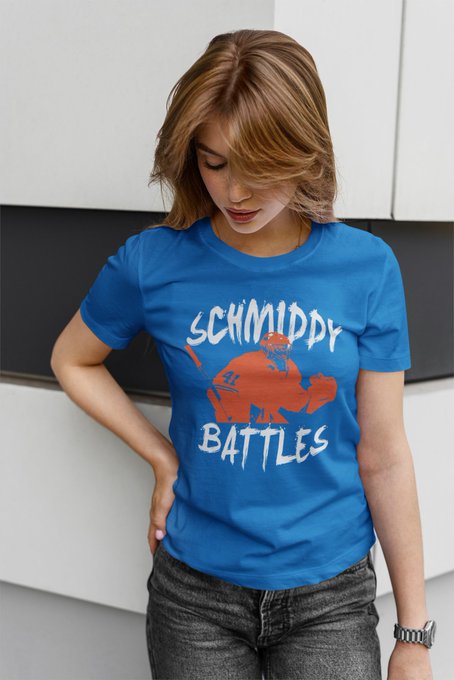 Great start from
@EdmontonOilers
outshooting Calgary 21-7 in the 1st Period. Kane-McDavid-Draisaitl obliterated the Flames in the 2nd off of transition. Kane Hat-Trick...great mid-season addition! Draisaitl, 4 assists McDavid 3 assists Smith, solid 32 saves. Fans were awesome!
Entry Level Contract
Waiver Exempt
Has Arbitration Rights
Two-way contract
(15) Forwards
$48,530,363
59.5% of cap
Player
POS

Age

2021-2022
2022-2023
2023-2024
2024-2025
2025-2026
Brassard, Derick
C

NHL --> 0

34

$0

UFA

Turris, Kyle
C

NHL --> 0

32

$1,650,000

$0

UFA

Kane, Evander
LW

NHL --> 0

30

$2,108,696

NMC

$0

UFA

Kassian, Zack
RW

NHL --> 0

31

$3,200,000

$3,200,000

$3,200,000

$0

UFA

Hyman, Zach
LW

NHL --> 0

29

$5,500,000

NMC

$5,500,000

NMC

$5,500,000

NMC

$5,500,000

NMC

$5,500,000

NMC

$0

UFA


(2028)
Nugent-Hopkins, Ryan
C

NHL --> 0

29

$5,125,000

NMC

$5,125,000

NMC

$5,125,000

NMC

$5,125,000

NMC

$5,125,000

NMC

$0

UFA


(2029)
Archibald, Josh
RW

NHL --> 0

29

$1,500,000

$0

UFA

Shore, Devin
LW

NHL --> 0

27

$850,000

$850,000

$0

UFA

Draisaitl, Leon
C

NHL --> 0

26

$8,500,000

$8,500,000

NMC

M-NTC

$8,500,000

NMC

M-NTC

$8,500,000

NMC

M-NTC

$0

UFA


(2025)
Foegele, Warren
LW

NHL --> 0

26

$2,750,000

$2,750,000

$2,750,000

$0

UFA

Ryan, Derek
C

NHL --> 0

35

$1,250,000

$1,250,000

$0

UFA

McDavid, Connor
C

NHL --> 0

25

$12,500,000

$12,500,000

NMC

$12,500,000

NMC

$12,500,000

NMC

$12,500,000

NMC

$0

UFA


(2026)
Puljujarvi, Jesse
RW

NHL --> 0

24

$1,175,000

$0

RFA

$0

UFA

Yamamoto, Kailer
RW

NHL --> 0

23

$1,175,000

$0

RFA

McLeod, Ryan

C

NHL --> 0

22

$834,167

$0

RFA

TOTALS

$48,530,363

$39,675,000

$37,575,000

$31,625,000

$23,125,000
(8) Defence
$26,093,796
32.0% of cap
Player
POS

Age

2021-2022
2022-2023
2023-2024
2024-2025
2025-2026
Keith, Duncan
D

NHL --> 0

38

$5,538,462

NMC

$5,538,462

NMC

$0

UFA

Russell, Kris
D

NHL --> 0

35

$1,250,000

$0

UFA

Barrie, Tyson
D

NHL --> 0

30

$4,500,000

$4,500,000

$4,500,000

$0

UFA

Klefbom, Oscar
D

NHL --> 0

28

$4,167,000

M-NTC

$4,167,000

M-NTC

$0

UFA

Ceci, Cody
D

NHL --> 0

28

$3,250,000

$3,250,000

$3,250,000

$3,250,000

$0

UFA


(2025)
Kulak, Brett
D

NHL --> 0

28

$0

UFA

Nurse, Darnell
D

NHL --> 0

27

$5,600,000

$9,250,000

NMC

$9,250,000

NMC

$9,250,000

NMC

$9,250,000

NMC

$0

UFA


(2030)
Bouchard, Evan

D

NHL --> 0

22

$863,334

$863,334

$0

RFA

TOTALS

$26,093,796

$27,568,796

$17,000,000

$12,500,000

$9,250,000
(2) Goalies
$6,700,000
8.2% of cap
Player
POS

Age

2021-2022
2022-2023
2023-2024
2024-2025
2025-2026
Smith, Mike
G

NHL --> 0

40

$2,200,000

$2,200,000

$0

UFA

Koskinen, Mikko
G

NHL --> 0

33

$4,500,000

M-NTC

$0

UFA

TOTALS

$6,700,000

$2,200,000
(0) Buried
$0
0.0% of cap
Player
POS

Age

2021-2022
2022-2023
2023-2024
2024-2025
2025-2026
TOTALS
(3) Buyout & Retained Salary
$4,166,667
5.1% of cap
Player
POS

Age

2021-2022
2022-2023
2023-2024
2024-2025
2025-2026
Lucic, Milan
Retained Salary
LW

NHL --> 0

33

Sekera, Andrej
Buyout
D

NHL --> 0

35

$1,500,000

$1,500,000

Neal, James
Buyout
LW

MIN --> 0

34

$1,916,667

$1,916,667

$1,916,667

$1,916,667

TOTALS

$4,166,667

$4,166,667

$1,916,667

$1,916,667
Cap Summary Projection Share Copy Link Embed Tweet It
2021-2022
2022-2023
2023-2024
2024-2025
Roster Size
25
15
9
6
Standard Player Contracts

Number of players signed to Standard Player Contracts (SPC's). Cannot exceed 50 players. Some players do not count towards this, such as 18/19 Year-Old players in Junior with less than 10 NHL Games Played in Season.

Learn More Or Ask A Question

47
34
20
7
Upper Limit

The maximum Salary Cap Hit of all players counting towards the active roster. Often referred to as "Salary Cap". This is determined in the summer and is based on the previous season's revenues, per the CBA.

Learn More Or Ask A Question

$81,500,000
$82,500,000
$82,500,000
$82,500,000
Projected Cap Hit

Anticipated Season-End Cap Hit based on the current roster, calculated by summing all Cap Hits of players currently counting towards the Salary Cap. Assumes current roster is in effect for the remainder of season.

Learn More Or Ask A Question

$87,612,760
$74,506,463
$56,491,667
$46,041,667
Projected Cap Space

Amount of Cap Space projected to be available at end of year. Calculated as Annual Salary Cap minus Projected Cap Hit.

Learn More Or Ask A Question

$-6,112,760
$7,993,537
$26,008,333
$36,458,333
Current Cap Space

Amount of Annual Cap Hit that can be added to the roster without exceeding the Upper Limit (Salary Cap Maximum) based on the current roster. For teams using LTIR, Current Cap Space is the amount of annual cap hit that can be added without exceeding the Salary Cap by more than the team's LTIR Pool.

Learn More Or Ask A Question

$1,092,138
$7,993,537
$26,008,333
$36,458,333
Maximum LTIR Pool

The maximum amount of Long Term Injured Reserve space potentially available. This is the Cap Hit of player on LTIR less the Cap Space available for team at time player was on LTIR. A player can go on LTIR when they expect to miss 10 games and 24 days in the season. A player on LTIR does not come off of the salary cap, instead a team is allowed to exceed the cap by the LTIR amount.

Learn More Or Ask A Question

$5,748,769
$0
$0
$0
Current Roster Annual Cap Hit

Anticipated Cap Hit based on the current roster, calculated by summing all Cap Hits of players currently counting towards the Salary Cap + retained salary + buyouts.

Learn More Or Ask A Question

$86,156,631
$74,506,463
$56,491,667
$46,041,667
Carryover Bonus Overages

Teams can exceed the salary cap due to players receiving performance bonuses. If a team exceeds the salary cap due to performance bonuses, they carryover to the previous season and reduce the cap space a team has.

Learn More Or Ask A Question

$665,805
$896,000
$0
$0
Potential Bonuses

Performance Bonuses that players on the active roster are eligible to achieve. A team can exceed the salary cap due to performance bonuses, but they carry over to the following season.

Learn More Or Ask A Question

$907,500
$850,000
$0
$0
Retained Salary Remaining

Teams can retain salary/cap hit when they trade a player. A team can only have a maximum of 3 players that they retained salary on.

Learn More Or Ask A Question

2
2
3
3
(22) Non-Roster
Player
POS

Age

2021-2022
2022-2023
2023-2024
2024-2025
2025-2026
Sceviour, Colton
C

MIN --> 0 -->

33

$750,000

$0

UFA

Malone, Brad
C

MIN --> 0 -->

33

$750,000

$0

UFA

Koekkoek, Slater
D

MIN --> 0 -->

28

$925,000

$925,000

$0

UFA

Griffith, Seth
C

MIN --> 0 -->

29

$725,000

$0

UFA

Yakimov, Bogdan
C

--> 0 -->

27

$0

RFA

$0

UFA

Slepyshev, Anton
LW

MIN --> 0 -->

28

$0

RFA

Perlini, Brendan
LW

MIN --> 0 -->

26

$750,000

$0

RFA

$0

UFA

Hawkey, Hayden
G

--> 0 -->

27

$0

$0

UFA

Marody, Cooper
C

MIN --> 0 -->

25

$750,000

$0

RFA

$0

UFA

Benson, Tyler
LW

MIN --> 0 -->

24

$750,000

$0

RFA

$0

UFA

Niemelainen, Markus
D

MIN --> 0 -->

23

$817,500

$762,500

$762,500

$0

RFA

$0

UFA

Berglund, Filip

D

MIN --> 0 -->

25

$817,500

$0

RFA

$0

UFA

Rasanen, Aapeli
C

--> 0 -->

20

$0

Desharnais, Vincent
D

--> 0 -->

25

$762,500

$762,500

Skinner, Stuart
G

MIN --> 0 -->

23

$750,000

$750,000

$0

RFA

Samorukov, Dmitri
D

MIN --> 0 -->

22

$825,000

$775,000

$0

RFA

Safin, Ostap

RW

MIN --> 0 -->

23

$775,000

$0

RFA

Brind'Amour, Skyler
C

--> 0 -->

22

$0

Kemp, Philip

D

MIN --> 0 -->

23

$786,667

$786,667

$0

RFA

Rodrigue, Olivier

G

MIN --> 0 -->

21

$795,000

$795,000

$0

RFA

Kesselring, Michael

D

MIN --> 0 -->

22

$925,000

$925,000

$925,000

$0

RFA

Siikanen, Patrik
C

--> 0 -->

22

$0

Christoffer, Braden
LW

--> 0 -->

27

$0

$0

UFA

Crevier-Morin, Marc-Olivier
D

--> 0 -->

26

$0

$0

UFA

Kulevich, Jake
D

--> 0 -->

29

$0

$0

UFA

Wilson, Jared
D

--> 0 -->

27

$0

$0

UFA

Broberg, Philip

D

MIN --> 0 -->

20

$863,334

$863,334

$863,334

$0

RFA

Lavoie, Raphael

C

MIN --> 0 -->

21

$870,000

$870,000

$0

RFA

Konovalov, Ilya

G

MIN --> 0 -->

23

$842,500

$842,500

$0

RFA

Mazura, Tomas
C

--> 0 -->

21

$0

$0

UFA

Denezhkin, Maxim
C

--> 0 -->

21

$0

$0

UFA

Burdasov, Anton
RW

--> 0 -->

31

$0

$0

UFA

Holloway, Dylan

C

MIN --> 0 -->

20

$925,000

$925,000

$925,000

$0

RFA

Savoie, Carter

LW

--> 0 -->

20

$925,000

$925,000

$925,000

$0

RFA

$0

UFA

Tullio, Tyler

C

MIN --> 0 -->

20

$843,333

$843,333

$843,333

$0

RFA

Berezkin, Maksim
LW

--> 0 -->

20

$0

$0

UFA

Engaras, Filip
C

--> 0 -->

23

$0

$0

UFA

Lindewall, Jeremias
LW

--> 0 -->

20

$0

$0

UFA

Bourgault, Xavier

C

--> 0 -->

19

$925,000

$925,000

$925,000

Münzenberger, Luca
D

--> 0 -->

19

$0

$0

UFA

Chaisson, Jake
RW

--> 0 -->

18

$0

$0

UFA

Petrov, Matvei

LW

MIN --> 0 -->

19

$843,333

$843,333

$843,333

$0

RFA

Lachance, Shane
LW

--> 0 -->

18

$0

$0

UFA

Wanner, Max
D

--> 0 -->

19

$0

$0

UFA

Hamblin, James

C

--> 0 -->

23

$807,500

$807,500

Fanti, Ryan

G

--> 0 -->

22

$883,750

$883,750

Philp, Noah

C

--> 0 -->

23

$842,500

TOTALS

$18,004,167

$16,052,917

$9,466,250

$925,000