Buffalo Sabres
| | |
| --- | --- |
| Cap Hit | $82,770,138 |
| Cap Space | $-1,270,138 |
| LTIR Pool | $5,722,024 |
| Roster | 21/23 |
| Contracts | 47/50 |
Transactions
| | |
| --- | --- |
| signed D Mattias Samuelsson to a three-year, entry-level contract. | Mar 25 |
| signed LW Dawson Dipietro to an entry-level contract. | Mar 23 |
| signed LW Brandon Biro to a two-year, entry-level contract. | Mar 18 |
| assigned D John Gilmour to Rochester (AHL). | Mar 8 |
| recalled D John Gilmour from Rochester (AHL). | Mar 7 |
No games currently scheduled
Line Combinations
Updated: Mar 11 (9:19am)
Line 1 $22,650,000
Pairing 1 $4,800,000
Line 2 $6,192,500
Pairing 2 $8,787,500
Line 3 $5,475,000
Pairing 3 $3,775,000
Line 4 $9,150,000
Goalies $4,075,000
@BuffaloSabres (official)
Can you get Bingo? 🤔 Favorite this tweet and let us know!
t.co/DMaNqy92Si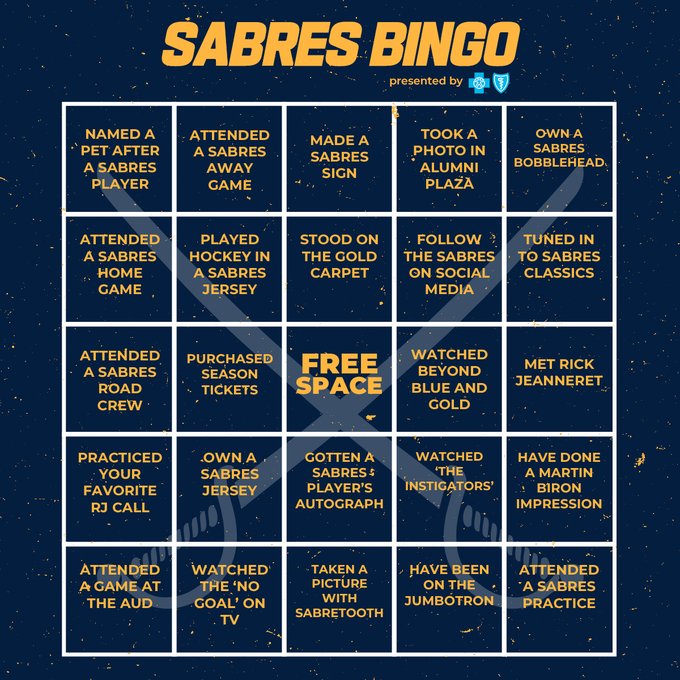 "I tried to battle hard and go in small areas, go in front of the net and win the battles. I think that was the biggest thing." Prospect Arttu Ruotsalainen had a career year in Finland:
t.co/ztnJ6BLamw
t.co/fHFJrP4M3X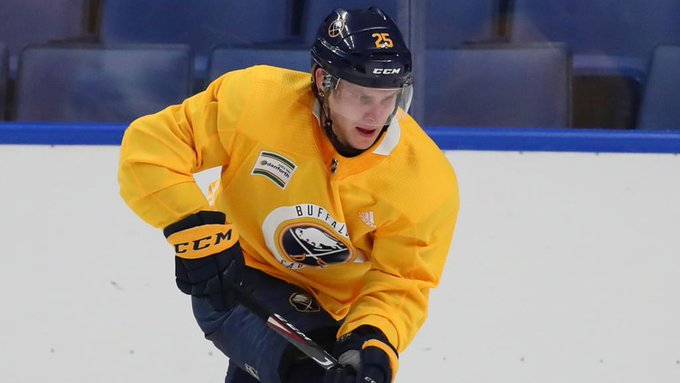 Danny Gare's just getting the party started at The Aud 💥 Tune in to
@MSGNetworks
to catch the rest of tonight's
#SabresClassics
game!
t.co/awsmvTx0UJ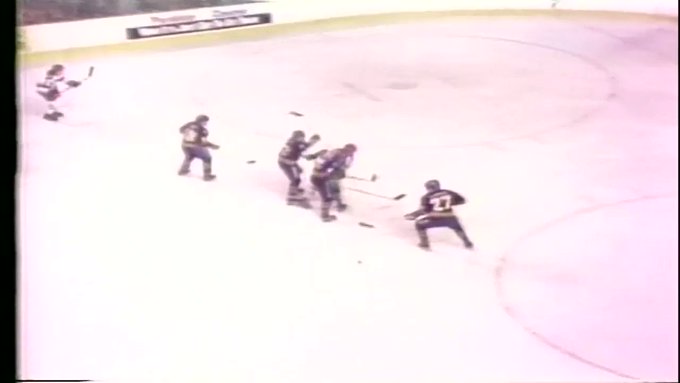 Entry Level Contract
Waiver Exempt
Has Arbitration Rights
Two-way contract
(12) Forwards
$52,192,500
64.0% of cap
Player
POS
Age
2019-2020
2020-2021
2021-2022
2022-2023
2023-2024
Sobotka, Vladimir
LTIR
C

LTIR --> 0

32

$3,500,000

$0

UFA

Okposo, Kyle
RW

NHL --> 0

32

$6,000,000

M-NTC

$6,000,000

M-NTC

$6,000,000

M-NTC

$6,000,000

M-NTC

$0

UFA

Simmonds, Wayne
RW

NHL --> 0

31

$0

UFA

Frolik, Michael
RW

NHL --> 0

32

$4,300,000

M-NTC

$0

UFA

Johansson, Marcus
LW

NHL --> 0

29

$4,500,000

M-NTC

$4,500,000

M-NTC

$0

UFA

Skinner, Jeff
LW

NHL --> 0

28

$9,000,000

$9,000,000

$9,000,000

$9,000,000

$9,000,000

$0

UFA

(2027)
Larsson, Johan
IR
LW

IR --> 0

27

$1,550,000

$0

UFA

Girgensons, Zemgus
LW

NHL --> 0

26

$1,600,000

$0

UFA

Vesey, Jimmy
LW

NHL --> 0

26

$2,275,000

$0

UFA

Lazar, Curtis
C

NHL --> 0

25

$700,000

$0

RFA

$0

UFA

Reinhart, Sam
RW

NHL --> 0

24

$3,650,000

$0

RFA

$0

UFA

Olofsson, Victor

LW

NHL --> 0

24

$767,500

$0

RFA

$0

UFA

Eichel, Jack
C

NHL --> 0

23

$10,000,000

$10,000,000

$10,000,000

$10,000,000

NMC

$10,000,000

NMC

$0

UFA

(2026)
Thompson, Tage
IR

RW

IR --> 0

22

$925,000

$0

RFA

Kahun, Dominik

LW

NHL --> 0

24

$925,000

$0

RFA

$0

UFA

TOTALS
TOTALS

$52,192,500

$29,500,000

$25,000,000

$25,000,000

$19,000,000

$0
(7) Defence
$20,537,500
25.2% of cap
Player
POS
Age
2019-2020
2020-2021
2021-2022
2022-2023
2023-2024
Hunwick, Matt
LTIR
D

LTIR --> 0

35

$2,250,000

$0

UFA

Miller, Colin
D

NHL --> 0

27

$3,875,000

$3,875,000

$3,875,000

$0

UFA

McCabe, Jake
D

NHL --> 0

26

$2,850,000

$2,850,000

$0

UFA

Ristolainen, Rasmus
D

NHL --> 0

25

$5,400,000

$5,400,000

$5,400,000

$0

UFA

Montour, Brandon
D

NHL --> 0

26

$3,387,500

$0

RFA

$0

UFA

Jokiharju, Henri

D

NHL --> 0

20

$925,000

$925,000

$0

RFA

Dahlin, Rasmus

D

NHL --> 0

20

$925,000

$925,000

$0

RFA

Pilut, Lawrence

D

NHL --> 0

24

$925,000

$0

RFA

$0

UFA

TOTALS
TOTALS

$20,537,500

$13,975,000

$9,275,000

$0

$0

$0
(2) Goalies
$4,075,000
5.0% of cap
Player
POS
Age
2019-2020
2020-2021
2021-2022
2022-2023
2023-2024
Hutton, Carter
G

NHL --> 0

34

$2,750,000

$2,750,000

$0

UFA

Ullmark, Linus
G

NHL --> 0

26

$1,325,000

$0

RFA

$0

UFA

TOTALS
TOTALS

$4,075,000

$2,750,000

$0

$0

$0

$0
(0) Buried
$0
0.0% of cap
| Player | POS | Age | 2019-2020 | 2020-2021 | 2021-2022 | 2022-2023 | 2023-2024 | |
| --- | --- | --- | --- | --- | --- | --- | --- | --- |
| TOTALS | TOTALS | $0 | $0 | $0 | $0 | $0 | $0 | |
(1) Buyout & Retained Salary
$791,667
1.0% of cap
Player
POS
Age
2019-2020
2020-2021
2021-2022
2022-2023
2023-2024
Hodgson, Cody
Buyout
C

--> 0

30

$791,667

$791,667

$791,667

$791,667

TOTALS
TOTALS

$791,667

$791,667

$791,667

$791,667

$0

$0
Cap Summary Projection Share Copy Link Embed Tweet It
2019-2020
2020-2021
2021-2022
2022-2023
Roster Size
25
10
5
3
Standard Player Contracts

Number of players signed to Standard Player Contracts (SPC's). Cannot exceed 50 players. Some players do not count towards this, such as 18/19 Year-Old players in Junior with less than 10 NHL Games Played in Season.

Learn More Or Ask A Question

47
22
11
4
Upper Limit

The maximum Salary Cap Hit of all players counting towards the active roster. Often referred to as "Salary Cap". This is determined in the summer and is based on the previous season's revenues, per the CBA.

Learn More Or Ask A Question

$81,500,000
$81,500,000
$81,500,000
$81,500,000
Projected Cap Hit

Anticipated Season-End Cap Hit based on the current roster, calculated by summing all Cap Hits of players currently counting towards the Salary Cap. Assumes current roster is in effect for the remainder of season.

Learn More Or Ask A Question

$82,770,138
$47,016,667
$35,066,667
$26,685,834
Projected Cap Space

Amount of Cap Space projected to be available at end of year. Calculated as Annual Salary Cap minus Projected Cap Hit.

Learn More Or Ask A Question

$-1,270,138
$34,483,333
$46,433,333
$54,814,166
Current Cap Space

Amount of Cap Space that can be added to the roster without exceeding the Upper Limit (Salary Cap Maximum) based on the current roster.

Learn More Or Ask A Question

$-1,270,138
$34,483,333
$46,433,333
$54,814,166
Maximum LTIR Pool

The maximum amount of Long Term Injured Reserve space potentially available. This is the Cap Hit of player on LTIR less the Cap Space available for team at time player was on LTIR. A player can go on LTIR when they expect to miss 10 games and 24 days in the season. A player on LTIR does not come off of the salary cap, instead a team is allowed to exceed the cap by the LTIR amount.

Learn More Or Ask A Question

$5,722,024
$0
$0
$0
Current Roster Annual Cap Hit

Anticipated Cap Hit based on the current roster, calculated by summing all Cap Hits of players currently counting towards the Salary Cap + retained salary + buyouts.

Learn More Or Ask A Question

$77,596,667
$47,016,667
$35,066,667
$26,685,834
Carryover Bonus Overages

Teams can exceed the salary cap due to players receiving performance bonuses. If a team exceeds the salary cap due to performance bonuses, they carryover to the previous season and reduce the cap space a team has.

Learn More Or Ask A Question

$0
$0
$0
$0
Potential Bonuses

Performance Bonuses that players on the active roster are eligible to achieve. A team can exceed the salary cap due to performance bonuses, but they carry over to the following season.

Learn More Or Ask A Question

$7,107,500
$3,487,500
$0
$0
Retained Salary Remaining

Teams can retain salary/cap hit when they trade a player. A team can only have a maximum of 3 players that they retained salary on.

Learn More Or Ask A Question

3
3
3
3
(23) Non-Roster
Player
POS
Age
2019-2020
2020-2021
2021-2022
2022-2023
2023-2024
Smith, Dalton
LW

MIN --> 0

27

$700,000

$0

UFA

Wilson, Scott
LW

MIN --> 0

28

$1,050,000

$0

UFA

Leier, Taylor
LW

MIN --> 0

26

$700,000

$0

RFA

$0

UFA

O'Regan, Danny
C

MIN --> 0

26

$700,000

$0

RFA

$0

UFA

Dea, Jean-Sebastien
C

MIN --> 0

26

$700,000

$700,000

$0

UFA

Hammond, Andrew
G

MIN --> 0

32

$700,000

$0

UFA

Hurley, Connor
C

--> 0

24

$0

$0

UFA

Elie, Remi
LW

MIN --> 0

25

$700,000

$0

RFA

$0

UFA

Malone, Sean
C

MIN --> 0

25

$0

UFA

$0

UFA

Gilmour, John
D

MIN --> 0

27

$700,000

$0

UFA

Cornel, Eric
C

MIN --> 0

24

$0

UFA

$0

UFA

Dougherty, Jack
D

MIN --> 0

23

$0

UFA

$0

UFA

Johansson, Jonas

G

MIN --> 0

24

$759,167

$0

RFA

$0

UFA

Hickey, Brandon

D

MIN --> 0

24

$925,000

$0

RFA

$0

UFA

Martin, Brycen
D

MIN --> 0

24

$0

UFA

$0

UFA

Willman, Maxwell
C

--> 0

25

$0

$0

UFA

Brown, Christopher
C

--> 0

24

$0

$0

UFA

Spencer, Matthew

D

MIN --> 0

23

$728,333

$0

RFA

Borgen, William

D

MIN --> 0

23

$864,166

$864,166

$0

RFA

Chukarov, Ivan
D

--> 0

25

$0

$0

UFA

Nelson, Casey
D

MIN --> 0

27

$812,500

$0

UFA

Asplund, Rasmus

C

MIN --> 0

22

$845,000

$845,000

$0

RFA

Fitzgerald, Casey

D

MIN --> 0

23

$858,750

$858,750

$0

RFA

Murray, Brett
LW

--> 0

21

$0

Nyberg, Philip
D

--> 0

23

$0

Glotov, Vasii
C

--> 0

22

$0

Smith, C.J.
LW

MIN --> 0

25

$700,000

$700,000

$0

RFA

$0

UFA

Mittelstadt, Casey

C

MIN --> 0

21

$925,000

$0

RFA

Davidsson, Marcus
D

--> 0

23

$0

Luukkonen, Ukko-Pekka

G

MIN --> 0

21

$778,333

$778,333

$778,333

$0

RFA

Laaksonen, Oskari
D

--> 0

20

$0

Bryson, Jacob

D

MIN --> 0

22

$889,166

$889,166

$889,166

$0

RFA

Weissbach, Linus
LW

--> 0

22

$0

Samuelsson, Mattias
D

--> 0

20

$0

Pekar, Matej

C

MIN --> 0

20

$894,167

$894,167

$894,167

$0

RFA

Lindstrand Cronholm, Linus
D

--> 0

19

$0

Kukkonen, Miska
D

--> 0

19

$0

Worge Kreu, William
D

--> 0

20

$0

Oglevie, Andrew

C

MIN --> 0

25

$925,000

$0

RFA

$0

UFA

Ruotsalainen, Arttu

C

MIN --> 0

22

$925,000

$925,000

$925,000

$0

RFA

Cozens, Dylan

C

MIN --> 0

19

SLIDE

$894,167

$894,167

$894,167

$0

RFA

Johnson, Ryan
LW

--> 0

36

$0

$0

UFA

$0

UFA

Portillo, Erik
G

--> 0

19

$0

$0

UFA

$0

UFA

Huglen, Aaron
LW

--> 0

19

$0

$0

UFA

$0

UFA

Cederqvist, Filip
LW

--> 0

19

$0

$0

UFA

$0

UFA

Rousek, Lukas
LW

--> 0

21

$0

$0

UFA

$0

UFA

Houser, Michael
G

--> 0

27

$0

$0

UFA

$0

UFA

Biro, Brandon

LW

--> 0

22

$925,000

$925,000

Di Pietro, Dawson

LW

--> 0

24

$750,000

$0

UFA

TOTALS
TOTALS

$18,704,582

$10,023,749

$5,305,833

$894,167

$0

$0