Tampa Bay Lightning Injury Report
Victor Hedman - Upper Body
Hedman has an upper-body ailment and it is unknown if he will return for Game 5 of the Eastern Conference first round against the Blue Jackets.

questionable - Ques Fri

Updated Apr 16, 2019

questionable - Ques Fri

Updated Apr 16, 2019

Anton Stralman - Lower Body
Stralman is dealing with a lower-body injury and his availability for Game 5 of the Eastern Conference first round against the Blue Jackets is uncertain.

questionable - Ques Fri

Updated Apr 16, 2019

questionable - Ques Fri

Updated Apr 16, 2019

Alex Killorn - Leg
Killorn has a leg injury but it is not expected to affect his status for Game 4 of the Eastern Conference first round against the Blue Jackets.

probable - Prob Tues

Updated Apr 16, 2019

probable - Prob Tues

Updated Apr 16, 2019

Ryan Callahan - Undisclosed
Callahan sat out the previous two games with an unspecified injury, but is expected to suit up against the Blue Jackets for Game 3 of the Eastern Conference first round.

probable - Prob Sun

Updated Apr 14, 2019

probable - Prob Sun

Updated Apr 14, 2019
Tampa Bay Lightning Voices
@TBLightning (official)
"It sucks. Not much to say."
#TBLvsCBJ
Game 4 | Nikita Kucherov:
t.co/JRpCPoJ61f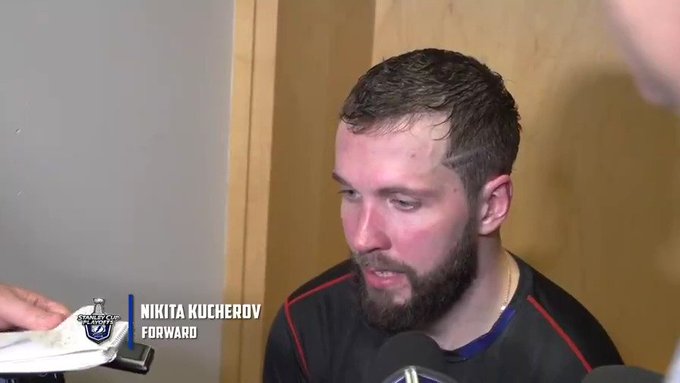 "Looking at the tape, looking at a lot of things, I think you can draw up a game plan, X and O it up, but we didn't skate for a lot of the series, didn't play at the pace we needed to."
#TBLvsCBJ
Game 4 | Ryan McDonagh:
t.co/bcMDOw5Dte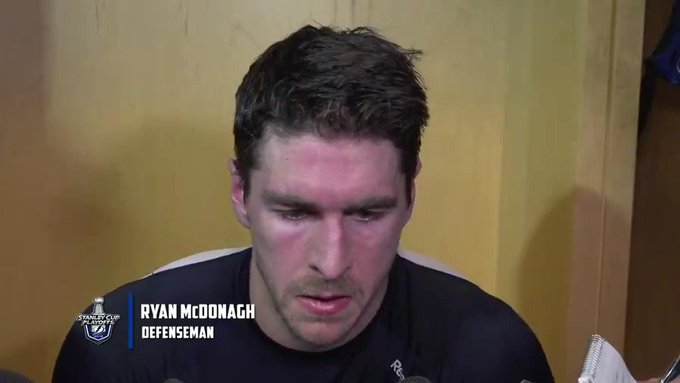 "At the end of the day, you obviously don't see this coming. We had confidence coming in. We were hoping for a deep playoff run and I sit here now and it's hard to put into words how you feel."
#TBLvsCBJ
Game 4 | Ryan Callahan:
t.co/DmUQNRPFwJ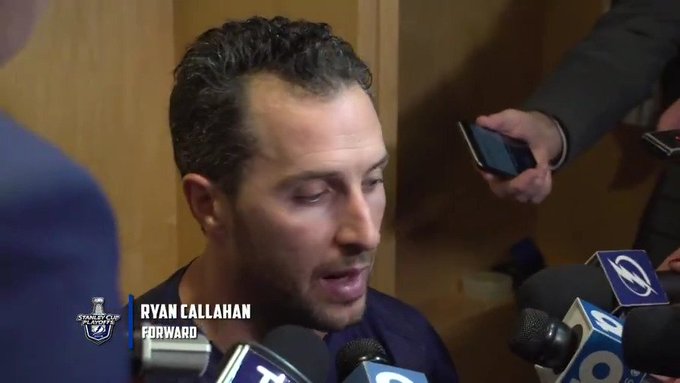 Joe Smith
RT
@TheAthletic
: Tampa Bay became the first President's Trophy winner to get swept in the first round. What happened to the Lightning and w…
Nikita Kucherov and Andrei Vasilevskiy plan to play for Russia in the upcoming World Championships, per agent Dan Milstein. Milstein said Vasilevskiy was dealing with a minor lower body injury in playoffs, but as long as that checks out okay, he'll go.
#tblightning
.
Entry Level Contract
Waiver Exempt
Has Arbitration Rights
Two-way contract
(14) Forwards
$44,725,000
56.3% of cap
Player
POS
Status
Age
2018-2019
2019-2020
2020-2021
2021-2022
2022-2023
2023-2024
Callahan, Ryan
RW
NHL --> 0
34

$5,800,000

NMC

M-NTC

$5,800,000

NMC

M-NTC

$0

UFA

Stamkos, Steven
C
NHL --> 0
29

$8,500,000

NMC

$8,500,000

NMC

$8,500,000

NMC

$8,500,000

NMC

$8,500,000

NMC

$8,500,000

NMC

$0

UFA

(2024)
Johnson, Tyler
C
NHL --> 0
28

$5,000,000

NTC

$5,000,000

NTC

$5,000,000

NTC

$5,000,000

M-NTC

$5,000,000

M-NTC

$5,000,000

M-NTC

$0

UFA

(2024)
Kucherov, Nikita
RW
NHL --> 0
25

$4,766,667

$9,500,000

$9,500,000

NMC

$9,500,000

NMC

$9,500,000

NMC

$9,500,000

NMC

$0

UFA

(2027)
Palat, Ondrej
LW
NHL --> 0
28

$5,300,000

NTC

$5,300,000

NTC

$5,300,000

NTC

$5,300,000

M-NTC

$0

UFA

Miller, J.T.
C
NHL --> 0
26

$5,250,000

$5,250,000

$5,250,000

$5,250,000

$5,250,000

$0

UFA

Killorn, Alex
LW
NHL --> 0
29

$4,450,000

NTC

$4,450,000

NTC

$4,450,000

M-NTC

$4,450,000

M-NTC

$4,450,000

M-NTC

$0

UFA

Paquette, Cedric
C
NHL --> 0
25

$1,000,000

$0

UFA

Martel, Danick
LW
NHL --> 0
24

$715,000

$0

RFA

Erne, Adam
LW
NHL --> 0
23

$800,000

$0

RFA

Point, Brayden

C
NHL --> 0
23

$686,667

$0

RFA

Gourde, Yanni
C
NHL --> 0
27

$1,000,000

$5,166,666

NTC

$5,166,666

NTC

$5,166,667

NTC

$5,166,667

M-NTC

$5,166,667

M-NTC

$0

UFA

(2025)
Cirelli, Anthony

C
NHL --> 0
21

$728,333

$728,333

$0

RFA

Joseph, Mathieu

RW
NHL --> 0
22

$728,333

$728,333

$0

RFA

TOTALS
TOTALS

$44,725,000

$50,423,332

$43,166,666

$43,166,667

$37,866,667

$28,166,667
(9) Defence
$28,266,666
35.6% of cap
Player
POS
Status
Age
2018-2019
2019-2020
2020-2021
2021-2022
2022-2023
2023-2024
Girardi, Dan
D
NHL
34

$3,000,000

NTC

$0

UFA

Coburn, Braydon
D
NHL
34

$3,700,000

M-NTC

$0

UFA

Stralman, Anton
D
NHL
32

$4,500,000

M-NTC

$0

UFA

Gaunce, Cameron
D
NHL
29

$650,000

$0

UFA

Hedman, Victor
D
NHL
28

$7,875,000

NMC

$7,875,000

NMC

$7,875,000

NMC

$7,875,000

NMC

$7,875,000

M-NTC

$7,875,000

M-NTC

$0

UFA

(2025)
McDonagh, Ryan
D
NHL
29

$4,700,000

M-NTC

$6,750,000

NTC

$6,750,000

NTC

$6,750,000

NTC

$6,750,000

NTC

$6,750,000

NTC

$0

UFA

(2026)
Cernak, Erik

D
NHL
21

$697,500

$697,500

$0

RFA

Sergachev, Mikhail

D
NHL
20

$894,166

$894,166

$0

RFA

Rutta, Jan
D
NHL
28

$2,250,000

$0

UFA

TOTALS
TOTALS

$28,266,666

$16,216,666

$14,625,000

$14,625,000

$14,625,000

$14,625,000
(3) Goalies
$5,300,000
6.7% of cap
Player
POS
Status
Age
2018-2019
2019-2020
2020-2021
2021-2022
2022-2023
2023-2024
Pasquale, Edward
G
NHL
28

$650,000

$0

UFA

Domingue, Louis
G
NHL
27

$1,150,000

$1,150,000

$0

UFA

Vasilevskiy, Andrei
G
NHL
24

$3,500,000

$3,500,000

$0

RFA

TOTALS
TOTALS

$5,300,000

$4,650,000

$0

$0

$0

$0
(0) Buried
$0
0.0% of cap
Player
POS
Status
Age
2018-2019
2019-2020
2020-2021
2021-2022
2022-2023
2023-2024
TOTALS
TOTALS

$0

$0

$0

$0

$0

$0
(1) Buyout & Retained Salary
$1,833,333
2.3% of cap
Player
POS
Status
Age
2018-2019
2019-2020
2020-2021
2021-2022
2022-2023
2023-2024
Carle, Matt
Buyout
D
34

$1,833,333

$1,833,333

TOTALS
TOTALS

$1,833,333

$1,833,333

$0

$0

$0

$0
Cap Summary Projection
2018-2019
2019-2020
2020-2021
2021-2022
Roster Size
26
16
9
9
Standard Player Contracts

Number of players signed to Standard Player Contracts (SPC's). Cannot exceed 50 players. Some players do not count towards this, such as 18/19 Year-Old players in Junior with less than 10 NHL Games Played in Season.

Learn More Or Ask A Question

51
32
16
9
Upper Limit

The maximum Salary Cap Hit of all players counting towards the active roster. Often referred to as "Salary Cap". This is determined in the summer and is based on the previous season's revenues, per the CBA.

Learn More Or Ask A Question

$79,500,000
$79,500,000
$79,500,000
$79,500,000
Projected Cap Hit

Anticipated Season-End Cap Hit based on the current roster, calculated by summing all Cap Hits of players currently counting towards the Salary Cap. Assumes current roster is in effect for the remainder of season.

Learn More Or Ask A Question

$78,038,972
$73,123,331
$57,791,666
$57,791,667
Projected Cap Space

Amount of Cap Space projected to be available at end of year. Calculated as Annual Salary Cap minus Projected Cap Hit.

Learn More Or Ask A Question

$1,461,028
$6,376,669
$21,708,334
$21,708,333
Current Cap Space

Amount of Cap Space that can be added to the roster without exceeding the Upper Limit (Salary Cap Maximum) based on the current roster.

Learn More Or Ask A Question

$inf
$6,376,669
$21,708,334
$21,708,333
Maximum LTIR Pool

The maximum amount of Long Term Injured Reserve space potentially available. This is the Cap Hit of player on LTIR less the Cap Space available for team at time player was on LTIR. A player can go on LTIR when they expect to miss 10 games and 24 days in the season. A player on LTIR does not come off of the salary cap, instead a team is allowed to exceed the cap by the LTIR amount.

Learn More Or Ask A Question

$0
$0
$0
$0
Current Roster Annual Cap Hit

Anticipated Cap Hit based on the current roster, calculated by summing all Cap Hits of players currently counting towards the Salary Cap + retained salary + buyouts.

Learn More Or Ask A Question

$80,267,946
$73,123,331
$57,791,666
$57,791,667
Carryover Bonus Overages

Teams can exceed the salary cap due to players receiving performance bonuses. If a team exceeds the salary cap due to performance bonuses, they carryover to the previous season and reduce the cap space a team has.

Learn More Or Ask A Question

$142,947
$0
$0
$0
Potential Bonuses

Performance Bonuses that players on the active roster are eligible to achieve. A team can exceed the salary cap due to performance bonuses, but they carry over to the following season.

Learn More Or Ask A Question

$1,600,000
$1,362,500
$0
$0
Retained Salary Remaining

Teams can retain salary/cap hit when they trade a player. A team can only have a maximum of 3 players that they retained salary on.

Learn More Or Ask A Question

3
3
3
3
(24) Non-Roster
Player
POS
Status
Age
2018-2019
2019-2020
2020-2021
2021-2022
2022-2023
2023-2024
Dumont, Gabriel
C
MIN
28

$650,000

$0

UFA

Bournival, Michael
LW
MIN
26

$650,000

$0

UFA

Andreoff, Andy
C
MIN
27

$677,500

$0

UFA

Conacher, Cory
C
MIN
29

$650,000

$700,000

$0

UFA

Verhaeghe, Carter
LW
MIN
23

$650,000

$0

RFA

Vermin, Joel
RW
27

$0

Masin, Dominik

D
MIN
23

$894,200

$0

RFA

Thomas, Ben

D
MIN
22

$690,000

$0

RFA

Walcott, Daniel
D
MIN
25

$650,000

$0

RFA

Stephens, Mitchell

C
MIN
22

$833,333

$833,333

$0

RFA

Spencer, Matthew

D
MIN
22

$728,333

$728,333

$0

RFA

Yan, Dennis

LW
MIN
22

$728,333

$728,333

$0

RFA

Tammela, Jonne

RW
MIN
21

$693,704

$693,704

$0

RFA

Zuhlsdorf, Ryan
D
21

$0

Oldham, Kristian
G
21

$0

Ingram, Connor

G
MIN
22

$759,167

$759,167

$0

RFA

Katchouk, Boris

LW
MIN
20

$833,334

$833,334

$833,334

$0

RFA

Raddysh, Taylor

RW
MIN
21

$833,334

$833,334

$833,334

$0

RFA

Colton, Ross

C
MIN
22

$767,500

$767,500

$0

RFA

Priskie, Chase
D
23

$0

Sosunov, Oleg

D
MIN
21

$716,666

$716,666

$716,666

$0

RFA

Somppi, Otto

C
MIN
21

$763,333

$763,333

$763,333

$0

RFA

Lohin, Ryan
C
22

$0

Hults, Mitch

C
MIN
24

$833,750

$0

RFA

Foote, Callan

D
MIN
20

$925,000

$925,000

$925,000

$0

RFA

Volkov, Alexander

RW
MIN
21

$864,167

$864,167

$0

RFA

Lipanov, Alexei

C
MIN
19

$778,333

$778,333

$778,333

$0

RFA

Perbix, Nicklaus
D
20

$0

Guttman, Cole
C
20

$0

Walker, Samuel
C
19

$0

Fortier, Gabriel
LW
19

$0

Semykin, Dmitry
D
19

$0

Green, Alexander
D
20

$0

Chrona, Magnus
G
18

$0

Koepke, Cole
LW
20

$0

Salda, Radim
D
20

$0

Taylor, Ty
G
19

$0

Archambault, Olivier
LW
26

$0

Barre-Boulet, Alex

C
MIN
21

$759,258

$759,258

$759,258

$0

RFA

Lynch, Kevin
C
MIN
27

$650,000

$0

UFA

Oullette, Martin
G
27

$0

Pederson, Brent
LW
23

$0

TOTALS
TOTALS

$17,979,245

$11,683,795

$5,609,258

$0

$0

$0