| | |
| --- | --- |
| Cap Hit | $67,574,166 |
| Cap Space | $13,925,834 |
| LTIR Pool | $0 |
| Roster | 20/23 |
| Contracts | 41/50 |
No games currently scheduled
Line Combinations
Updated: Nov 27 (7:22am)
Line 1 $15,150,000
Pairing 1 $12,733,333
Line 2 $5,575,000
Pairing 2 $8,766,666
Line 3 $7,486,667
Pairing 3 $2,044,167
Line 4 $5,863,333
Goalies $3,900,000
@NJDevils (official)
On this International Day of Persons with Disabilities, were looking back at Evan's Call. For Evan Yasser, being on the autism spectrum doesn't stop him from calling the game for a team that he loves.
#NJDevils
|
#IDPD2020
t.co/WpMD9Ly86y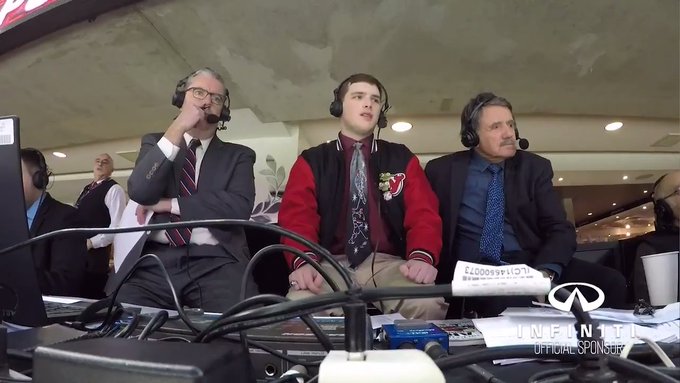 New Jersey Devils Tweets
RT
@Oliviawitherite
: A lot of people ask me about positions at
@TheAthletic
. I can personally tell you that it's a great place to work. Pos…
#NJDevils
prospect Aarne Talvitie has scored his first goal of the season for Penn State. He had two assists in the first five games. The Nittany Lions have lost their first five games of the season, just like the football team did. It's probably all
@ChrisRyan_NJ
's fault.
t.co/ucWbhYl5HN
What are
#NJDevils
fans expectations for Jack Hughes, P.K. Subban, Mackenzie Blackwood and others for the 2020-21 season? We laid out five scenarios for each player. You chose chose the one that lines up w/your expectations. Here are the results:
t.co/zr3JrqMZ79
Entry Level Contract
Waiver Exempt
Has Arbitration Rights
Two-way contract
(12) Forwards
$34,713,333
42.6% of cap
Player
POS
Age
2020-2021
2021-2022
2022-2023
2023-2024
2024-2025
Zajac, Travis
C

NHL --> 0

35

$5,750,000

NTC

$0

UFA

Palmieri, Kyle
RW

NHL --> 0

29

$4,650,000

M-NTC

$0

UFA

Street, Ben
C

NHL --> 0

33

$750,000

$0

UFA

Gusev, Nikita
LW

NHL --> 0

28

$4,500,000

M-NTC

$0

UFA

Wood, Miles
LW

NHL --> 0

25

$2,750,000

$2,750,000

$0

RFA

$0

UFA

Johnsson, Andreas
LW

NHL --> 0

26

$3,400,000

$3,400,000

$3,400,000

$0

UFA

Zacha, Pavel
C

NHL --> 0

23

$2,250,000

$2,250,000

$0

RFA

$0

UFA

Seney, Brett
LW

NHL --> 0

24

$700,000

$0

RFA

$0

UFA

McLeod, Michael

C

NHL --> 0

22

$863,333

$0

RFA

Bratt, Jesper
LW

NHL --> 0

22

$0

RFA

$0

UFA

Hischier, Nico
C

NHL --> 0

21

$7,250,000

$7,250,000

$7,250,000

$7,250,000

$7,250,000

$0

UFA

(2027)
Boqvist, Jesper

LW

NHL --> 0

22

$925,000

$925,000

$0

RFA

Hughes, Jack

C

NHL --> 0

19

$925,000

$925,000

$0

RFA

TOTALS
TOTALS

$34,713,333

$17,500,000

$10,650,000

$7,250,000

$7,250,000

$0
(7) Defence
$25,044,166
30.7% of cap
Player
POS
Age
2020-2021
2021-2022
2022-2023
2023-2024
2024-2025
Kulikov, Dmitry
D

NHL --> 0

30

$1,150,000

$0

UFA

Subban, P.K.
D

NHL --> 0

31

$9,000,000

$9,000,000

$0

UFA

Claesson, Fredrik
D

NHL --> 0

28

$0

UFA

Murray, Ryan
D

NHL --> 0

27

$4,600,000

$0

UFA

Severson, Damon
D

NHL --> 0

26

$4,166,666

$4,166,666

$4,166,666

$0

UFA

Carrick, Connor
D

NHL --> 0

26

$1,500,000

$0

UFA

Mueller, Mirco
D

NHL --> 0

25

$0

UFA

$0

UFA

Butcher, Will
D

NHL --> 0

25

$3,733,333

$3,733,333

$0

UFA

Smith, Ty

D

NHL --> 0

20

$894,167

$894,167

$0

RFA

TOTALS
TOTALS

$25,044,166

$17,794,166

$4,166,666

$0

$0

$0
(1) Goalies
$3,900,000
4.8% of cap
Player
POS
Age
2020-2021
2021-2022
2022-2023
2023-2024
2024-2025
Crawford, Corey
G

NHL --> 0

35

$3,900,000

NTC

$3,900,000

M-NTC

$0

UFA

Blackwood, Mackenzie
G

NHL --> 0

23

$0

RFA

$0

UFA

TOTALS
TOTALS

$3,900,000

$3,900,000

$0

$0

$0

$0
(0) Buried
$0
0.0% of cap
| Player | POS | Age | 2020-2021 | 2021-2022 | 2022-2023 | 2023-2024 | 2024-2025 | |
| --- | --- | --- | --- | --- | --- | --- | --- | --- |
| TOTALS | TOTALS | $0 | $0 | $0 | $0 | $0 | $0 | |
(3) Buyout & Retained Salary
$3,916,667
4.8% of cap
Player
POS
Age
2020-2021
2021-2022
2022-2023
2023-2024
2024-2025
Cammalleri, Michael
Buyout
LW

NHL --> 0

38

$1,666,667

Kovalchuk, Ilya
Buyout
LW

NHL --> 0

37

$250,000

$250,000

$250,000

Schneider, Cory
Buyout
G

MIN --> 0

34

$2,000,000

$2,000,000

$2,000,000

$2,000,000

TOTALS
TOTALS

$3,916,667

$2,250,000

$2,250,000

$2,000,000

$0

$0
Cap Summary Projection Share Copy Link Embed Tweet It
2020-2021
2021-2022
2022-2023
2023-2024
Roster Size
20
11
3
1
Standard Player Contracts

Number of players signed to Standard Player Contracts (SPC's). Cannot exceed 50 players. Some players do not count towards this, such as 18/19 Year-Old players in Junior with less than 10 NHL Games Played in Season.

Learn More Or Ask A Question

41
18
6
1
Upper Limit

The maximum Salary Cap Hit of all players counting towards the active roster. Often referred to as "Salary Cap". This is determined in the summer and is based on the previous season's revenues, per the CBA.

Learn More Or Ask A Question

$81,500,000
$81,500,000
$81,500,000
$81,500,000
Projected Cap Hit

Anticipated Season-End Cap Hit based on the current roster, calculated by summing all Cap Hits of players currently counting towards the Salary Cap. Assumes current roster is in effect for the remainder of season.

Learn More Or Ask A Question

$67,574,166
$41,444,166
$17,066,666
$9,250,000
Projected Cap Space

Amount of Cap Space projected to be available at end of year. Calculated as Annual Salary Cap minus Projected Cap Hit.

Learn More Or Ask A Question

$13,925,834
$40,055,834
$64,433,334
$72,250,000
Current Cap Space

Amount of Cap Space that can be added to the roster without exceeding the Upper Limit (Salary Cap Maximum) based on the current roster.

Learn More Or Ask A Question

$14,145,138
$40,055,834
$64,433,334
$72,250,000
Maximum LTIR Pool

The maximum amount of Long Term Injured Reserve space potentially available. This is the Cap Hit of player on LTIR less the Cap Space available for team at time player was on LTIR. A player can go on LTIR when they expect to miss 10 games and 24 days in the season. A player on LTIR does not come off of the salary cap, instead a team is allowed to exceed the cap by the LTIR amount.

Learn More Or Ask A Question

$0
$0
$0
$0
Current Roster Annual Cap Hit

Anticipated Cap Hit based on the current roster, calculated by summing all Cap Hits of players currently counting towards the Salary Cap + retained salary + buyouts.

Learn More Or Ask A Question

$67,574,166
$41,444,166
$17,066,666
$9,250,000
Carryover Bonus Overages

Teams can exceed the salary cap due to players receiving performance bonuses. If a team exceeds the salary cap due to performance bonuses, they carryover to the previous season and reduce the cap space a team has.

Learn More Or Ask A Question

$0
$0
$0
$0
Potential Bonuses

Performance Bonuses that players on the active roster are eligible to achieve. A team can exceed the salary cap due to performance bonuses, but they carry over to the following season.

Learn More Or Ask A Question

$3,350,000
$2,850,000
$0
$0
Retained Salary Remaining

Teams can retain salary/cap hit when they trade a player. A team can only have a maximum of 3 players that they retained salary on.

Learn More Or Ask A Question

3
3
3
3
(21) Non-Roster
Player
POS
Age
2020-2021
2021-2022
2022-2023
2023-2024
2024-2025
Strait, Brian
D

MIN --> 0

32

$0

UFA

Erixon, Tim
D

--> 0

29

$0

Wedgewood, Scott
G

MIN --> 0

28

$700,000

$0

UFA

Melchiori, Julian
D

MIN --> 0

28

$0

UFA

Murphy, Ryan
D

MIN --> 0

27

$0

UFA

Tennyson, Matt
D

MIN --> 0

30

$700,000

$0

UFA

Thomson, Ben
LW

MIN --> 0

27

$0

RFA

Bertschy, Christoph
C

MIN --> 0

26

$0

RFA

$0

UFA

Jacobs, Josh
D

MIN --> 0

24

$700,000

$0

RFA

$0

UFA

McIntyre, Zane
G

MIN --> 0

28

$0

UFA

Merkley, Nicholas
RW

MIN --> 0

23

$874,125

$0

RFA

$0

UFA

White, Colton
D

MIN --> 0

23

$700,000

$0

RFA

$0

UFA

Bastian, Nathan

RW

MIN --> 0

22

$714,167

$0

RFA

Kuokkanen, Janne

LW

MIN --> 0

22

$811,667

$0

RFA

Gignac, Brandon

C

MIN --> 0

23

$714,167

$0

RFA

Maltsev, Mikhail

C

MIN --> 0

22

$809,167

$809,167

$0

RFA

Cormier, Evan

G

MIN --> 0

23

$718,333

$0

RFA

Quenneville, David

D

MIN --> 0

22

$775,833

$0

RFA

Zetterlund, Fabian

RW

MIN --> 0

21

$809,167

$809,167

$0

RFA

Schnarr, Nate

C

MIN --> 0

21

$786,667

$786,667

$0

RFA

Walsh, Reilly
D

--> 0

21

$0

Popugaev, Nikita
RW

--> 0

22

$0

Senn, Gilles

G

MIN --> 0

24

$817,500

$0

RFA

$0

UFA

Studenic, Marian

LW

MIN --> 0

22

$775,833

$0

RFA

Talvitie, Aarne
C

--> 0

21

$0

Chainey, Jocktan
D

--> 0

21

$0

Zaitsev, Yegor
D

--> 0

22

$0

Hellickson, Matthew
D

--> 0

22

$0

Cangelosi, Austin
C

--> 0

26

$0

$0

UFA

Bahl, Kevin

D

MIN --> 0

20

$786,667

$786,667

$786,667

$0

RFA

Bernard, Xavier
D

--> 0

20

$0

Schmid, Akira
G

--> 0

20

$0

Sharangovich, Yegor

C

MIN --> 0

22

$775,833

$0

RFA

Hoelscher, Mitchell
C

--> 0

20

$0

Pakkila, Eetu
LW

--> 0

21

$0

Sissons, Colby

D

MIN --> 0

22

$696,666

$0

RFA

Groleau, Jeremy

D

MIN --> 0

21

$743,333

$743,333

$0

RFA

Johnson, Cameron
G

MIN --> 0

26

$0

UFA

$0

UFA

Mozik, Vojtech
D

--> 0

27

$0

RFA

Foote, Nolan

LW

MIN --> 0

20

$894,167

$894,167

$894,167

$0

RFA

Okhotyuk, Nikita

D

MIN --> 0

19

$795,000

$795,000

$795,000

$0

RFA

Misyul, Daniil
D

--> 0

20

$0

$0

UFA

$0

UFA

Clarke, Graeme
RW

--> 0

19

$0

$0

UFA

$0

UFA

Vukojevic, Michael
D

--> 0

19

$0

$0

UFA

$0

UFA

Thompson, Tyce
C

--> 0

21

$0

$0

UFA

$0

UFA

McCarthy, Case
D

--> 0

19

$0

$0

UFA

$0

UFA

Brady, Cole
G

--> 0

19

$0

$0

UFA

$0

UFA

Gritsyuk, Arseny
LW

--> 0

19

$0

$0

UFA

$0

UFA

Moynihan, Patrick
C

--> 0

19

$0

$0

UFA

$0

UFA

Pasic, Nikola
C

--> 0

20

$0

$0

UFA

$0

UFA

Larsson, Ludvig
C

--> 0

25

$0

$0

UFA

$0

UFA

Schmelzer, Ryan
C

--> 0

27

$0

$0

UFA

$0

UFA

Holtz, Alexander
RW

--> 0

18

$0

$0

UFA

$0

UFA

Mercer, Dawson
RW

--> 0

19

$0

$0

UFA

$0

UFA

Mukhamadullin, Shakir
D

--> 0

18

$0

$0

UFA

$0

UFA

Daws, Nicolas
G

--> 0

19

$0

$0

UFA

$0

UFA

Pytlik, Jaromir
C

--> 0

19

$0

$0

UFA

$0

UFA

Edwards, Ethan
D

--> 0

18

$0

$0

UFA

$0

UFA

Shlaine, Artem
C

--> 0

18

$0

$0

UFA

$0

UFA

Baumgartner, Benjamin
C

--> 0

20

$0

$0

UFA

$0

UFA

TOTALS
TOTALS

$16,098,292

$5,624,168

$2,475,834

$0

$0

$0