Transactions
| | |
| --- | --- |
| Bought out the remaining years of the contract of D Dion Phaneuf. | Jun 15 |
| Signed RW Johan Sodergran to a three-year, entry-level contract. | Jun 10 |
| Announced D Slava Voynov has been suspended 41 games during the 2019-20 season due to an off-ice incident. | May 23 |
| Announced LW Ladislav Nagy has retired. | May 22 |
| Assigned D Jacob Moverare to Team Frolunda (HC-Sweden). | May 20 |
No games currently scheduled
Los Angeles Kings Injury Report
@LAKings (official)
☑️ Land in LA ☑️ Catch up with your new teammates ☑️ Head to LA Kings Development Camp ☑️ Find out what number you'll wear at Day 1
There's a few new kids on the block 😎 INFO:
t.co/ulp8id1cMb
t.co/sYDYl3UkOm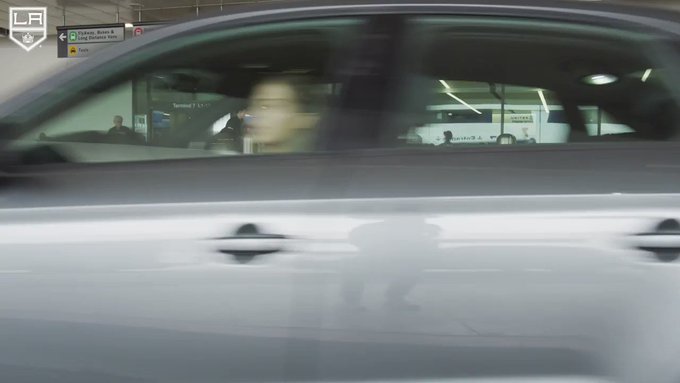 Los Angeles Kings Tweets
RT
@LAKingsPR
: Congratulations to former Kings pro scout Vaclav Nedomansky who is part of the
@HockeyHallFame
Class of 2019! Ned has had…
One of the players who also graded well analytically... As for primary numbers, went 32-55=87 as a young, 5'7 19/o last year. August 9 birthday.
t.co/c75XiRmcxn
Entry Level Contract
Waiver Exempt
Has Arbitration Rights
Two-way contract
(9) Forwards
$37,281,894
45.7% of cap
Player
POS
Age
2019-2020
2020-2021
2021-2022
2022-2023
2023-2024
Brown, Dustin
RW

NHL --> 0

34

$5,875,000

M-NTC

$5,875,000

M-NTC

$5,875,000

M-NTC

$0

UFA

Carter, Jeff
C

NHL --> 0

34

$5,272,727

$5,272,727

$5,272,727

$0

UFA

Kopitar, Anze
C

NHL --> 0

31

$10,000,000

NMC

$10,000,000

M-NTC

$10,000,000

M-NTC

$10,000,000

M-NTC

$10,000,000

M-NTC

$0

UFA

(2024)
Lewis, Trevor
C

NHL --> 0

32

$2,000,000

$0

UFA

Clifford, Kyle
LW

NHL --> 0

28

$1,600,000

$0

UFA

Toffoli, Tyler
RW

NHL --> 0

27

$4,600,000

$0

UFA

Leipsic, Brendan
LW

NHL --> 0

25

$0

UFA

$0

UFA

Brodzinski, Jonny
LW

NHL --> 0

26

$0

RFA

$0

UFA

Kempe, Adrian
C

NHL --> 0

22

$0

RFA

Amadio, Michael
C

NHL --> 0

23

$0

RFA

$0

UFA

Kovalchuk, Ilya

+35

LW

NHL --> 0

36

$6,250,000

NMC

$6,250,000

M-NTC

$0

UFA

Wagner, Austin

LW

NHL --> 0

22

$759,167

$0

RFA

Grundstrom, Carl

RW

NHL --> 0

21

$925,000

$0

RFA

Iafallo, Alex
LW

NHL --> 0

25

$0

RFA

$0

UFA

TOTALS
TOTALS

$37,281,894

$27,397,727

$21,147,727

$10,000,000

$10,000,000

$0
(6) Defence
$19,770,000
24.3% of cap
Player
POS
Age
2019-2020
2020-2021
2021-2022
2022-2023
2023-2024
Doughty, Drew
D

NHL --> 0

29

$11,000,000

NMC

$11,000,000

NMC

$11,000,000

NMC

$11,000,000

NMC

$11,000,000

NMC

$0

UFA

(2027)
Martinez, Alec
D

NHL --> 0

31

$4,000,000

$4,000,000

$0

UFA

Forbort, Derek
D

NHL --> 0

27

$2,525,000

$0

UFA

LaDue, Paul
D

NHL --> 0

26

$825,000

$0

UFA

MacDermid, Kurtis
D

NHL --> 0

25

$675,000

$0

RFA

$0

UFA

Roy, Matt
D

NHL --> 0

24

$0

RFA

$0

UFA

Walker, Sean

D

NHL --> 0

24

$745,000

$0

RFA

$0

UFA

TOTALS
TOTALS

$19,770,000

$15,000,000

$11,000,000

$11,000,000

$11,000,000

$0
(2) Goalies
$6,475,000
7.9% of cap
Player
POS
Age
2019-2020
2020-2021
2021-2022
2022-2023
2023-2024
Quick, Jonathan
G

NHL --> 0

33

$5,800,000

$5,800,000

$5,800,000

$5,800,000

$0

UFA

Campbell, Jack
G

NHL --> 0

27

$675,000

$0

UFA

TOTALS
TOTALS

$6,475,000

$5,800,000

$5,800,000

$5,800,000

$0

$0
(0) Buried
$0
0.0% of cap
| Player | POS | Age | 2019-2020 | 2020-2021 | 2021-2022 | 2022-2023 | 2023-2024 | |
| --- | --- | --- | --- | --- | --- | --- | --- | --- |
| TOTALS | TOTALS | $0 | $0 | $0 | $0 | $0 | $0 | |
(2) Buyout & Retained Salary
$3,757,500
4.6% of cap
Player
POS
Age
2019-2020
2020-2021
2021-2022
2022-2023
2023-2024
Phaneuf, Dion
Buyout
D

NHL --> 0

34

$2,187,500

$4,062,500

$1,062,500

$1,062,500

Richards, Mike
Buyout
C

--> 0

34

$1,570,000

$700,000

$900,000

$900,000

$700,000

TOTALS
TOTALS

$3,757,500

$4,762,500

$1,962,500

$1,962,500

$700,000

$0
Cap Summary Projection Share Copy Link Embed Tweet It
2019-2020
2020-2021
2021-2022
2022-2023
Roster Size
17
7
5
3
Standard Player Contracts

Number of players signed to Standard Player Contracts (SPC's). Cannot exceed 50 players. Some players do not count towards this, such as 18/19 Year-Old players in Junior with less than 10 NHL Games Played in Season.

Learn More Or Ask A Question

36
20
13
3
Upper Limit

The maximum Salary Cap Hit of all players counting towards the active roster. Often referred to as "Salary Cap". This is determined in the summer and is based on the previous season's revenues, per the CBA.

Learn More Or Ask A Question

$81,500,000
$81,500,000
$81,500,000
$81,500,000
Projected Cap Hit

Anticipated Season-End Cap Hit based on the current roster, calculated by summing all Cap Hits of players currently counting towards the Salary Cap. Assumes current roster is in effect for the remainder of season.

Learn More Or Ask A Question

$67,284,394
$52,960,227
$39,910,227
$28,762,500
Projected Cap Space

Amount of Cap Space projected to be available at end of year. Calculated as Annual Salary Cap minus Projected Cap Hit.

Learn More Or Ask A Question

$14,215,606
$28,539,773
$41,589,773
$52,737,500
Current Cap Space

Amount of Cap Space that can be added to the roster without exceeding the Upper Limit (Salary Cap Maximum) based on the current roster.

Learn More Or Ask A Question

$14,215,606
$28,539,773
$41,589,773
$52,737,500
Maximum LTIR Pool

The maximum amount of Long Term Injured Reserve space potentially available. This is the Cap Hit of player on LTIR less the Cap Space available for team at time player was on LTIR. A player can go on LTIR when they expect to miss 10 games and 24 days in the season. A player on LTIR does not come off of the salary cap, instead a team is allowed to exceed the cap by the LTIR amount.

Learn More Or Ask A Question

$0
$0
$0
$0
Current Roster Annual Cap Hit

Anticipated Cap Hit based on the current roster, calculated by summing all Cap Hits of players currently counting towards the Salary Cap + retained salary + buyouts.

Learn More Or Ask A Question

$67,284,394
$52,960,227
$39,910,227
$28,762,500
Carryover Bonus Overages

Teams can exceed the salary cap due to players receiving performance bonuses. If a team exceeds the salary cap due to performance bonuses, they carryover to the previous season and reduce the cap space a team has.

Learn More Or Ask A Question

$0
$0
$0
$0
Potential Bonuses

Performance Bonuses that players on the active roster are eligible to achieve. A team can exceed the salary cap due to performance bonuses, but they carry over to the following season.

Learn More Or Ask A Question

$132,500
$0
$0
$0
Retained Salary Remaining

Teams can retain salary/cap hit when they trade a player. A team can only have a maximum of 3 players that they retained salary on.

Learn More Or Ask A Question

3
3
3
3
(19) Non-Roster
Player
POS
Age
2019-2020
2020-2021
2021-2022
2022-2023
2023-2024
Budaj, Peter
G

MIN --> 0

36

$0

UFA

Etem, Emerson
RW

MIN --> 0

27

$0

UFA

Maillet, Philippe
C

--> 0

26

$0

$0

UFA

Petersen, Cal
G

MIN --> 0

24

$0

RFA

$0

UFA

Mitchell, Zack
RW

MIN --> 0

26

$0

RFA

$0

UFA

Scherbak, Nikita
RW

MIN --> 0

23

$0

RFA

$0

UFA

Lintuniemi, Alex
D

MIN --> 0

23

$0

UFA

$0

UFA

Iacopelli, Matheson
RW

MIN --> 0

25

$0

RFA

$0

UFA

Dergachyov, Alexander
C

--> 0

22

$0

Morrison, Brad

C

MIN --> 0

22

$743,333

$743,333

$0

RFA

Imama, Bokondji

LW

MIN --> 0

22

$706,667

$0

RFA

Reddekopp, Chaz

D

MIN --> 0

22

$733,333

$0

RFA

Clague, Kale

D

MIN --> 0

21

$761,667

$761,667

$0

RFA

Moverare, Jacob

D

--> 0

20

$706,667

$706,667

$0

RFA

Eyssimont, Michael

C

MIN --> 0

22

$833,750

$0

RFA

Luff, Matt

RW

MIN --> 0

22

$676,666

$0

RFA

Herr, Sam
LW

--> 0

26

$0

$0

UFA

Vilardi, Gabriel

C

MIN --> 0

19

$894,167

$894,167

$894,167

$0

RFA

Anderson-Dolan, Jaret

C

MIN --> 0

19

$747,500

$747,500

$747,500

$0

RFA

Villalta, Matt

G

MIN --> 0

20

$778,333

$778,333

$778,333

$0

RFA

Anderson, Michael

D

--> 0

20

$925,000

$925,000

$925,000

$0

RFA

Phillips, Markus

D

--> 0

20

$796,666

$796,666

$796,666

$0

RFA

Hults, Cole
D

--> 0

21

$0

Rymsha, Drake

C

MIN --> 0

20

$733,333

$733,333

$0

RFA

Brickley, Daniel
D

MIN --> 0

24

$0

RFA

$0

UFA

Rempal, Sheldon
RW

MIN --> 0

23

$0

RFA

$0

UFA

Kupari, Rasmus

C

MIN --> 0

19

$894,167

$894,167

$894,167

$0

RFA

Thomas, Akil

C

--> 0

19

$809,166

$809,166

$809,166

$0

RFA

Durzi, Sean

D

--> 0

20

$809,166

$809,166

$809,166

$0

RFA

Shafigullin, Bulat
LW

--> 0

19

$0

Dudas, Aidan
C

--> 0

19

$0

Hrenak, David
G

--> 0

21

$0

Sodergran, Johan
RW

--> 0

19

$0

Ingham, Jacob
G

--> 0

19

$0

Jenys, Pavel
C

MIN --> 0

23

$0

RFA

$0

UFA

Bauman, Kyle
C

--> 0

26

$0

$0

UFA

$0

UFA

Devane, Jamie
LW

--> 0

28

$0

$0

UFA

$0

UFA

Dunkley, Nathan
C

--> 0

19

$0

$0

UFA

$0

UFA

Ivan, Michal
D

--> 0

19

$0

$0

UFA

$0

UFA

Rassell, Mark
C

--> 0

22

$0

$0

UFA

$0

UFA

Kehler, Cole

G

MIN --> 0

21

$745,000

$0

RFA

Strand, Austin

RW

MIN --> 0

22

$759,166

$0

RFA

Leipsic, Brendan
LW

--> 0

22

$0

$0

UFA

$0

UFA

Lizotte, Blake

C

NHL --> 0

21

$925,000

$925,000

$0

RFA

Turcotte, Alex
C

--> 0

$0

$0

UFA

$0

UFA

Bjornfot, Tobias
D

--> 0

$0

$0

UFA

$0

UFA

Kaliyev, Arthur
LW

--> 0

$0

$0

UFA

$0

UFA

Fagemo, Samuel
LW

--> 0

$0

$0

UFA

$0

UFA

Parik, Lukas
G

--> 0

$0

$0

UFA

$0

UFA

Spence, Jordan
D

--> 0

$0

$0

UFA

$0

UFA

Nousianinen, Kim
D

--> 0

$0

$0

UFA

$0

UFA

Doyle, Braden
D

--> 0

$0

$0

UFA

$0

UFA

Lee, Andre
LW

--> 0

$0

$0

UFA

$0

UFA

TOTALS
TOTALS

$14,978,747

$10,524,165

$6,654,165

$0

$0

$0