San Jose Sharks
| | |
| --- | --- |
| Cap Hit | $67,368,333 |
| Cap Space | $14,131,667 |
| LTIR Pool | $0 |
| Roster | 16/23 |
| Contracts | 34/50 |
Transactions
| | |
| --- | --- |
| assigned C Krystof Hrabik to Bili Tygri Liberec (Czech Republic). | Aug 31 |
| assigned RW Evan Weinger to TPS Turku (Finland). | Aug 31 |
| assigned C Jonathan Dahlen to Timra IK (Sweden). | Aug 31 |
| assigned LW Timur Ibragimov to TPS Turku (Finland). | Aug 31 |
| assigned C Fredrik Handemark to Malmo (SHL). | Aug 31 |
No games currently scheduled
Line Combinations
Updated: Mar 10 (6:59pm)
Line 1 $7,768,333
Pairing 1 $10,250,000
Line 2 $7,500,000
Pairing 2 $7,000,000
Line 3 $750,000
Pairing 3 $796,667
Line 4 $1,536,667
Goalies $5,750,000
@SanJoseSharks (official)
✊✋✌️
t.co/jLIRFxWSwv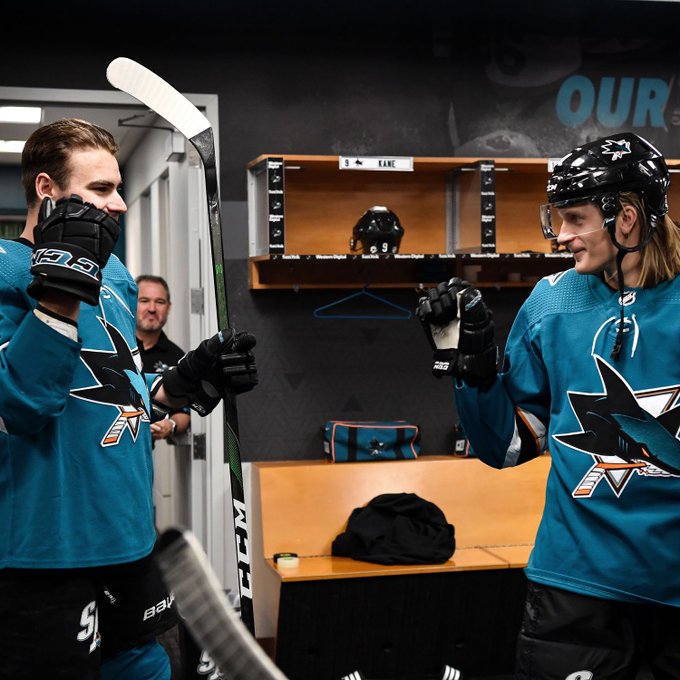 Reading is Cool presented by
@druvainc
starts October 1! Have you registered your classroom yet? 📚:
t.co/ix6L39MlL6
t.co/3Zx6UEav9R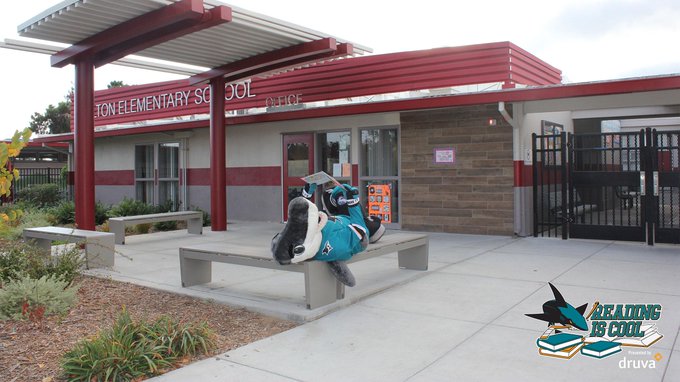 ⚠️
@SAPCenter
Construction Update ⚠️ New ice-making technology is currently being installed at the Tank, including: ❄️ a state-of-the-art ice-making plant ❄️ re-designed arena piping system ❄️ eco-friendly synthetic refrigerant ❄️ chiller
t.co/6Mo9gSB0Fj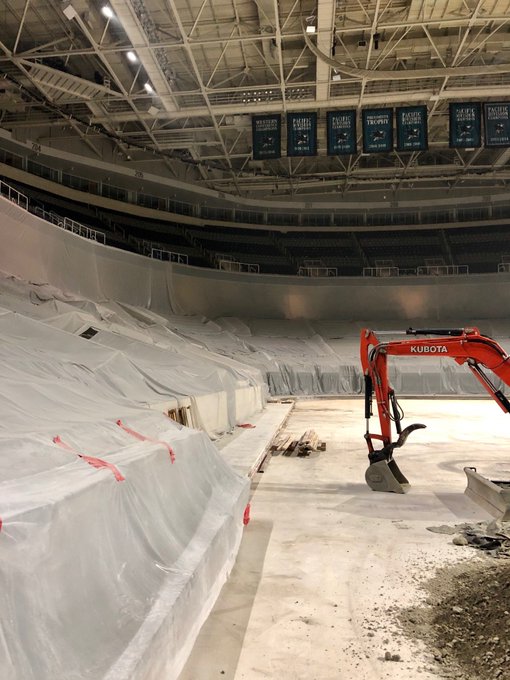 San Jose Sharks Tweets
RT
@Sheng_Peng
: Scouts talk potential buyout UFAs: What do Neal, Turris, Maatta, Fleury, Lundqvist & others have to offer to
#SJSharks
? htt…
RT
@PierreVLeBrun
: Bobby Ryan was the only player on (buyout) waivers today. No other players on the waiver wire.
Entry Level Contract
Waiver Exempt
Has Arbitration Rights
Two-way contract
(10) Forwards
$31,943,333
39.2% of cap
Player
POS
Age
2020-2021
2021-2022
2022-2023
2023-2024
2024-2025
Thornton, Joe
C

NHL --> 0

41

$0

UFA

Couture, Logan
C

NHL --> 0

31

$8,000,000

M-NTC

$8,000,000

M-NTC

$8,000,000

M-NTC

$8,000,000

M-NTC

$8,000,000

M-NTC

$0

UFA

(2027)
Kane, Evander
LW

NHL --> 0

29

$7,000,000

M-NTC

$7,000,000

M-NTC

$7,000,000

M-NTC

$7,000,000

M-NTC

$7,000,000

M-NTC

$0

UFA

(2025)
Sorensen, Marcus
LW

NHL --> 0

28

$1,500,000

$0

UFA

Noesen, Stefan
RW

NHL --> 0

27

$0

UFA

Hertl, Tomas
C

NHL --> 0

26

$5,625,000

M-NTC

$5,625,000

M-NTC

$0

UFA

Karlsson, Melker
C

NHL --> 0

30

$0

UFA

Meier, Timo
RW

NHL --> 0

23

$6,000,000

$6,000,000

$6,000,000

$0

RFA

$0

UFA

Labanc, Kevin
RW

NHL --> 0

24

$0

RFA

$0

UFA

Gambrell, Dylan
C

NHL --> 0

24

$700,000

$0

RFA

$0

UFA

Gregor, Noah

C

NHL --> 0

22

$768,333

$0

RFA

Suomela, Antti
C

NHL --> 0

26

$0

RFA

$0

UFA

True, Alexander

C

NHL --> 0

23

$763,333

$0

RFA

Kellman, Joel
C

NHL --> 0

26

$750,000

$750,000

$0

RFA

Bergmann, Lean

LW

NHL --> 0

21

$836,667

$836,667

$0

RFA

TOTALS
TOTALS

$31,943,333

$28,211,667

$21,000,000

$15,000,000

$15,000,000

$0
(5) Defence
$29,675,000
36.4% of cap
Player
POS
Age
2020-2021
2021-2022
2022-2023
2023-2024
2024-2025
Burns, Brent
D

NHL --> 0

35

$8,000,000

M-NTC

$8,000,000

M-NTC

$8,000,000

M-NTC

$8,000,000

M-NTC

$8,000,000

M-NTC

$0

UFA

(2025)
Vlasic, Marc-Edouard
D

NHL --> 0

33

$7,000,000

NMC

$7,000,000

NMC

$7,000,000

NMC

$7,000,000

M-NTC

$7,000,000

M-NTC

$0

UFA

(2026)
Karlsson, Erik
D

NHL --> 0

30

$11,500,000

NMC

$11,500,000

NMC

$11,500,000

NMC

$11,500,000

NMC

$11,500,000

NMC

$0

UFA

(2027)
Heed, Tim
D

NHL --> 0

29

$0

UFA

Davidson, Brandon
D

NHL --> 0

29

$0

UFA

Middleton, Jacob
D

NHL --> 0

24

$0

RFA

$0

UFA

Simek, Radim
D

NHL --> 0

28

$2,250,000

$2,250,000

$2,250,000

$2,250,000

$0

UFA

Ferraro, Mario

D

NHL --> 0

22

$925,000

$925,000

$0

RFA

TOTALS
TOTALS

$29,675,000

$29,675,000

$28,750,000

$28,750,000

$26,500,000

$0
(1) Goalies
$5,750,000
7.1% of cap
Player
POS
Age
2020-2021
2021-2022
2022-2023
2023-2024
2024-2025
Jones, Martin
G

NHL --> 0

30

$5,750,000

M-NTC

$5,750,000

M-NTC

$5,750,000

M-NTC

$5,750,000

M-NTC

$0

UFA

Dell, Aaron
G

NHL --> 0

31

$0

UFA

TOTALS
TOTALS

$5,750,000

$5,750,000

$5,750,000

$5,750,000

$0

$0
(0) Buried
$0
0.0% of cap
| Player | POS | Age | 2020-2021 | 2021-2022 | 2022-2023 | 2023-2024 | 2024-2025 | |
| --- | --- | --- | --- | --- | --- | --- | --- | --- |
| TOTALS | TOTALS | $0 | $0 | $0 | $0 | $0 | $0 | |
Cap Summary Projection Share Copy Link Embed Tweet It
2020-2021
2021-2022
2022-2023
2023-2024
Roster Size
16
12
8
7
Standard Player Contracts

Number of players signed to Standard Player Contracts (SPC's). Cannot exceed 50 players. Some players do not count towards this, such as 18/19 Year-Old players in Junior with less than 10 NHL Games Played in Season.

Learn More Or Ask A Question

34
24
13
7
Upper Limit

The maximum Salary Cap Hit of all players counting towards the active roster. Often referred to as "Salary Cap". This is determined in the summer and is based on the previous season's revenues, per the CBA.

Learn More Or Ask A Question

$81,500,000
$81,500,000
$81,500,000
$81,500,000
Projected Cap Hit

Anticipated Season-End Cap Hit based on the current roster, calculated by summing all Cap Hits of players currently counting towards the Salary Cap. Assumes current roster is in effect for the remainder of season.

Learn More Or Ask A Question

$67,368,333
$63,636,667
$55,500,000
$49,500,000
Projected Cap Space

Amount of Cap Space projected to be available at end of year. Calculated as Annual Salary Cap minus Projected Cap Hit.

Learn More Or Ask A Question

$14,131,667
$17,863,333
$26,000,000
$32,000,000
Current Cap Space

Amount of Cap Space that can be added to the roster without exceeding the Upper Limit (Salary Cap Maximum) based on the current roster.

Learn More Or Ask A Question

$14,131,667
$17,863,333
$26,000,000
$32,000,000
Maximum LTIR Pool

The maximum amount of Long Term Injured Reserve space potentially available. This is the Cap Hit of player on LTIR less the Cap Space available for team at time player was on LTIR. A player can go on LTIR when they expect to miss 10 games and 24 days in the season. A player on LTIR does not come off of the salary cap, instead a team is allowed to exceed the cap by the LTIR amount.

Learn More Or Ask A Question

$0
$0
$0
$0
Current Roster Annual Cap Hit

Anticipated Cap Hit based on the current roster, calculated by summing all Cap Hits of players currently counting towards the Salary Cap + retained salary + buyouts.

Learn More Or Ask A Question

$67,368,333
$63,636,667
$55,500,000
$49,500,000
Carryover Bonus Overages

Teams can exceed the salary cap due to players receiving performance bonuses. If a team exceeds the salary cap due to performance bonuses, they carryover to the previous season and reduce the cap space a team has.

Learn More Or Ask A Question

$0
$0
$0
$0
Potential Bonuses

Performance Bonuses that players on the active roster are eligible to achieve. A team can exceed the salary cap due to performance bonuses, but they carry over to the following season.

Learn More Or Ask A Question

$430,000
$212,500
$0
$0
Retained Salary Remaining

Teams can retain salary/cap hit when they trade a player. A team can only have a maximum of 3 players that they retained salary on.

Learn More Or Ask A Question

3
3
3
3
(18) Non-Roster
Player
POS
Age
2020-2021
2021-2022
2022-2023
2023-2024
2024-2025
Prout, Dalton
IR
D

IR --> 0

30

$0

UFA

Carrick, Trevor
D

MIN --> 0

26

$700,000

$0

RFA

$0

UFA

Schoenborn, Alex
RW

MIN --> 0

24

$0

UFA

$0

UFA

Brodzinski, Michael
D

MIN --> 0

25

$0

UFA

$0

UFA

Brodzinski, Jonny
LW

MIN --> 0

27

$0

UFA

Jackson, Jacob
C

--> 0

25

$0

$0

UFA

Galimov, Emil
LW

--> 0

28

$0

Letunov, Maxim
C

MIN --> 0

24

$0

RFA

$0

UFA

Chartier, Rourke
C

MIN --> 0

24

$0

UFA

$0

UFA

Leblanc, Kevin
LW

--> 0

24

$0

$0

UFA

Roy, Jeremy
D

MIN --> 0

23

$0

RFA

$0

UFA

Meloche, Nicolas
D

MIN --> 0

23

$0

RFA

Robinson, Mike
G

--> 0

23

$0

$0

UFA

Vela, Marcus
C

--> 0

23

$0

$0

UFA

Kupsky, John
G

--> 0

24

$0

$0

UFA

Fitzgerald, Cavan
D

MIN --> 0

24

$0

UFA

$0

UFA

Dahlen, Jonathan
C

MIN --> 0

22

$0

RFA

Wiederer, Manuel
RW

MIN --> 0

23

$0

RFA

$0

UFA

Blichfeld, Joachim

RW

MIN --> 0

22

$743,333

$743,333

$0

RFA

Greco, Anthony
RW

MIN --> 0

24

$0

RFA

$0

UFA

Gallant, Zach

C

MIN --> 0

21

$763,334

$763,334

$763,334

$0

RFA

Reedy, Scott
C

--> 0

21

$0

McGrew, Jacob

RW

MIN --> 0

21

$771,667

$771,667

$0

RFA

Chmelevski, Alexander

C

MIN --> 0

21

$778,333

$778,333

$0

RFA

Chekhovich, Ivan

LW

MIN --> 0

21

$776,667

$776,667

$0

RFA

Korenar, Josef

G

MIN --> 0

22

$723,333

$0

RFA

DeSimone, Nick
D

MIN --> 0

25

$700,000

$0

RFA

$0

UFA

Merkley, Ryan

D

MIN --> 0

20

$863,334

$863,334

$863,334

$0

RFA

Weatherby, Jasper
C

--> 0

22

$0

Emond, Zachary

G

MIN --> 0

20

$796,667

$796,667

$0

RFA

Leonard, John
LW

--> 0

22

$0

Kotkov, Vladislav

LW

MIN --> 0

20

$743,333

$743,333

$743,333

$0

RFA

Radil, Lukas
C

MIN --> 0

30

$0

UFA

Donaghey, Cody
D

MIN --> 0

24

$0

UFA

$0

UFA

Martin, Jonathon
RW

MIN --> 0

25

$0

UFA

$0

UFA

Brazeau, Justin
RW

--> 0

22

$0

$0

UFA

$0

UFA

Fonteyne, Matt
LW

--> 0

22

$0

$0

UFA

$0

UFA

Frye, Zach
D

--> 0

26

$0

$0

UFA

$0

UFA

Gregoire, Thomas
D

--> 0

22

$0

$0

UFA

$0

UFA

Gricius, Jake
C

--> 0

20

$0

$0

UFA

$0

UFA

Halbgewachs, Jayden
LW

MIN --> 0

23

$0

RFA

$0

UFA

McAuley, Colby
C

--> 0

24

$0

$0

UFA

$0

UFA

Paddock, Max
G

--> 0

20

$0

$0

UFA

$0

UFA

Topping, Kyle
C

--> 0

20

$0

$0

UFA

$0

UFA

Viel, Jeffrey

LW

MIN --> 0

23

$780,000

$0

RFA

$0

UFA

Weinger, Evan
RW

--> 0

23

$0

$0

UFA

$0

UFA

Shortridge, Andrew
G

MIN --> 0

25

$0

RFA

$0

UFA

Yurtaikin, Danil

LW

MIN --> 0

23

$925,000

$0

RFA

Sund, Tony
D

MIN --> 0

25

$0

RFA

$0

UFA

Kniazev, Artemi

D

MIN --> 0

19

$778,334

$778,334

$778,334

$0

RFA

Hamaliuk, Dillon

LW

MIN --> 0

19

$778,334

$778,334

$778,334

$0

RFA

Spiridonov, Yegor
C

--> 0

19

$0

$0

UFA

$0

UFA

Ibragimov, Timur

--> 0

22

$0

$0

UFA

$0

UFA

Hatakka, Santeri
D

--> 0

19

$0

$0

UFA

$0

UFA

Knyzhov, Nicolai

D

MIN --> 0

22

$796,667

$796,667

$0

RFA

Ivanyuzhenkov, Artem
LW

--> 0

22

$0

$0

UFA

$0

UFA

Langan, Tristin
C

--> 0

21

$0

$0

UFA

$0

UFA

Sawchenko, Zachary
G

--> 0

22

$0

$0

UFA

$0

UFA

Yurtaykin, Danil
LW

--> 0

23

$0

Melnichuk, Alexei

G

--> 0

22

$925,000

$925,000

$0

RFA

Handemark, Fredrik

C

--> 0

27

$792,500

$0

RFA

TOTALS
TOTALS

$14,135,836

$9,515,003

$3,926,669

$0

$0

$0