| | |
| --- | --- |
| Cap Hit | $94,421,741 |
| Cap Space | $-12,921,741 |
| LTIR Pool | $19,859,761 |
| Roster | 23/23 |
| Contracts | 48/50 |
Transactions
| | |
| --- | --- |
| signed D Filip Kral to a three-year, entry-level contract. | Apr 1 |
| signed D Kristians Rubins to a two-year, entry-level contract. | Apr 1 |
| activated D Morgan Rielly from injured reserve. | Mar 10 |
| signed C Mikhail Abramov to a three-year, entry-level contract. | Mar 10 |
| activated D Cody Ceci from injured reserve. | Mar 6 |
No games currently scheduled
Line Combinations
Updated: Mar 10 (6:51am)
Line 1 $20,846,366
Pairing 1 $9,500,000
Line 2 $25,093,000
Pairing 2 $1,538,333
Line 3 $5,175,000
Pairing 3 $3,644,167
Line 4 $2,175,000
Goalies $5,675,000
Toronto Maple Leafs Voices
@MapleLeafs (official)
"Why are you looking at me?" 🤣🤣
@Marner93
,
@AM34
and Patrick Marleau discuss who takes the longest to get ready on today's
@NHL
conference call. See the full video >>
t.co/RLvC6DqYj6
t.co/QAIJZpJzln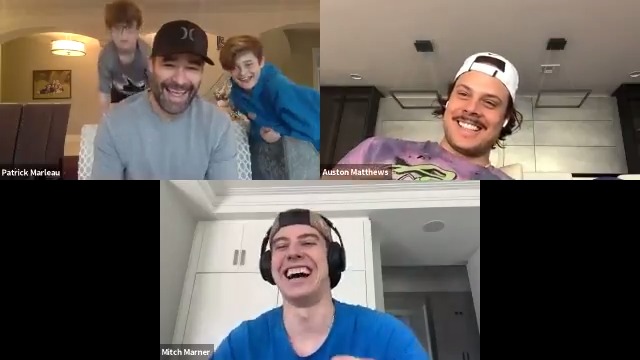 RT
@wick_22
: 1/2 After desperate pleas from my front line friends in Toronto, I have decided to put an ask out. These items are not for my…
Toronto Maple Leafs Tweets
Leafs coach Sheldon Keefe will be speaking with the media tomorrow afternoon by conference call. Organization making players and staff more regularly available.
RT
@Ken_Rosenthal
: Baseball is considering games in empty spring training parks, with no fans and quarantined players. But the logistics of…
Entry Level Contract
Waiver Exempt
Has Arbitration Rights
Two-way contract
(12) Forwards
$68,164,366
83.6% of cap
Player
POS
Age
2019-2020
2020-2021
2021-2022
2022-2023
2023-2024
Spezza, Jason

+35

C

NHL --> 0

36

$700,000

$0

UFA

Clarkson, David
LTIR
RW

LTIR --> 0

36

$5,250,000

NMC

M-NTC

$0

UFA

Clifford, Kyle
LW

NHL --> 0

29

$0

UFA

Tavares, John
C

NHL --> 0

29

$11,000,000

NMC

$11,000,000

NMC

$11,000,000

NMC

$11,000,000

NMC

$11,000,000

NMC

$0

UFA

(2025)
Hyman, Zach
LW

NHL --> 0

27

$2,250,000

M-NTC

$2,250,000

M-NTC

$0

UFA

Kerfoot, Alexander
C

NHL --> 0

25

$3,500,000

$3,500,000

$3,500,000

$3,500,000

M-NTC

$0

UFA

Gauthier, Frederik
C

NHL --> 0

24

$675,000

$0

RFA

$0

UFA

Johnsson, Andreas
LTIR
LW

LTIR --> 0

25

$3,400,000

$3,400,000

$3,400,000

$3,400,000

$0

UFA

Nylander, William
RW

NHL --> 0

23

$6,962,366

$6,962,366

$6,962,366

$6,962,366

$6,962,366

M-NTC

$0

UFA

(2024)
Kapanen, Kasperi
RW

NHL --> 0

23

$3,200,000

$3,200,000

$3,200,000

$0

RFA

Marner, Mitchell
RW

NHL --> 0

22

$10,893,000

$10,893,000

$10,893,000

$10,893,000

$10,893,000

NMC

$0

UFA

(2025)
Malgin, Denis
C

NHL --> 0

23

$750,000

$0

RFA

$0

UFA

Matthews, Auston
C

NHL --> 0

22

$11,634,000

$11,634,000

$11,634,000

$11,634,000

$11,634,000

NMC

$0

UFA

(2024)
Horton, Nathan
LTIR
RW

LTIR --> 0

34

$5,300,000

$0

UFA

Engvall, Pierre
LW

NHL --> 0

23

$925,000

$1,250,000

$1,250,000

$0

RFA

$0

UFA

Mikheyev, Ilya
LTIR

RW

LTIR --> 0

25

$925,000

$0

RFA

$0

UFA

TOTALS
TOTALS

$68,164,366

$54,089,366

$51,839,366

$47,389,366

$40,489,366

$0
(9) Defence
$20,132,500
24.7% of cap
Player
POS
Age
2019-2020
2020-2021
2021-2022
2022-2023
2023-2024
Barrie, Tyson
D

NHL --> 0

28

$0

UFA

Muzzin, Jake
D

NHL --> 0

31

$4,000,000

$5,625,000

NMC

$5,625,000

NTC

$5,625,000

NTC

$5,625,000

M-NTC

$0

UFA

(2024)
Marincin, Martin
D

NHL --> 0

28

$700,000

$700,000

$0

UFA

Holl, Justin
D

NHL --> 0

28

$675,000

$2,000,000

M-NTC

$2,000,000

M-NTC

$2,000,000

M-NTC

$0

UFA

Rielly, Morgan
D

NHL --> 0

26

$5,000,000

$5,000,000

M-NTC

$5,000,000

M-NTC

$0

UFA

Ceci, Cody
D

NHL --> 0

26

$4,500,000

$0

UFA

Dermott, Travis

D

NHL --> 0

23

$863,333

$0

RFA

Rosen, Calle
D

NHL --> 0

26

$750,000

$750,000

$0

UFA

Sandin, Rasmus

D

NHL --> 0

20

$894,167

$894,167

$894,167

$0

RFA

TOTALS
TOTALS

$20,132,500

$14,969,167

$13,519,167

$7,625,000

$5,625,000

$0
(2) Goalies
$5,675,000
7.0% of cap
Player
POS
Age
2019-2020
2020-2021
2021-2022
2022-2023
2023-2024
Campbell, Jack
G

NHL --> 0

28

$675,000

$1,650,000

$1,650,000

$0

UFA

Andersen, Frederik
G

NHL --> 0

30

$5,000,000

M-NTC

$5,000,000

M-NTC

$0

UFA

TOTALS
TOTALS

$5,675,000

$6,650,000

$1,650,000

$0

$0

$0
(0) Buried
$0
0.0% of cap
| Player | POS | Age | 2019-2020 | 2020-2021 | 2021-2022 | 2022-2023 | 2023-2024 | |
| --- | --- | --- | --- | --- | --- | --- | --- | --- |
| TOTALS | TOTALS | $0 | $0 | $0 | $0 | $0 | $0 | |
(2) Buyout & Retained Salary
$2,300,000
2.8% of cap
Player
POS
Age
2019-2020
2020-2021
2021-2022
2022-2023
2023-2024
Kessel, Phil
Retained Salary
RW

NHL --> 0

32

Lehner, Robin
Retained Salary
G

NHL --> 0

28

TOTALS
TOTALS

$2,300,000

$1,200,000

$1,200,000

$0

$0

$0
Cap Summary Projection Share Copy Link Embed Tweet It
2019-2020
2020-2021
2021-2022
2022-2023
Roster Size
27
17
13
8
Standard Player Contracts

Number of players signed to Standard Player Contracts (SPC's). Cannot exceed 50 players. Some players do not count towards this, such as 18/19 Year-Old players in Junior with less than 10 NHL Games Played in Season.

Learn More Or Ask A Question

48
30
19
10
Upper Limit

The maximum Salary Cap Hit of all players counting towards the active roster. Often referred to as "Salary Cap". This is determined in the summer and is based on the previous season's revenues, per the CBA.

Learn More Or Ask A Question

$81,500,000
$81,500,000
$81,500,000
$81,500,000
Projected Cap Hit

Anticipated Season-End Cap Hit based on the current roster, calculated by summing all Cap Hits of players currently counting towards the Salary Cap. Assumes current roster is in effect for the remainder of season.

Learn More Or Ask A Question

$94,421,741
$76,908,533
$68,208,533
$56,592,699
Projected Cap Space

Amount of Cap Space projected to be available at end of year. Calculated as Annual Salary Cap minus Projected Cap Hit.

Learn More Or Ask A Question

$-12,921,741
$4,591,467
$13,291,467
$24,907,301
Current Cap Space

Amount of Cap Space that can be added to the roster without exceeding the Upper Limit (Salary Cap Maximum) based on the current roster.

Learn More Or Ask A Question

$-12,921,741
$4,591,467
$13,291,467
$24,907,301
Maximum LTIR Pool

The maximum amount of Long Term Injured Reserve space potentially available. This is the Cap Hit of player on LTIR less the Cap Space available for team at time player was on LTIR. A player can go on LTIR when they expect to miss 10 games and 24 days in the season. A player on LTIR does not come off of the salary cap, instead a team is allowed to exceed the cap by the LTIR amount.

Learn More Or Ask A Question

$19,859,761
$0
$0
$0
Current Roster Annual Cap Hit

Anticipated Cap Hit based on the current roster, calculated by summing all Cap Hits of players currently counting towards the Salary Cap + retained salary + buyouts.

Learn More Or Ask A Question

$96,271,866
$76,908,533
$68,208,533
$56,592,699
Carryover Bonus Overages

Teams can exceed the salary cap due to players receiving performance bonuses. If a team exceeds the salary cap due to performance bonuses, they carryover to the previous season and reduce the cap space a team has.

Learn More Or Ask A Question

$0
$0
$0
$0
Potential Bonuses

Performance Bonuses that players on the active roster are eligible to achieve. A team can exceed the salary cap due to performance bonuses, but they carry over to the following season.

Learn More Or Ask A Question

$0
$0
$0
$0
Retained Salary Remaining

Teams can retain salary/cap hit when they trade a player. A team can only have a maximum of 3 players that they retained salary on.

Learn More Or Ask A Question

1
2
2
3
(23) Non-Roster
Player
POS
Age
2019-2020
2020-2021
2021-2022
2022-2023
2023-2024
Wilson, Garrett
LW

MIN --> 0

29

$725,000

$0

UFA

Agostino, Kenny
LW

MIN --> 0

27

$737,500

$737,500

$0

UFA

Gravel, Kevin
D

MIN --> 0

28

$700,000

$0

UFA

Salomaki, Miikka
RW

MIN --> 0

27

$750,000

$0

UFA

Paliotta, Michael
D

--> 0

27

$0

$0

UFA

Aberg, Pontus
LW

MIN --> 0

26

$700,000

$0

RFA

$0

UFA

Petan, Nic
LW

MIN --> 0

25

$775,000

$775,000

$0

RFA

$0

UFA

McAdam, Eamon
G

MIN --> 0

25

$0

UFA

$0

UFA

Baptiste, Nick
RW

MIN --> 0

24

$0

UFA

$0

UFA

Kivihalme, Teemu

D

MIN --> 0

24

$792,500

$0

RFA

$0

UFA

Herzog, Fabrice
LW

--> 0

25

$0

$0

UFA

Aaltonen, Miro
C

MIN --> 0

26

$0

RFA

$0

UFA

Gaudet, Tyler
C

MIN --> 0

27

$700,000

$0

UFA

Gagne, Gabriel
RW

MIN --> 0

23

$0

UFA

Bracco, Jeremy

RW

MIN --> 0

23

$842,500

$0

RFA

Lindgren, Jesper

D

MIN --> 0

22

$775,833

$775,833

$0

RFA

Lorito, Matt
RW

MIN --> 0

29

$675,000

$0

UFA

Kaskisuo, Kasimir
G

MIN --> 0

26

$675,000

$0

RFA

$0

UFA

Kossila, Kalle
C

MIN --> 0

26

$700,000

$700,000

$0

UFA

Korshkov, Yegor

RW

MIN --> 0

23

$925,000

$925,000

$0

RFA

Woll, Joseph

G

MIN --> 0

21

$800,000

$800,000

$0

RFA

Greenway, James
D

--> 0

21

$0

Brooks, Adam

C

MIN --> 0

23

$759,167

$0

RFA

$0

UFA

Middleton, Keaton
D

--> 0

22

$0

Bobylev, Vladimir
LW

--> 0

22

$0

Walker, Jonathan
LW

--> 0

23

$0

Chebykin, Nikolai
LW

--> 0

22

$0

Zaitsev, Dmitriy
D

--> 0

22

$0

Liljegren, Timothy

D

MIN --> 0

20

$863,334

$863,334

$863,334

$0

RFA

Rasanen, Eemeli

--> 0

20

$0

Scott, Ian

G

MIN --> 0

21

$805,834

$805,834

$805,834

$0

RFA

Kara, Vladislav
LW

--> 0

21

$0

Mcgregor, Ryan
C

--> 0

21

$0

O'Connell, Ryan
D

--> 0

20

$0

Der-Arguchintsev, Semyon

C

MIN --> 0

19

SLIDE

$756,666

$756,666

$756,666

$0

RFA

Stotts, Riley
C

--> 0

20

$0

Hollowell, Mac

D

MIN --> 0

21

$799,767

$799,767

$799,767

$0

RFA

Kral, Filip
D

--> 0

20

$0

Holmberg, Pontus
C

--> 0

21

$0

Bouthillier, Zachary
G

--> 0

20

$0

Kizimov, Semyon
RW

--> 0

20

$0

Clark, Emerson
LW

--> 0

27

$0

$0

UFA

$0

UFA

Kestner, Josh
RW

--> 0

26

$0

$0

UFA

$0

UFA

Plouffe, Derian
C

--> 0

25

$0

$0

UFA

$0

UFA

Pospisil, Kristian
C

--> 0

23

$0

$0

UFA

$0

UFA

Veronneau, Max

RW

MIN --> 0

24

$925,000

$0

RFA

$0

UFA

Duszak, Joseph

D

MIN --> 0

22

$800,000

$800,000

$0

RFA

Robertson, Nicholas

C

MIN --> 0

18

SLIDE

$821,667

$821,667

$821,667

$0

RFA

Kokkonen, Mikko
D

--> 0

34

$0

$0

UFA

$0

UFA

Abramov, Mikhail
LW

--> 0

21

$0

$0

UFA

$0

UFA

Abruzzese, Nicholas
C

--> 0

20

$0

$0

UFA

$0

UFA

Koster, Michael
D

--> 0

18

$0

Loponen, Kalle
D

--> 0

19

$0

$0

UFA

$0

UFA

Conrad, Colt
C

--> 0

22

$0

$0

UFA

$0

UFA

Ferguson, Brady
LW

--> 0

25

$0

$0

UFA

$0

UFA

Gudbranson, Alex
D

--> 0

25

$0

$0

UFA

$0

UFA

Johnston, Ryan
D

--> 0

28

$0

$0

UFA

$0

UFA

O'Brien, Zach
RW

--> 0

27

$0

$0

UFA

$0

UFA

Pepin, Marc-Antoine
D

--> 0

19

$0

$0

UFA

$0

UFA

Pooley, Scott
RW

--> 0

26

$0

$0

UFA

$0

UFA

Power, Marcus
C

--> 0

26

$0

$0

UFA

$0

UFA

Rubins, Kristians

D

--> 0

22

$785,000

$785,000

$0

UFA

$0

UFA

Sapego, Sergei
D

--> 0

20

$0

$0

UFA

$0

UFA

TOTALS
TOTALS

$17,859,768

$10,345,601

$4,832,268

$1,578,333

$0

$0