Vancouver Canucks
| | |
| --- | --- |
| Cap Hit | $83,799,921 |
| Cap Space | $-2,299,921 |
| LTIR Pool | $8,499,873 |
| Roster | 26/23 |
| Contracts | 48/50 |
Transactions
| | |
| --- | --- |
| (NHL) fined LW Micheal Ferland $5,000 for spearing. | Aug 3 |
| assigned LW Nils Hoglander to Rogle BK (Sweden). | Jul 27 |
| activated LW Micheal Ferland from injured reserve. | Jul 27 |
| assigned G Michael Dipietro to Utica (AHL). | Jul 26 |
| assigned D Guillaume Brisebois to Utica (AHL). | Jul 26 |
Line Combinations
Updated: Jul 29 (10:27am)
Line 1 $15,125,000
Pairing 1 $12,000,000
Line 2 $10,775,000
Pairing 2 $5,366,666
Line 3 $7,416,666
Pairing 3 $3,175,000
Line 4 $8,350,000
Goalies $4,716,667
Injury Report
Jordie Benn - Personal

Benn has been away from the team attending to the birth of his child. It is uncertain if he will suit up against the Wild in Game 2 of the Western Conference qualifying round.

questionable - Ques Tues

Updated Aug 2, 2020

Jake Virtanen - Undisclosed

Virtanen is hampered by an unspecified injury, and it is unknown if he will play in Game 2 of the Western Conference qualifying round versus the Wild.

questionable - Ques Tues

Updated Aug 2, 2020

Loui Eriksson - Undisclosed

Eriksson is managing an ailment to an unlisted area, and it is unclear if he will be available for Game 2 of the Western Conference qualifying round versus the Wild.

questionable - Ques Tues

Updated Aug 2, 2020

Jay Beagle - Lower Body

Beagle has been out of commission due to a lower-body injury, but he is likely to get back into the lineup in time for Game 1 of the Western Conference qualifying round versus the Wild.

probable - Prob Sun

Updated Aug 2, 2020
@Canucks (official)
👀 Quinn Hughes
@GatoradeCanada
|
#FuelledByG
t.co/sFkVQoPaY2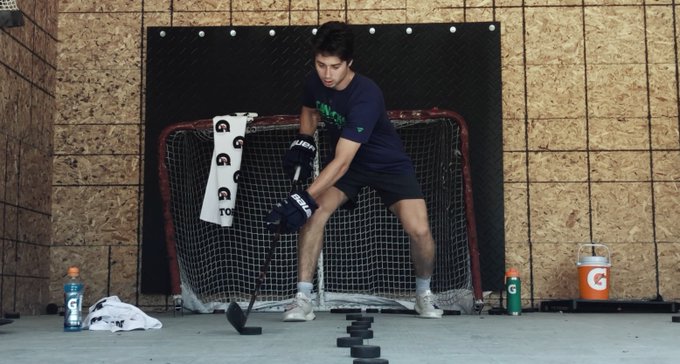 "We have to find a way to get shots through, have traffic at the net and score those playoff-type goals." Miller and Sutter address the media.
t.co/D8fbVmkdyo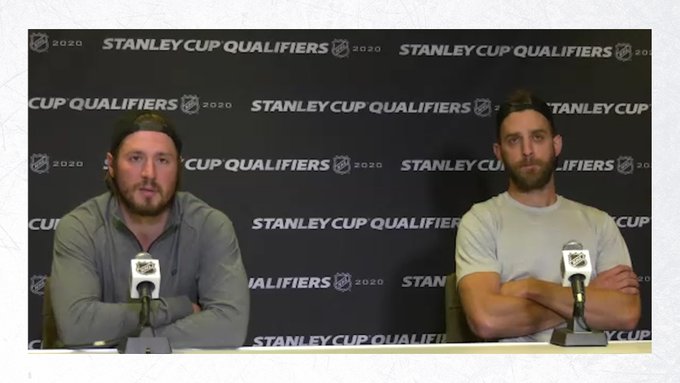 "The defensive side of our game was strong, minus the first 6-7 minutes to start the game." Coach Green breaks down game 1 and looks forward to the next one.
t.co/lsZla3te6s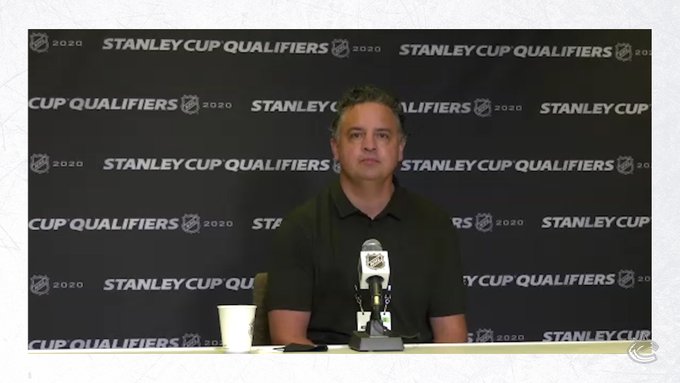 Vancouver Canucks Tweets
RT
@JShannonhl
: What the NHL has pulled off in Toronto and Edmonton is miraculous...Just a quick shout out to all the Local Radio and TV Br…
J.T. Miller: "If you spend a lot of time on the PK, I can see that affecting me. I want those minutes and Travis knows that. I enjoy the PK and take a lot of pride in it. This time of year, a big PK can do the same as getting you the momentum on the power play."
#Canucks
t.co/w9TBcucM8q
We interrupt these Stanley Cup playoffs with severe thunderstorm watch in Edmonton.
t.co/sRR4kZmRLL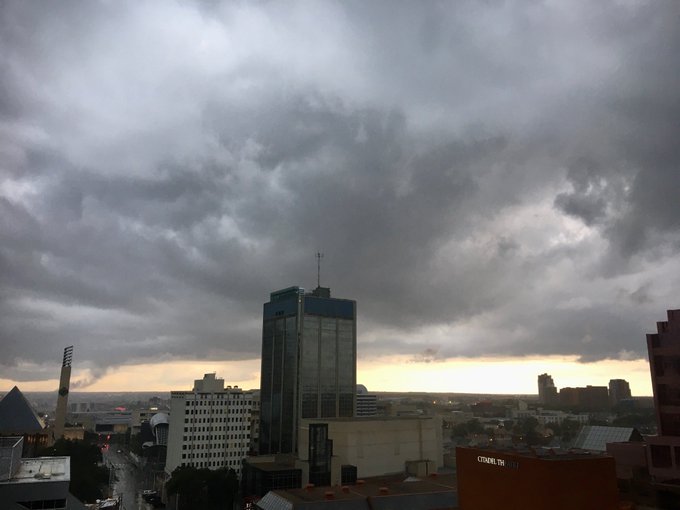 Entry Level Contract
Waiver Exempt
Has Arbitration Rights
Two-way contract
(16) Forwards
$51,264,166
62.9% of cap
Player
POS
Age
2019-2020
2020-2021
2021-2022
2022-2023
2023-2024
Eriksson, Loui
LW

NHL --> 0

35

$6,000,000

NTC

$6,000,000

M-NTC

$6,000,000

M-NTC

$0

UFA

Beagle, Jay
C

NHL --> 0

34

$3,000,000

$3,000,000

$3,000,000

$0

UFA

Sutter, Brandon
C

NHL --> 0

31

$4,375,000

M-NTC

$4,375,000

M-NTC

$0

UFA

Toffoli, Tyler
RW

NHL --> 0

28

$4,600,000

$0

UFA

Ferland, Micheal
LW

NHL --> 0

28

$3,500,000

NMC

$3,500,000

NMC

$3,500,000

M-NTC

$3,500,000

M-NTC

$0

UFA

Roussel, Antoine
LW

NHL --> 0

30

$3,000,000

$3,000,000

$3,000,000

$0

UFA

Leivo, Josh
LW

NHL --> 0

27

$1,500,000

$0

UFA

Miller, J.T.
C

NHL --> 0

27

$5,250,000

$5,250,000

$5,250,000

$5,250,000

$0

UFA

Pearson, Tanner
LW

NHL --> 0

27

$3,750,000

$3,750,000

$0

UFA

Horvat, Bo
C

NHL --> 0

25

$5,500,000

$5,500,000

$5,500,000

$5,500,000

$0

UFA

Motte, Tyler
C

NHL --> 0

25

$975,000

$0

RFA

$0

UFA

Virtanen, Jake
RW

NHL --> 0

23

$1,250,000

$0

RFA

$0

UFA

Boeser, Brock
RW

NHL --> 0

23

$5,875,000

$5,875,000

$5,875,000

$0

RFA

Gaudette, Adam

C

NHL --> 0

23

$916,666

$0

RFA

MacEwen, Zack

C

NHL --> 0

24

$847,500

$0

RFA

Pettersson, Elias

C

NHL --> 0

21

$925,000

$925,000

$0

RFA

TOTALS
TOTALS

$51,264,166

$41,175,000

$32,125,000

$14,250,000

$0

$0
(7) Defence
$22,541,666
27.7% of cap
Player
POS
Age
2019-2020
2020-2021
2021-2022
2022-2023
2023-2024
Edler, Alexander
D

NHL --> 0

34

$6,000,000

NMC

$6,000,000

NMC

$0

UFA

Myers, Tyler
D

NHL --> 0

30

$6,000,000

NMC

$6,000,000

NTC

$6,000,000

NTC

$6,000,000

M-NTC

$6,000,000

M-NTC

$0

UFA

(2024)
Tanev, Christopher
D

NHL --> 0

30

$4,450,000

M-NTC

$0

UFA

Benn, Jordie
D

NHL --> 0

33

$2,000,000

$2,000,000

$0

UFA

Stecher, Troy
D

NHL --> 0

26

$2,325,000

$0

RFA

$0

UFA

Fantenberg, Oscar
D

NHL --> 0

28

$850,000

$0

UFA

Hughes, Quinn

D

NHL --> 0

20

$916,666

$916,666

$0

RFA

TOTALS
TOTALS

$22,541,666

$14,916,666

$6,000,000

$6,000,000

$6,000,000

$0
(3) Goalies
$5,866,667
7.2% of cap
Player
POS
Age
2019-2020
2020-2021
2021-2022
2022-2023
2023-2024
Domingue, Louis
G

NHL --> 0

28

$1,150,000

$0

UFA

Markstrom, Jacob
G

NHL --> 0

30

$3,666,667

$0

UFA

Demko, Thatcher
G

NHL --> 0

24

$1,050,000

$1,050,000

$0

RFA

$0

UFA

TOTALS
TOTALS

$5,866,667

$1,050,000

$0

$0

$0

$0
(1) Buried
$2,291,667
2.8% of cap
Player
POS
Age
2019-2020
2020-2021
2021-2022
2022-2023
2023-2024
Baertschi, Sven
LW

MIN --> 0

27

$2,291,667

$2,291,666

$0

UFA

TOTALS
TOTALS

$2,291,667

$2,291,666

$0

$0

$0

$0
(2) Buyout & Retained Salary
$4,066,539
5.0% of cap
Player
POS
Age
2019-2020
2020-2021
2021-2022
2022-2023
2023-2024
Luongo, Roberto - Cap Recapture Penalty

G

NHL --> 1

35

$3,033,206

$3,033,206

$3,033,206

Spooner, Ryan
Buyout
C

NHL --> 0

28

$1,033,333

$1,033,333

TOTALS
TOTALS

$4,066,539

$4,066,539

$3,033,206

$0

$0

$0
Cap Summary Projection Share Copy Link Embed Tweet It
2019-2020
2020-2021
2021-2022
2022-2023
Roster Size
26
15
8
4
Standard Player Contracts

Number of players signed to Standard Player Contracts (SPC's). Cannot exceed 50 players. Some players do not count towards this, such as 18/19 Year-Old players in Junior with less than 10 NHL Games Played in Season.

Learn More Or Ask A Question

48
29
13
7
Upper Limit

The maximum Salary Cap Hit of all players counting towards the active roster. Often referred to as "Salary Cap". This is determined in the summer and is based on the previous season's revenues, per the CBA.

Learn More Or Ask A Question

$81,500,000
$81,500,000
$81,500,000
$81,500,000
Projected Cap Hit

Anticipated Season-End Cap Hit based on the current roster, calculated by summing all Cap Hits of players currently counting towards the Salary Cap. Assumes current roster is in effect for the remainder of season.

Learn More Or Ask A Question

$83,799,921
$63,499,871
$41,158,206
$21,882,500
Projected Cap Space

Amount of Cap Space projected to be available at end of year. Calculated as Annual Salary Cap minus Projected Cap Hit.

Learn More Or Ask A Question

$-2,299,921
$18,000,129
$40,341,794
$59,617,500
Current Cap Space

Amount of Cap Space that can be added to the roster without exceeding the Upper Limit (Salary Cap Maximum) based on the current roster.

Learn More Or Ask A Question

$-2,299,921
$18,000,129
$40,341,794
$59,617,500
Maximum LTIR Pool

The maximum amount of Long Term Injured Reserve space potentially available. This is the Cap Hit of player on LTIR less the Cap Space available for team at time player was on LTIR. A player can go on LTIR when they expect to miss 10 games and 24 days in the season. A player on LTIR does not come off of the salary cap, instead a team is allowed to exceed the cap by the LTIR amount.

Learn More Or Ask A Question

$8,499,873
$0
$0
$0
Current Roster Annual Cap Hit

Anticipated Cap Hit based on the current roster, calculated by summing all Cap Hits of players currently counting towards the Salary Cap + retained salary + buyouts.

Learn More Or Ask A Question

$86,030,705
$63,499,871
$41,158,206
$21,882,500
Carryover Bonus Overages

Teams can exceed the salary cap due to players receiving performance bonuses. If a team exceeds the salary cap due to performance bonuses, they carryover to the previous season and reduce the cap space a team has.

Learn More Or Ask A Question

$0
$0
$0
$0
Potential Bonuses

Performance Bonuses that players on the active roster are eligible to achieve. A team can exceed the salary cap due to performance bonuses, but they carry over to the following season.

Learn More Or Ask A Question

$4,762,500
$3,700,000
$0
$0
Retained Salary Remaining

Teams can retain salary/cap hit when they trade a player. A team can only have a maximum of 3 players that they retained salary on.

Learn More Or Ask A Question

3
3
3
3
(24) Non-Roster
Player
POS
Age
2019-2020
2020-2021
2021-2022
2022-2023
2023-2024
Bachman, Richard
G

MIN --> 0

33

$675,000

$0

UFA

Baertschi, Sven
LW

MIN --> 0

27

$3,366,667

$3,366,666

$0

UFA

Boucher, Reid
C

MIN --> 0

26

$750,000

$0

RFA

$0

UFA

Graovac, Tyler
C

MIN --> 0

27

$700,000

$0

UFA

Hamilton, Wacey
C

--> 0

29

$0

Perron, Francis
LW

MIN --> 0

24

$700,000

$0

RFA

$0

UFA

Laplante, Yan Pavel
C

MIN --> 0

25

$0

UFA

$0

UFA

D'Aoust, Alexis
RW

--> 0

24

$0

$0

UFA

Bailey, Justin
RW

MIN --> 0

25

$700,000

$0

RFA

$0

UFA

Goldobin, Nikolay
RW

MIN --> 0

24

$900,000

$0

RFA

$0

UFA

Tryamkin, Nikita
D

--> 0

25

$0

RFA

$0

UFA

Sautner, Ashton
D

MIN --> 0

26

$675,000

$0

RFA

$0

UFA

Brisebois, Guillaume

D

MIN --> 0

23

$697,500

$0

RFA

Zhukenov, Dmitry
C

--> 0

23

$0

Jasek, Lukas

RW

MIN --> 0

22

$853,333

$853,333

$0

RFA

Chatfield, Jalen

D

MIN --> 0

24

$765,000

$0

RFA

$0

UFA

Garteig, Michael
G

--> 0

28

$0

Juolevi, Olli

D

MIN --> 0

22

$863,333

$863,333

$0

RFA

Lockwood, William

RW

--> 0

22

$842,500

$842,500

Molino, Griffen
C

--> 0

26

$0

$0

UFA

Lind, Kole

RW

MIN --> 0

21

$891,666

$891,666

$0

RFA

Gadjovich, Jonah

LW

MIN --> 0

21

$814,167

$814,167

$0

RFA

Dipietro, Michael

G

MIN --> 0

21

$811,667

$811,667

$811,667

$0

RFA

Rathbone, Jack
D

--> 0

21

$0

Gunnarsson, Kristoffer
D

--> 0

23

$0

Palmu, Petrus

LW

MIN --> 0

23

$825,833

$825,833

$0

RFA

Brassard, Matt
D

--> 0

21

$0

Woo, Jett

D

MIN --> 0

20

SLIDE

$860,833

$860,833

$860,833

$0

RFA

Karlsson, Linus
C

--> 0

23

$0

Utunen, Toni
D

--> 0

20

$0

Manukyan, Artyom
D

--> 0

21

$0

Thiessen, Matthew
RW

--> 0

24

$0

$0

UFA

Pope, David

LW

MIN --> 0

25

$925,000

$0

RFA

$0

UFA

Anselmini, Brandon
D

--> 0

27

$0

$0

UFA

$0

UFA

Arseneau, Vincent
LW

--> 0

28

$0

$0

UFA

$0

UFA

Dirk, Jagger
D

--> 0

27

$0

$0

UFA

$0

UFA

Gardiner, Reid
RW

--> 0

24

$0

$0

UFA

$0

UFA

MacMaster, Tanner
C

--> 0

24

$0

$0

UFA

$0

UFA

McFadden, Garrett
D

--> 0

22

$0

$0

UFA

$0

UFA

Sifers, Jaime
D

--> 0

37

$0

$0

UFA

$0

UFA

Asmundson, Keegan
G

--> 0

29

$0

$0

UFA

$0

UFA

Eliot, Mitch

D

MIN --> 0

22

$822,500

$822,500

$0

RFA

Teves, Josh
D

MIN --> 0

25

$700,000

$700,000

$0

RFA

$0

UFA

Kielly, Jake

G

MIN --> 0

23

$925,000

$0

RFA

Rafferty, Brogan
D

MIN --> 0

25

$700,000

$700,000

$0

RFA

$0

UFA

Podkolzin, Vasily
RW

--> 0

19

$0

$0

UFA

$0

UFA

Hoglander, Nils

LW

--> 0

19

$891,667

$891,667

$891,667

$0

UFA

$0

UFA

Keppen, Ethan
LW

--> 0

19

$0

$0

UFA

$0

UFA

Focht, Carson
C

--> 0

20

$0

$0

UFA

$0

UFA

Silovs, Arturs

G

MIN --> 0

19

$800,000

$771,667

$771,667

$771,667

$0

RFA

Plasek, Karel
RW

--> 0

20

$0

Malone, Jack
C

--> 0

19

$0

$0

UFA

$0

UFA

McDonough, Aidan
LW

--> 0

20

$0

$0

UFA

$0

UFA

Costmar, Arvid
C

--> 0

19

$0

$0

UFA

$0

UFA

LeBlanc, Stefan
D

--> 0

24

$0

$0

UFA

$0

UFA

Petgrave, Matt
D

--> 0

28

$0

$0

UFA

$0

UFA

Sorenson, Tanner
C

--> 0

27

$0

$0

UFA

$0

UFA

Stevenson, Dyson
RW

--> 0

27

$0

$0

UFA

$0

UFA

Thow, Aaron
D

--> 0

25

$0

$0

UFA

$0

UFA

Warm, Will
D

--> 0

21

$0

$0

UFA

$0

UFA

Michaelis, Marc
LW

--> 0

25

$700,000

$0

RFA

$0

UFA

$0

UFA

TOTALS
TOTALS

$18,086,665

$10,649,166

$4,178,334

$2,524,167

$0

$0