Line Combinations
Updated: Oct 21 (9:08am)
Line 1 $18,842,857
Pairing 1 $13,700,000
Line 2 $6,413,333
Pairing 2 $6,175,000
Line 3 $7,275,000
Pairing 3 $1,758,334
Line 4 $5,994,167
Goalies $9,292,500
Injury Report
Henrik Lundqvist - Rest

Lundqvist is unlikely to take part in Tuesday's game versus the Coyotes due to a day of rest.

doubtful - Doub Tues

Updated Oct 21, 2019

Brendan Lemieux - Flu

Lemieux was held out of the last game with a flu bug, and it is unknown if the symptoms will subside in time for Friday's clash with the Capitals.

questionable - Ques Fri

Updated Oct 17, 2019

Henrik Lundqvist - Rest

Lundqvist is not expected to participate in Thursday's matchup with the Devils as he is to be rested.

doubtful - Doub Thurs

Updated Oct 16, 2019

Chris Kreider - Lower Body

Kreider has a lower-body injury, but he is projected to face the Devils on Thursday.

probable - Prob Thurs

Updated Oct 15, 2019
@NYRangers (official)
BTS at today's
#NYR
yearbook shoot. 📸
t.co/mOjTCBVkBA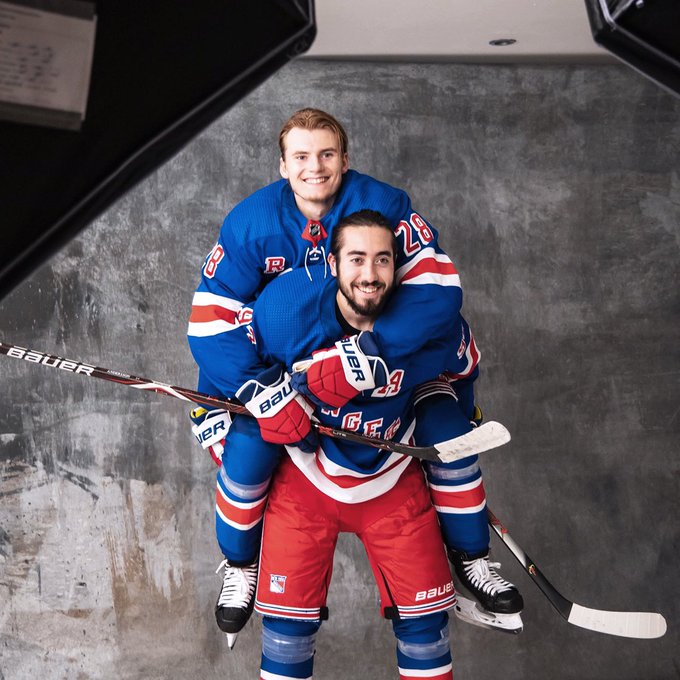 -Jesper will play with Mika + Panarin -D pairs will stay the same -Georgiev in 🥅 Coach Quinn's update ahead of tomorrow's game vs. ARI:
t.co/MlvBljxvya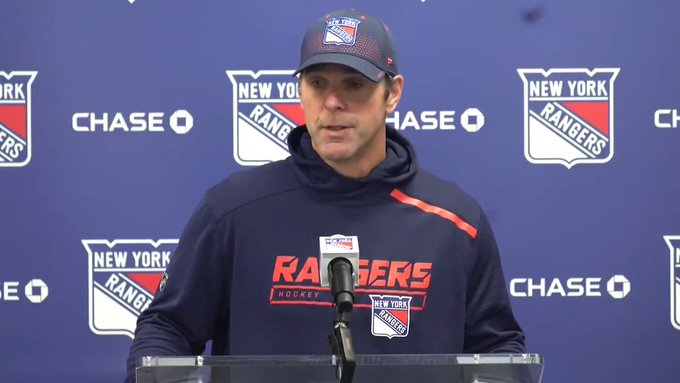 Jesper: "Lesson learned: We can't play for 30 minutes a game. This league is so hard. You've got to play for 60 minutes. Simple as that."
t.co/YEvCkUaZJc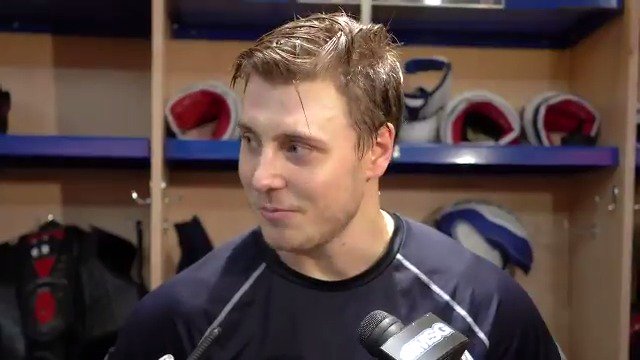 New York Rangers Tweets
Rangers shuffling lines again for tomorrow v Coyotes. Fast with Zibanejad and Panarin, Kreider back to left with Howden and Kakko, Strome between Lemieux and Buchnevich...
If I can put on my baseball hat for a second...I don't believe Yankees/Astros is analogous to Knicks/Bulls of the 90's. The Astros are the Astros because they got the two pitchers Brian Cashman wouldn't pay to obtain (assets, $). Don't recall Knicks passing on Jordan and Pippen.
Entry Level Contract
Waiver Exempt
Has Arbitration Rights
Two-way contract
(12) Forwards
$34,875,357
42.8% of cap
Player
POS
Age
2019-2020
2020-2021
2021-2022
2022-2023
2023-2024
Haley, Micheal
C

NHL --> 0

33

$700,000

$0

UFA

Kreider, Chris
LW

NHL --> 0

28

$4,625,000

M-NTC

$0

UFA

McKegg, Greg
C

NHL --> 0

27

$750,000

$0

UFA

Fast, Jesper
RW

NHL --> 0

27

$1,850,000

$0

UFA

Strome, Ryan
C

NHL --> 0

26

$3,100,000

$0

RFA

$0

UFA

Zibanejad, Mika
C

NHL --> 0

26

$5,350,000

NMC

$5,350,000

NMC

$5,350,000

NMC

$0

UFA

Buchnevich, Pavel
LW

NHL --> 0

24

$3,250,000

$3,250,000

$0

RFA

$0

UFA

Lemieux, Brendan
LW

NHL --> 0

23

$925,000

$0

RFA

$0

UFA

Panarin, Artemi
LW

NHL --> 0

27

$11,642,857

NMC

$11,642,857

NMC

$11,642,857

NMC

$11,642,857

NMC

$11,642,857

NMC

$0

UFA

(2026)
Howden, Brett

C

NHL --> 0

21

$863,333

$863,333

$0

RFA

Andersson, Lias

C

NHL --> 0

21

$894,167

$894,167

$0

RFA

Kakko, Kaapo

RW

NHL --> 0

18

$925,000

$925,000

$925,000

$0

RFA

TOTALS
TOTALS

$34,875,357

$22,925,357

$17,917,857

$11,642,857

$11,642,857

$0
(7) Defence
$25,983,334
31.9% of cap
Player
POS
Age
2019-2020
2020-2021
2021-2022
2022-2023
2023-2024
Staal, Marc
D

NHL --> 0

32

$5,700,000

$5,700,000

$0

UFA

Smith, Brendan
D

NHL --> 0

30

$4,350,000

M-NTC

$4,350,000

M-NTC

$0

UFA

Trouba, Jacob
D

NHL --> 0

25

$8,000,000

$8,000,000

NMC

$8,000,000

NMC

$8,000,000

NMC

$8,000,000

NMC

$0

UFA

(2026)
Skjei, Brady
D

NHL --> 0

25

$5,250,000

$5,250,000

$5,250,000

$5,250,000

$5,250,000

$0

UFA

(2024)
DeAngelo, Tony
D

NHL --> 0

23

$925,000

$0

RFA

$0

UFA

Hajek, Libor

D

NHL --> 0

21

$833,334

$833,334

$0

RFA

Fox, Adam

D

NHL --> 0

21

$925,000

$925,000

$925,000

$0

RFA

TOTALS
TOTALS

$25,983,334

$25,058,334

$14,175,000

$13,250,000

$13,250,000

$0
(2) Goalies
$9,292,500
11.4% of cap
Player
POS
Age
2019-2020
2020-2021
2021-2022
2022-2023
2023-2024
Lundqvist, Henrik
G

NHL --> 0

37

$8,500,000

NMC

$8,500,000

NMC

$0

UFA

Georgiev, Alexandar

G

NHL --> 0

23

$792,500

$0

RFA

$0

UFA

TOTALS
TOTALS

$9,292,500

$8,500,000

$0

$0

$0

$0
(1) Buried
$825,000
1.0% of cap
Player
POS
Age
2019-2020
2020-2021
2021-2022
2022-2023
2023-2024
Beleskey, Matt
LW

MIN --> 0

31

$825,000

$0

UFA

TOTALS
TOTALS

$825,000

$0

$0

$0

$0

$0
(4) Buyout & Retained Salary
$6,144,444
7.5% of cap
Player
POS
Age
2019-2020
2020-2021
2021-2022
2022-2023
2023-2024
Spooner, Ryan
Buyout
C

NHL --> 0

27

$300,000

$300,000

Namestnikov, Vladislav
Retained Salary
C

NHL --> 0

26

Girardi, Dan
Buyout
D

NHL --> 0

35

$3,611,111

$1,111,111

$1,111,111

$1,111,111

Shattenkirk, Kevin
Buyout
D

NHL --> 0

30

$1,483,333

$6,083,333

$1,433,333

$1,433,333

TOTALS
TOTALS

$6,144,444

$7,494,444

$2,544,444

$2,544,444

$0

$0
Cap Summary Projection Share Copy Link Embed Tweet It
2019-2020
2020-2021
2021-2022
2022-2023
Roster Size
21
13
6
3
Standard Player Contracts

Number of players signed to Standard Player Contracts (SPC's). Cannot exceed 50 players. Some players do not count towards this, such as 18/19 Year-Old players in Junior with less than 10 NHL Games Played in Season.

Learn More Or Ask A Question

46
26
10
3
Upper Limit

The maximum Salary Cap Hit of all players counting towards the active roster. Often referred to as "Salary Cap". This is determined in the summer and is based on the previous season's revenues, per the CBA.

Learn More Or Ask A Question

$81,500,000
$81,500,000
$81,500,000
$81,500,000
Projected Cap Hit

Anticipated Season-End Cap Hit based on the current roster, calculated by summing all Cap Hits of players currently counting towards the Salary Cap. Assumes current roster is in effect for the remainder of season.

Learn More Or Ask A Question

$77,208,001
$63,978,135
$34,637,301
$27,437,301
Projected Cap Space

Amount of Cap Space projected to be available at end of year. Calculated as Annual Salary Cap minus Projected Cap Hit.

Learn More Or Ask A Question

$4,291,999
$17,521,865
$46,862,699
$54,062,699
Current Cap Space

Amount of Cap Space that can be added to the roster without exceeding the Upper Limit (Salary Cap Maximum) based on the current roster.

Learn More Or Ask A Question

$4,780,311
$17,521,865
$46,862,699
$54,062,699
Maximum LTIR Pool

The maximum amount of Long Term Injured Reserve space potentially available. This is the Cap Hit of player on LTIR less the Cap Space available for team at time player was on LTIR. A player can go on LTIR when they expect to miss 10 games and 24 days in the season. A player on LTIR does not come off of the salary cap, instead a team is allowed to exceed the cap by the LTIR amount.

Learn More Or Ask A Question

$0
$0
$0
$0
Current Roster Annual Cap Hit

Anticipated Cap Hit based on the current roster, calculated by summing all Cap Hits of players currently counting towards the Salary Cap + retained salary + buyouts.

Learn More Or Ask A Question

$77,120,635
$63,978,135
$34,637,301
$27,437,301
Carryover Bonus Overages

Teams can exceed the salary cap due to players receiving performance bonuses. If a team exceeds the salary cap due to performance bonuses, they carryover to the previous season and reduce the cap space a team has.

Learn More Or Ask A Question

$0
$0
$0
$0
Potential Bonuses

Performance Bonuses that players on the active roster are eligible to achieve. A team can exceed the salary cap due to performance bonuses, but they carry over to the following season.

Learn More Or Ask A Question

$4,482,500
$4,350,000
$3,500,000
$0
Retained Salary Remaining

Teams can retain salary/cap hit when they trade a player. A team can only have a maximum of 3 players that they retained salary on.

Learn More Or Ask A Question

2
3
3
3
(25) Non-Roster
Player
POS
Age
2019-2020
2020-2021
2021-2022
2022-2023
2023-2024
Beleskey, Matt
LW

MIN --> 0

31

$0

UFA

Fogarty, Steven
C

MIN --> 0

26

$700,000

$0

UFA

Catenacci, Daniel
C

MIN --> 0

26

$0

RFA

$0

UFA

Di Giuseppe, Phillip
LW

MIN --> 0

26

$700,000

$0

RFA

$0

UFA

Nieves, Boo
C

MIN --> 0

25

$700,000

$0

RFA

$0

UFA

Ebert, Nick
D

MIN --> 0

25

$700,000

$0

RFA

$0

UFA

Halverson, Brandon
G

MIN --> 0

23

$0

UFA

$0

UFA

Shesterkin, Igor

G

MIN --> 0

23

$925,000

$925,000

$0

RFA

$0

UFA

Nanne, Tyler
D

--> 0

23

$0

$0

UFA

Raddysh, Darren

D

MIN --> 0

23

$730,000

$0

RFA

$0

UFA

Gropp, Ryan

LW

MIN --> 0

23

$802,500

$0

RFA

Bernhardt, Daniel
LW

--> 0

23

$0

$0

UFA

Huska, Adam

G

MIN --> 0

22

$925,000

$925,000

$0

RFA

Stromwall, Malte
RW

MIN --> 0

25

$0

RFA

$0

UFA

Lindgren, Ryan

D

MIN --> 0

21

$925,000

$925,000

$0

RFA

Day, Sean

D

MIN --> 0

21

$761,667

$761,667

$0

RFA

Reunanen, Tarmo

D

MIN --> 0

21

$809,167

$809,167

$809,167

$0

RFA

Rykov, Yegor

D

MIN --> 0

22

$925,000

$925,000

$0

RFA

Gettinger, Timothy

LW

MIN --> 0

21

$730,000

$730,000

$0

RFA

Fontaine, Gabriel

C

MIN --> 0

22

$736,667

$0

RFA

Wall, Tyler
G

--> 0

21

$0

Ronning, Ty

RW

MIN --> 0

22

$750,833

$750,833

$0

RFA

Crawley, Brandon

D

MIN --> 0

22

$770,000

$0

RFA

Nell, Chris
G

MIN --> 0

25

$0

UFA

$0

UFA

Lettieri, Vinni
C

MIN --> 0

24

$700,000

$0

RFA

$0

UFA

Chytil, Filip

C

MIN --> 0

20

$894,167

$894,166

$0

RFA

Sjalin, Calle
D

--> 0

20

$0

Lakatos, Dominik
C

--> 0

22

$0

Barron, Morgan
C

--> 0

20

$0

Virta, Patrik
C

--> 0

23

$0

$0

UFA

Kravtsov, Vitali

RW

MIN --> 0

19

$925,000

$925,000

$925,000

$0

RFA

Miller, K'Andre
D

--> 0

19

$0

Lundkvist, Nils
D

--> 0

19

$0

Lindbom, Olof
G

--> 0

19

$0

Ragnarsson, Jacob
D

--> 0

20

$0

Keane, Joey

D

MIN --> 0

20

$809,166

$809,166

$809,166

$0

RFA

Gross, Nico
D

--> 0

19

$0

Pajuniemi, Lauri
RW

--> 0

20

$0

Kjellberg, Simon
D

--> 0

19

$0

Hughes, Riley
RW

--> 0

19

$0

Meskanen, Ville

C

MIN --> 0

24

$925,000

$0

RFA

$0

UFA

Brodeur, Jeremy
G

--> 0

22

$0

$0

UFA

$0

UFA

Leedahl, Dawson

LW

MIN --> 0

23

$749,167

$0

RFA

$0

UFA

Elmer, Jacob

RW

MIN --> 0

20

$809,166

$809,166

$809,166

$0

RFA

Newell, Patrick

C

MIN --> 0

23

$792,500

$792,500

$0

RFA

$0

UFA

Robertson, Matthew
D

--> 0

18

$0

$0

UFA

$0

UFA

Henriksson, Karl
C

--> 0

18

$0

$0

UFA

$0

UFA

Jones, Zachary
D

--> 0

19

$0

$0

UFA

$0

UFA

Skinner, Hunter
D

--> 0

18

$0

$0

UFA

$0

UFA

Aaltonen, Leevi
LW

--> 0

18

$0

$0

UFA

$0

UFA

Edstrom, Adam
C

--> 0

14

$0

$0

UFA

$0

UFA

Ciccolini, Eric
RW

--> 0

18

$0

$0

UFA

$0

UFA

Jones, Nick
C

--> 0

23

$0

$0

UFA

$0

UFA

O'Regan, Danny
C

--> 0

25

$0

$0

UFA

$0

UFA

TOTALS
TOTALS

$19,195,000

$10,981,665

$3,352,499

$0

$0

$0