Transactions
Waived C Adam Musil.
Jun 24
Signed C Nolan Stevens to a one-year, two-way contract extension worth $700,000.
Jun 23
Signed LW Jordan Nolan to a one-year, two-way contract extension worth $700,000.
Jun 23
TRADE ANALYSIS
The Toronto maple leafs acquired 2020 seventh round pick from the St Louis Blues for 2019 seventh round pick
Jun 22
Announced C Ivan Barbashev has served his suspension.
Jun 10
No games currently scheduled
St. Louis Blues Injury Report
Robert Thomas - Wrist
Thomas had offseason surgery to repair a tendon in his right wrist. It is unclear if he will be ready for the start of 2019-20.

out - Out indefinitely

Updated Jun 24, 2019

out - Out indefinitely

Updated Jun 24, 2019

Robert Thomas - Wrist
Thomas will not suit up against the Bruins in Game 7 of the Stanley Cup Final due to a wrist injury.

out - Out Wed

Updated Jun 12, 2019

out - Out Wed

Updated Jun 12, 2019

Ivan Barbashev - Suspension
Barbashev has served his one game suspension for an illegal check to the head and is expected to be in the lineup for Game 7 of the Stanley Cup Final against the Bruins.

out - Elig Wed

Updated Jun 12, 2019

out - Elig Wed

Updated Jun 12, 2019
St. Louis Blues Tweets
Good crowd for the first of four scrimmages at this week's Prospect Camp.
#stlblues
t.co/JC95p94hzj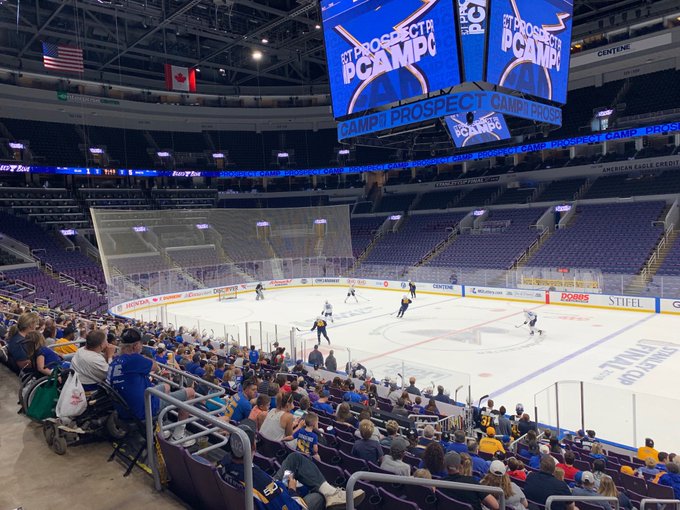 Perunovich on opportunity to three-peat factoring into decision: "Yeah for sure. It's been the best two years of my life right now, so I wasn't really ready to give that up. If the team was different, maybe it would be a different choice, but we've got a great group coming back."
Perunovich on it being a tough decision: "It was definitely difficult and a lot of thought went into it. It worked out well for (the Blues) winning the Cup, but I'm happy we're I'm at right now and we'll see what happens. That's the plan right now, junior year going back."
Entry Level Contract
Waiver Exempt
Has Arbitration Rights
Two-way contract
(9) Forwards
$41,869,167
51.4% of cap
Player
POS
Age
2019-2020
2020-2021
2021-2022
2022-2023
2023-2024
Steen, Alexander
LW

NHL --> 0

35

$5,750,000

NTC

$5,750,000

NTC

$0

UFA

Thorburn, Chris
RW

NHL --> 0

36

$0

UFA

Perron, David
LW

NHL --> 0

31

$4,000,000

M-NTC

$4,000,000

M-NTC

$4,000,000

M-NTC

$0

UFA

Maroon, Pat
LW

NHL --> 0

31

$0

UFA

Bozak, Tyler
C

NHL --> 0

33

$5,000,000

M-NTC

$5,000,000

M-NTC

$0

UFA

O'Reilly, Ryan
C

NHL --> 0

28

$7,500,000

$7,500,000

$7,500,000

$7,500,000

$0

UFA

Schenn, Brayden
C

NHL --> 0

27

$5,125,000

$0

UFA

Schwartz, Jaden
LW

NHL --> 0

27

$5,350,000

M-NTC

$5,350,000

M-NTC

$0

UFA

Tarasenko, Vladimir
RW

NHL --> 0

27

$7,500,000

NTC

$7,500,000

NTC

$7,500,000

NTC

$7,500,000

NTC

$0

UFA

MacEachern, MacKenzie
LW

NHL --> 0

25

$750,000

$0

RFA

$0

UFA

Sundqvist, Oskar
C

NHL --> 0

25

$0

RFA

$0

UFA

Barbashev, Ivan
C

NHL --> 0

23

$0

RFA

$0

UFA

Sanford, Zach
LW

NHL --> 0

24

$0

RFA

$0

UFA

Fabbri, Robby
C

NHL --> 0

23

$0

RFA

$0

UFA

Blais, Sammy
LW

NHL --> 0

23

$0

RFA

$0

UFA

Thomas, Robert

C

NHL --> 0

19

$894,167

$894,166

$0

RFA

TOTALS
TOTALS

$41,869,167

$35,994,166

$19,000,000

$15,000,000

$0

$0
(5) Defence
$17,347,500
21.3% of cap
Player
POS
Age
2019-2020
2020-2021
2021-2022
2022-2023
2023-2024
Del Zotto, Michael
D

NHL --> 0

29

$0

UFA

Bouwmeester, Jay
D

NHL --> 0

35

$3,250,000

$0

UFA

Pietrangelo, Alex
D

NHL --> 0

29

$6,500,000

NTC

$0

UFA

Bortuzzo, Robert
D

NHL --> 0

30

$1,375,000

$1,375,000

$1,375,000

$0

UFA

Gunnarsson, Carl
D

NHL --> 0

32

$0

UFA

Edmundson, Joel
D

NHL --> 0

25

$0

RFA

$0

UFA

Parayko, Colton
D

NHL --> 0

26

$5,500,000

$5,500,000

$5,500,000

$0

UFA

Dunn, Vince

D

NHL --> 0

22

$722,500

$0

RFA

TOTALS
TOTALS

$17,347,500

$6,875,000

$6,875,000

$0

$0

$0
(1) Goalies
$4,350,000
5.3% of cap
Player
POS
Age
2019-2020
2020-2021
2021-2022
2022-2023
2023-2024
Allen, Jake
G

NHL --> 0

28

$4,350,000

$4,350,000

$0

UFA

Binnington, Jordan
G

NHL --> 0

25

$0

RFA

$0

UFA

TOTALS
TOTALS

$4,350,000

$4,350,000

$0

$0

$0

$0
(0) Buried
$0
0.0% of cap
| Player | POS | Age | 2019-2020 | 2020-2021 | 2021-2022 | 2022-2023 | 2023-2024 | |
| --- | --- | --- | --- | --- | --- | --- | --- | --- |
| TOTALS | TOTALS | $0 | $0 | $0 | $0 | $0 | $0 | |
Cap Summary Projection Share Copy Link Embed Tweet It
2019-2020
2020-2021
2021-2022
2022-2023
Roster Size
15
10
5
2
Standard Player Contracts

Number of players signed to Standard Player Contracts (SPC's). Cannot exceed 50 players. Some players do not count towards this, such as 18/19 Year-Old players in Junior with less than 10 NHL Games Played in Season.

Learn More Or Ask A Question

30
17
9
3
Upper Limit

The maximum Salary Cap Hit of all players counting towards the active roster. Often referred to as "Salary Cap". This is determined in the summer and is based on the previous season's revenues, per the CBA.

Learn More Or Ask A Question

$81,500,000
$81,500,000
$81,500,000
$81,500,000
Projected Cap Hit

Anticipated Season-End Cap Hit based on the current roster, calculated by summing all Cap Hits of players currently counting towards the Salary Cap. Assumes current roster is in effect for the remainder of season.

Learn More Or Ask A Question

$63,566,667
$47,219,166
$25,875,000
$15,775,000
Projected Cap Space

Amount of Cap Space projected to be available at end of year. Calculated as Annual Salary Cap minus Projected Cap Hit.

Learn More Or Ask A Question

$17,933,333
$34,280,834
$55,625,000
$65,725,000
Current Cap Space

Amount of Cap Space that can be added to the roster without exceeding the Upper Limit (Salary Cap Maximum) based on the current roster.

Learn More Or Ask A Question

$17,933,333
$34,280,834
$55,625,000
$65,725,000
Maximum LTIR Pool

The maximum amount of Long Term Injured Reserve space potentially available. This is the Cap Hit of player on LTIR less the Cap Space available for team at time player was on LTIR. A player can go on LTIR when they expect to miss 10 games and 24 days in the season. A player on LTIR does not come off of the salary cap, instead a team is allowed to exceed the cap by the LTIR amount.

Learn More Or Ask A Question

$0
$0
$0
$0
Current Roster Annual Cap Hit

Anticipated Cap Hit based on the current roster, calculated by summing all Cap Hits of players currently counting towards the Salary Cap + retained salary + buyouts.

Learn More Or Ask A Question

$63,566,667
$47,219,166
$25,875,000
$15,775,000
Carryover Bonus Overages

Teams can exceed the salary cap due to players receiving performance bonuses. If a team exceeds the salary cap due to performance bonuses, they carryover to the previous season and reduce the cap space a team has.

Learn More Or Ask A Question

$0
$0
$0
$0
Potential Bonuses

Performance Bonuses that players on the active roster are eligible to achieve. A team can exceed the salary cap due to performance bonuses, but they carry over to the following season.

Learn More Or Ask A Question

$482,500
$425,000
$0
$0
Retained Salary Remaining

Teams can retain salary/cap hit when they trade a player. A team can only have a maximum of 3 players that they retained salary on.

Learn More Or Ask A Question

3
3
3
3
(15) Non-Roster
Player
POS
Age
2019-2020
2020-2021
2021-2022
2022-2023
2023-2024
Butler, Chris
D

MIN --> 0

32

$0

UFA

Nolan, Jordan
C

MIN --> 0

30

$700,000

$0

UFA

Bennett, Beau
RW

MIN --> 0

27

$0

RFA

Wotherspoon, Tyler
D

MIN --> 0

26

$0

UFA

$0

UFA

Flynn, Brian
C

MIN --> 0

30

$0

UFA

Schmaltz, Jordan
D

MIN --> 0

25

$700,000

$0

RFA

$0

UFA

Laleggia, Joey
D

MIN --> 0

27

$675,000

$0

UFA

McKee, Michael
D

--> 0

25

$0

$0

UFA

Lindbohm, Petteri
D

MIN --> 0

25

$0

RFA

$0

UFA

Coreau, Jared
G

MIN --> 0

27

$0

UFA

Bleackley, Conner
C

MIN --> 0

22

$0

RFA

Walman, Jake

D

MIN --> 0

23

$925,000

$0

RFA

$0

UFA

Husso, Ville
G

MIN --> 0

24

$0

RFA

$0

UFA

Poganski, Austin

RW

MIN --> 0

23

$750,000

$0

RFA

$0

UFA

Soshnikov, Nikita
RW

MIN --> 0

25

$0

RFA

$0

UFA

Foley, Erik

LW

MIN --> 0

21

$925,000

$925,000

$0

RFA

Mikkola, Niko

D

MIN --> 0

23

$842,500

$0

RFA

$0

UFA

Kyrou, Jordan

C

MIN --> 0

21

$758,333

$758,333

$0

RFA

Fitzpatrick, Evan

G

MIN --> 0

21

$770,000

$770,000

$0

RFA

Kaspick, Tanner

C

MIN --> 0

21

$739,166

$739,166

$0

RFA

Stevens, Nolan
C

MIN --> 0

22

$700,000

$0

RFA

Krag-Christensen, Nikolaj
C

--> 0

20

$0

Helt, Filip
LW

--> 0

21

$0

Jerabek, Jakub
D

MIN --> 0

28

$0

UFA

Kostin, Klim

C

MIN --> 0

20

$863,334

$863,334

$863,334

$0

RFA

Toropchenko, Alexei

RW

--> 0

20

$775,000

$775,000

$775,000

Noel, David
D

--> 0

20

$0

Bourque, Trenton
D

--> 0

21

$0

Andersson, Anton
D

--> 0

20

$0

Loney, Ty
C

--> 0

27

$0

Reinke, Mitch
D

MIN --> 0

23

$0

RFA

$0

UFA

Bokk, Dominik

RW

MIN --> 0

19

$894,167

$894,167

$894,167

$0

RFA

Perunovich, Scott
D

--> 0

20

$0

Hofer, Joel

G

--> 0

18

$809,166

$809,166

$809,166

$0

RFA

McGing, Hugh
LW

--> 0

20

$0

Laferriere, Mathias
RW

--> 0

18

$0

Tucker, Tyler
D

--> 0

22

$0

Lofquist, Sam
D

--> 0

29

$0

$0

UFA

$0

UFA

Alexandrov, Nikita
C

--> 0

$0

$0

UFA

$0

UFA

Ellis, Colten
G

--> 0

$0

$0

UFA

$0

UFA

Washkurak, Keean
C

--> 0

$0

$0

UFA

$0

UFA

Zherenko, Vadim
G

--> 0

$0

$0

UFA

$0

UFA

Michel, Jeremy
LW

--> 0

$0

$0

UFA

$0

UFA

TOTALS
TOTALS

$11,826,666

$5,759,166

$3,341,667

$775,000

$0

$0