Transactions
| | |
| --- | --- |
| re-signed RW Nicolas Aube-Kubel to a one-year, two-way contract worth $700,000. | Jul 16 |
| announced D Nicholas Luukko has retired. | Jul 1 |
| signed D Chris Bigras to a two-year, two-way contract worth $1.4 million. | Jul 1 |
| signed C Kyle Criscuolo to a one-year, two-way contract worth 700,000. | Jul 1 |
| signed RW Kurtis Gabriel to a one-year, two-way contract worth $700,000. | Jul 1 |
Philadelphia Flyers Injury Report
Philadelphia Flyers Voices
@NHLFlyers (official)
Carter Hart's year-two progression is just one of the key factors entering the 2019-20 season.
t.co/fLoRnSecIW
Powerplay production, blueline contributions and 5-on-5 goals-against are three areas of focus for the
#Flyers
come October.
t.co/FT3um3OmuV
RT
@NHL
: Lots of choices to make here. Who are you picking if you're in charge of the
@NHLFlyers
lineup?
#31in31
t.co/qlRi8g8tZ6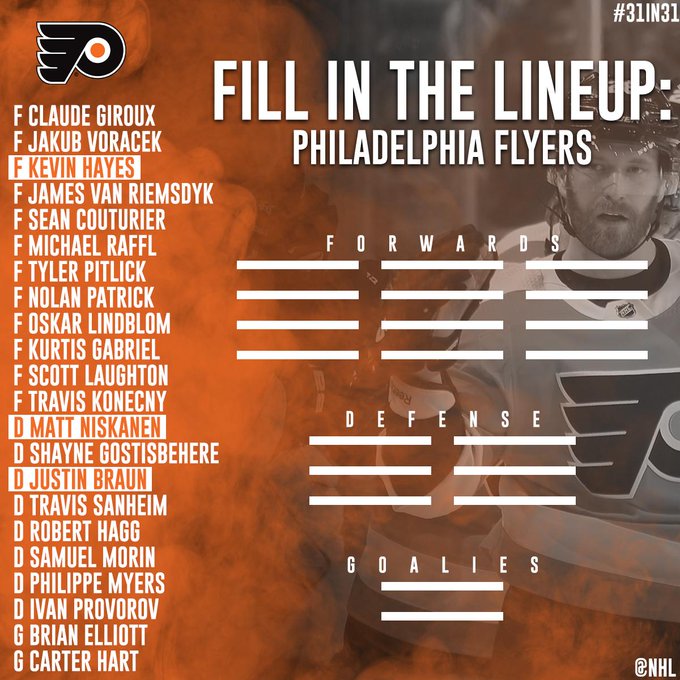 Philadelphia Flyers Tweets
Travis Konecny and Ivan Provorov remain unsigned, but that isn't going to stop us from speculating on their contracts!
t.co/8yeYP2bmly
No. 12 on our 25 Under 25 countdown is the Flyers' latest first-round pick and their newest big-name defensive prospect, Cam York, who figures to lead the way in the Flyers' efforts to re-stock their prospect group on defense:
t.co/TaWfY54p40
Thursday Morning Fly By: C'mon, let's hear some news. Announce Konecny you cowards.
t.co/GSkFsIqIEa
Entry Level Contract
Waiver Exempt
Has Arbitration Rights
Two-way contract
(11) Forwards
$42,451,190
52.1% of cap
Player
POS
Age
2019-2020
2020-2021
2021-2022
2022-2023
2023-2024
Stewart, Chris
RW

NHL --> 0

31

$0

UFA

Giroux, Claude
C

NHL --> 0

31

$8,275,000

NMC

$8,275,000

NMC

$8,275,000

NMC

$0

UFA

Voracek, Jakub
RW

NHL --> 0

30

$8,250,000

$8,250,000

$8,250,000

$8,250,000

$8,250,000

$0

UFA

(2024)
van Riemsdyk, James
LW

NHL --> 0

30

$7,000,000

$7,000,000

$7,000,000

$7,000,000

$0

UFA

Hayes, Kevin
RW

NHL --> 0

27

$7,142,857

NMC

$7,142,857

NMC

$7,142,857

NMC

$7,142,857

M-NTC

$7,142,857

M-NTC

$0

UFA

(2026)
Pitlick, Tyler
C

NHL --> 0

27

$1,000,000

$0

UFA

Couturier, Sean
C

NHL --> 0

26

$4,333,333

$4,333,333

$4,333,333

$0

UFA

Laughton, Scott
C

NHL --> 0

25

$2,300,000

$2,300,000

$0

UFA

Raffl, Michael
LW

NHL --> 0

30

$1,600,000

$1,600,000

$0

UFA

Gabriel, Kurtis
RW

NHL --> 0

26

$700,000

$0

UFA

Lindblom, Oskar

LW

NHL --> 0

23

$925,000

$0

RFA

Konecny, Travis
RW

NHL --> 0

22

$0

RFA

$0

UFA

Patrick, Nolan

C

NHL --> 0

20

$925,000

$0

RFA

TOTALS
TOTALS

$42,451,190

$38,901,190

$35,001,190

$22,392,857

$15,392,857

$0
(6) Defence
$19,150,000
23.5% of cap
Player
POS
Age
2019-2020
2020-2021
2021-2022
2022-2023
2023-2024
Niskanen, Matt
D

NHL --> 0

32

$5,750,000

M-NTC

$5,750,000

M-NTC

$0

UFA

Braun, Justin
D

NHL --> 0

32

$3,800,000

$0

UFA

Gostisbehere, Shayne
D

NHL --> 0

26

$4,500,000

$4,500,000

$4,500,000

$4,500,000

$0

UFA

Morin, Samuel
D

NHL --> 0

24

$700,000

$700,000

$0

RFA

$0

UFA

Hagg, Robert
D

NHL --> 0

24

$1,150,000

$0

RFA

$0

UFA

Sanheim, Travis
D

NHL --> 0

23

$3,250,000

$3,250,000

$0

RFA

$0

UFA

Provorov, Ivan
D

NHL --> 0

22

$0

RFA

$0

UFA

TOTALS
TOTALS

$19,150,000

$14,200,000

$4,500,000

$4,500,000

$0

$0
(2) Goalies
$2,730,833
3.4% of cap
Player
POS
Age
2019-2020
2020-2021
2021-2022
2022-2023
2023-2024
Elliott, Brian
G

NHL --> 0

34

$2,000,000

$0

UFA

Hart, Carter

G

NHL --> 0

21

$730,833

$730,833

$0

RFA

TOTALS
TOTALS

$2,730,833

$730,833

$0

$0

$0

$0
(0) Buried
$0
0.0% of cap
| Player | POS | Age | 2019-2020 | 2020-2021 | 2021-2022 | 2022-2023 | 2023-2024 | |
| --- | --- | --- | --- | --- | --- | --- | --- | --- |
| TOTALS | TOTALS | $0 | $0 | $0 | $0 | $0 | $0 | |
(3) Buyout & Retained Salary
$3,071,667
3.8% of cap
Player
POS
Age
2019-2020
2020-2021
2021-2022
2022-2023
2023-2024
Gudas, Radko
Retained Salary
D

NHL --> 0

29

MacDonald, Andrew
Buyout
D

NHL --> 0

32

$1,166,667

$1,916,667

Schlemko, David
Buyout
D

MIN --> 0

32

$900,000

$600,000

TOTALS
TOTALS

$3,071,667

$2,516,667

$0

$0

$0

$0
Cap Summary Projection Share Copy Link Embed Tweet It
2019-2020
2020-2021
2021-2022
2022-2023
Roster Size
19
12
6
4
Standard Player Contracts

Number of players signed to Standard Player Contracts (SPC's). Cannot exceed 50 players. Some players do not count towards this, such as 18/19 Year-Old players in Junior with less than 10 NHL Games Played in Season.

Learn More Or Ask A Question

46
29
13
4
Upper Limit

The maximum Salary Cap Hit of all players counting towards the active roster. Often referred to as "Salary Cap". This is determined in the summer and is based on the previous season's revenues, per the CBA.

Learn More Or Ask A Question

$81,500,000
$81,500,000
$81,500,000
$81,500,000
Projected Cap Hit

Anticipated Season-End Cap Hit based on the current roster, calculated by summing all Cap Hits of players currently counting towards the Salary Cap. Assumes current roster is in effect for the remainder of season.

Learn More Or Ask A Question

$67,403,690
$56,348,690
$39,501,190
$26,892,857
Projected Cap Space

Amount of Cap Space projected to be available at end of year. Calculated as Annual Salary Cap minus Projected Cap Hit.

Learn More Or Ask A Question

$14,096,310
$25,151,310
$41,998,810
$54,607,143
Current Cap Space

Amount of Cap Space that can be added to the roster without exceeding the Upper Limit (Salary Cap Maximum) based on the current roster.

Learn More Or Ask A Question

$14,096,310
$25,151,310
$41,998,810
$54,607,143
Maximum LTIR Pool

The maximum amount of Long Term Injured Reserve space potentially available. This is the Cap Hit of player on LTIR less the Cap Space available for team at time player was on LTIR. A player can go on LTIR when they expect to miss 10 games and 24 days in the season. A player on LTIR does not come off of the salary cap, instead a team is allowed to exceed the cap by the LTIR amount.

Learn More Or Ask A Question

$0
$0
$0
$0
Current Roster Annual Cap Hit

Anticipated Cap Hit based on the current roster, calculated by summing all Cap Hits of players currently counting towards the Salary Cap + retained salary + buyouts.

Learn More Or Ask A Question

$67,403,690
$56,348,690
$39,501,190
$26,892,857
Carryover Bonus Overages

Teams can exceed the salary cap due to players receiving performance bonuses. If a team exceeds the salary cap due to performance bonuses, they carryover to the previous season and reduce the cap space a team has.

Learn More Or Ask A Question

$0
$0
$0
$0
Potential Bonuses

Performance Bonuses that players on the active roster are eligible to achieve. A team can exceed the salary cap due to performance bonuses, but they carry over to the following season.

Learn More Or Ask A Question

$2,995,000
$82,500
$0
$0
Retained Salary Remaining

Teams can retain salary/cap hit when they trade a player. A team can only have a maximum of 3 players that they retained salary on.

Learn More Or Ask A Question

2
3
3
3
(27) Non-Roster
Player
POS
Age
2019-2020
2020-2021
2021-2022
2022-2023
2023-2024
McKenna, Mike
G

MIN --> 0

36

$0

UFA

Lehtera, Jori
C

MIN --> 0

31

$0

UFA

Brennan, TJ
D

MIN --> 0

30

$675,000

$0

UFA

Berube, J-F
G

MIN --> 0

28

$700,000

$0

UFA

Prosser, Nate
D

MIN --> 0

33

$700,000

$700,000

$0

UFA

Wotherspoon, Tyler
D

MIN --> 0

26

$700,000

$700,000

$0

UFA

Andreoff, Andy
C

MIN --> 0

28

$750,000

$750,000

$0

UFA

Welinski, Andy
D

MIN --> 0

26

$750,000

$0

RFA

Willcox, Reece
D

MIN --> 0

25

$675,000

$0

RFA

$0

UFA

Vasiliev, Valeri
D

--> 0

25

$0

$0

UFA

Aube-Kubel, Nicolas
RW

MIN --> 0

23

$700,000

$0

RFA

$0

UFA

Bigras, Chris
D

MIN --> 0

24

$700,000

$700,000

$0

UFA

$0

UFA

Friedman, Mark

D

MIN --> 0

23

$749,167

$0

RFA

$0

UFA

Fazleev, Radel
C

MIN --> 0

23

$0

RFA

$0

UFA

Carey, Greg
C

MIN --> 0

29

$0

UFA

Sandstrom, Felix

G

MIN --> 0

22

$792,500

$792,500

$0

RFA

Warren, Brendan
LW

--> 0

22

$0

Tomek, Matej
G

--> 0

22

$0

Vorobyev, Mikhail

C

MIN --> 0

22

$784,167

$0

RFA

Kase, David

RW

MIN --> 0

22

$768,333

$768,333

$0

RFA

Fedotov, Ivan
G

--> 0

22

$0

Myers, Philippe

D

MIN --> 0

22

$678,333

$0

RFA

Lyon, Alex
G

MIN --> 0

26

$750,000

$0

UFA

Laberge, Pascal

C

MIN --> 0

21

$780,833

$780,833

$0

RFA

Allison, Wade
RW

--> 0

21

$0

Twarynski, Carsen

LW

MIN --> 0

21

$775,833

$775,833

$0

RFA

Bunnaman, Connor

C

MIN --> 0

21

$736,666

$736,666

$0

RFA

Hogberg, Linus
D

--> 0

20

$0

Laczynski, Tanner
C

--> 0

22

$0

Bernhardt, David
D

--> 0

21

$0

Graves, Jacob
D

MIN --> 0

24

$0

UFA

$0

UFA

Criscuolo, Kyle
C

MIN --> 0

27

$700,000

$0

UFA

Frost, Morgan

C

MIN --> 0

20

$863,333

$863,333

$863,333

$0

RFA

Ratcliffe, Isaac

LW

MIN --> 0

20

$780,834

$780,834

$780,834

$0

RFA

Ustimenko, Kirill

G

--> 0

20

$825,833

$825,833

$825,833

$0

RFA

Strome, Matthew

LW

MIN --> 0

20

$776,666

$776,666

$776,666

$0

RFA

Sushko, Maksim

RW

MIN --> 0

19

$776,666

$776,666

$776,666

$0

RFA

Cates, Noah
LW

--> 0

20

$0

Lycksell, Olle
RW

--> 0

19

$0

Kalynuk, Wyatt
D

--> 0

22

$0

Kosorenkov, Ivan
RW

--> 0

21

$0

Farabee, Joel

LW

--> 0

19

$925,000

$925,000

$925,000

$0

RFA

O'Brien, Jay
C

--> 0

19

$0

Ginning, Adam
D

--> 0

19

$0

St. Ivany, John
D

--> 0

20

$0

Wylie, Wyatte
D

--> 0

19

$0

Ersson, Samuel
G

--> 0

19

$0

Hain, Gavin
C

--> 0

19

$0

Westfalt, Marcus
C

--> 0

19

$0

Zamula, Yegor

D

MIN --> 0

19

$760,000

$760,000

$760,000

$0

RFA

Hora, Frank
D

--> 0

23

$0

$0

UFA

$0

UFA

Knight, Corban
C

MIN --> 0

28

$0

UFA

Rubtsov, German

C

MIN --> 0

21

$894,167

$894,167

$0

RFA

Lyubimov, Roman
C

--> 0

27

$0

RFA

York, Cameron
D

--> 0

18

$0

$0

UFA

$0

UFA

Brink, Bobby
RW

--> 0

18

$0

$0

UFA

$0

UFA

Attard, Ronald
D

--> 0

20

$0

$0

UFA

$0

UFA

Millman, Mason
D

--> 0

18

$0

$0

UFA

$0

UFA

Serdyuk, Egor
RW

--> 0

18

$0

$0

UFA

$0

UFA

Ross, Roddy
G

--> 0

19

$0

$0

UFA

$0

UFA

Brodzinski, Bryce
RW

--> 0

19

$0

$0

UFA

$0

UFA

TOTALS
TOTALS

$20,468,331

$13,306,664

$5,708,332

$0

$0

$0