Line Combinations
Updated: Dec 07 (3:38pm)
Line 1 $19,000,000
Pairing 1 $8,175,000
Line 2 $5,675,000
Pairing 2 $8,750,000
Line 3 $2,500,000
Pairing 3 $1,574,125
Line 4 $6,367,500
Goalies $4,425,000
Injury Report
Bryan Rust - Lower Body

Rust has missed the previous three games due to a lower-body injury, but he is expected to suit up against the Coyotes on Friday.

probable - Prob Fri

Updated Dec 6, 2019

Jack Johnson - Illness

Johnson was held out of the last game with an illness, but it is likely that he will be in Friday's lineup versus the Coyotes.

probable - Prob Fri

Updated Dec 6, 2019

Justin Schultz - Lower Body

Schultz has been activated from the injured reserve list after a lower-body ailment, and it is projected that he will play against the Coyotes on Friday.

probable - Prob Fri

Updated Dec 6, 2019

Patric Hornqvist - Lower Body

Hornqvist has been added to the injured reserve list and is expected to be sidelined for one month with a lower-body injury.

I-R - Early Jan

Updated Dec 5, 2019
Pittsburgh Penguins Voices
@penguins (official)
RUDY! RUDY! RUDY!
t.co/ZXV9WN0XjT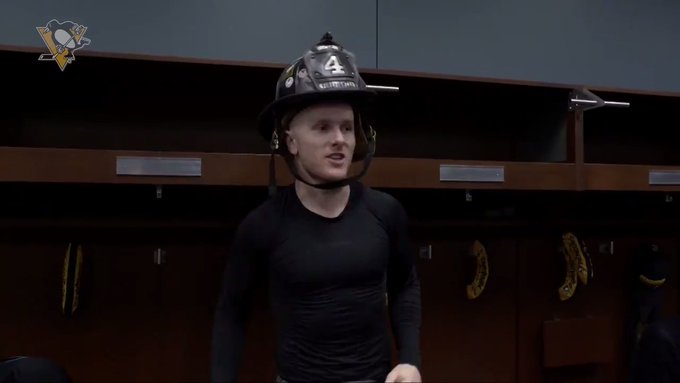 Another night, another WINfographic. Check it out:
t.co/hWfK3bYH4E
t.co/OL7QdvzWKY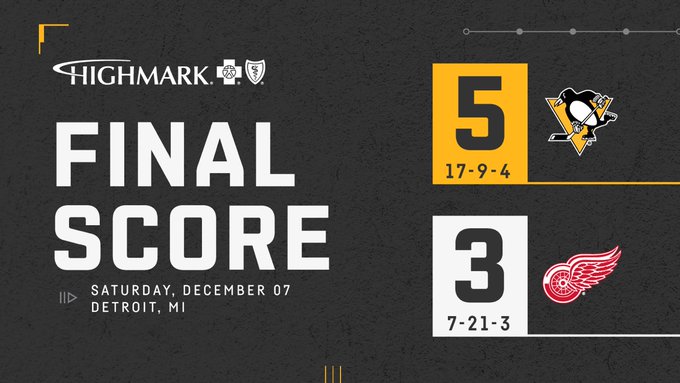 Coach Sullivan on Malkin: "I'm thrilled with Geno's game right now. The offense is obvious to everyone. He's winning faceoffs. We are using him in d-zone situations where we are relying on him to win faceoffs - and he is playing with instruction... (1 of 3)
Pittsburgh Penguins Tweets
The new and improved Geno Malkin is carrying the Penguins. Read about it here, plus my 10 observations from Detroit:
t.co/8ilVBRj0cr
Bit worrisome at end, but Hockey God John Marino blasts home empty netter to seal another win for Penguins. Murray's first W since early November.
@JoshYohe_PGH
in Detroit for
@TheAthleticPGH
I keep hearing same thjng about Murray from people with Penguins: He needs to focus on playing bigger, concentrate on shooter and not concern himself with where puck might go otherwise. When he does that, he's aces and looks confident.
#Pens
@TheAthleticPGH
Entry Level Contract
Waiver Exempt
Has Arbitration Rights
Two-way contract
(13) Forwards
$51,642,500
63.4% of cap
Player
POS
Age
2019-2020
2020-2021
2021-2022
2022-2023
2023-2024
Crosby, Sidney
IR
C

IR --> 0

32

$8,700,000

NMC

$8,700,000

NMC

$8,700,000

NMC

$8,700,000

NMC

$8,700,000

NMC

$0

UFA

(2025)
Malkin, Evgeni
C

NHL --> 0

33

$9,500,000

NMC

$9,500,000

NMC

$9,500,000

NMC

$0

UFA

Hornqvist, Patric
RW

NHL --> 0

32

$5,300,000

NTC

$5,300,000

NTC

$5,300,000

M-NTC

$5,300,000

M-NTC

$0

UFA

Bjugstad, Nick
IR
C

IR --> 0

27

$4,100,000

$4,100,000

M-NTC

$0

UFA

Rust, Bryan
RW

NHL --> 0

27

$3,500,000

$3,500,000

$3,500,000

$0

UFA

Noesen, Stefan
RW

NHL --> 0

26

$700,000

$0

UFA

Galchenyuk, Alex
C

NHL --> 0

25

$4,900,000

$0

UFA

Blueger, Teddy
C

NHL --> 0

25

$750,000

$750,000

$0

RFA

$0

UFA

Guentzel, Jake
LW

NHL --> 0

25

$6,000,000

$6,000,000

$6,000,000

$6,000,000

M-NTC

$6,000,000

M-NTC

$0

UFA

(2024)
McCann, Jared
LW

NHL --> 0

23

$1,250,000

$0

RFA

$0

UFA

Lafferty, Sam

C

NHL --> 0

24

$767,500

$0

RFA

$0

UFA

Simon, Dominik
RW

NHL --> 0

25

$750,000

$0

RFA

$0

UFA

Tanev, Brandon
LW

NHL --> 0

27

$3,500,000

M-NTC

$3,500,000

M-NTC

$3,500,000

M-NTC

$3,500,000

M-NTC

$3,500,000

M-NTC

$0

UFA

(2025)
Aston-Reese, Zach
LW

NHL --> 0

25

$1,000,000

$1,000,000

$0

RFA

$0

UFA

Kahun, Dominik

LW

NHL --> 0

24

$925,000

$0

RFA

$0

UFA

TOTALS
TOTALS

$51,642,500

$42,350,000

$36,500,000

$23,500,000

$18,200,000

$0
(8) Defence
$23,449,125
28.8% of cap
Player
POS
Age
2019-2020
2020-2021
2021-2022
2022-2023
2023-2024
Johnson, Jack
D

NHL --> 0

32

$3,250,000

$3,250,000

$3,250,000

$3,250,000

$0

UFA

Letang, Kris
D

NHL --> 0

32

$7,250,000

NMC

M-NTC

$7,250,000

NMC

M-NTC

$7,250,000

NMC

M-NTC

$0

UFA

Dumoulin, Brian
D

NHL --> 0

28

$4,100,000

$4,100,000

$4,100,000

$4,100,000

$0

UFA

Schultz, Justin
D

NHL --> 0

29

$5,500,000

M-NTC

$0

UFA

Ruhwedel, Chad
D

NHL --> 0

29

$700,000

$700,000

$0

UFA

Pettersson, Marcus
D

NHL --> 0

23

$874,125

$0

RFA

$0

UFA

Marino, John

D

NHL --> 0

22

$925,000

$925,000

$0

RFA

Riikola, Juuso
D

NHL --> 0

26

$850,000

$0

RFA

$0

UFA

TOTALS
TOTALS

$23,449,125

$16,225,000

$14,600,000

$7,350,000

$0

$0
(2) Goalies
$4,425,000
5.4% of cap
Player
POS
Age
2019-2020
2020-2021
2021-2022
2022-2023
2023-2024
Murray, Matt
G

NHL --> 0

25

$3,750,000

$0

RFA

$0

UFA

Jarry, Tristan
G

NHL --> 0

24

$675,000

$0

RFA

$0

UFA

TOTALS
TOTALS

$4,425,000

$0

$0

$0

$0

$0
(1) Buried
$175,000
0.2% of cap
Player
POS
Age
2019-2020
2020-2021
2021-2022
2022-2023
2023-2024
DeSmith, Casey
G

MIN --> 0

28

$175,000

$175,000

$125,000

$0

UFA

TOTALS
TOTALS

$175,000

$175,000

$125,000

$0

$0

$0
Cap Summary Projection Share Copy Link Embed Tweet It
2019-2020
2020-2021
2021-2022
2022-2023
Roster Size
25
14
9
6
Standard Player Contracts

Number of players signed to Standard Player Contracts (SPC's). Cannot exceed 50 players. Some players do not count towards this, such as 18/19 Year-Old players in Junior with less than 10 NHL Games Played in Season.

Learn More Or Ask A Question

50
32
20
9
Upper Limit

The maximum Salary Cap Hit of all players counting towards the active roster. Often referred to as "Salary Cap". This is determined in the summer and is based on the previous season's revenues, per the CBA.

Learn More Or Ask A Question

$81,500,000
$81,500,000
$81,500,000
$81,500,000
Projected Cap Hit

Anticipated Season-End Cap Hit based on the current roster, calculated by summing all Cap Hits of players currently counting towards the Salary Cap. Assumes current roster is in effect for the remainder of season.

Learn More Or Ask A Question

$80,299,947
$58,750,000
$51,225,000
$33,300,834
Projected Cap Space

Amount of Cap Space projected to be available at end of year. Calculated as Annual Salary Cap minus Projected Cap Hit.

Learn More Or Ask A Question

$1,200,053
$22,750,000
$30,275,000
$48,199,166
Current Cap Space

Amount of Cap Space that can be added to the roster without exceeding the Upper Limit (Salary Cap Maximum) based on the current roster.

Learn More Or Ask A Question

$1,875,713
$22,750,000
$30,275,000
$48,199,166
Maximum LTIR Pool

The maximum amount of Long Term Injured Reserve space potentially available. This is the Cap Hit of player on LTIR less the Cap Space available for team at time player was on LTIR. A player can go on LTIR when they expect to miss 10 games and 24 days in the season. A player on LTIR does not come off of the salary cap, instead a team is allowed to exceed the cap by the LTIR amount.

Learn More Or Ask A Question

$0
$0
$0
$0
Current Roster Annual Cap Hit

Anticipated Cap Hit based on the current roster, calculated by summing all Cap Hits of players currently counting towards the Salary Cap + retained salary + buyouts.

Learn More Or Ask A Question

$79,824,125
$58,750,000
$51,225,000
$33,300,834
Carryover Bonus Overages

Teams can exceed the salary cap due to players receiving performance bonuses. If a team exceeds the salary cap due to performance bonuses, they carryover to the previous season and reduce the cap space a team has.

Learn More Or Ask A Question

$132,500
$0
$0
$0
Potential Bonuses

Performance Bonuses that players on the active roster are eligible to achieve. A team can exceed the salary cap due to performance bonuses, but they carry over to the following season.

Learn More Or Ask A Question

$3,832,500
$850,000
$0
$0
Retained Salary Remaining

Teams can retain salary/cap hit when they trade a player. A team can only have a maximum of 3 players that they retained salary on.

Learn More Or Ask A Question

3
3
3
3
(28) Non-Roster
Player
POS
Age
2019-2020
2020-2021
2021-2022
2022-2023
2023-2024
Agozzino, Andrew
LW

MIN --> 0

28

$700,000

$700,000

$0

UFA

Trotman, Zach
D

MIN --> 0

29

$700,000

$700,000

$0

UFA

Warsofsky, David
D

MIN --> 0

29

$700,000

$700,000

$0

UFA

Pedan, Andrey
D

MIN --> 0

26

$0

RFA

$0

UFA

Di Pauli, Thomas
RW

MIN --> 0

25

$700,000

$0

RFA

$0

UFA

Blandisi, Joseph
C

MIN --> 0

25

$700,000

$0

RFA

$0

UFA

Segalla, Ryan
D

--> 0

24

$0

$0

UFA

Czuczman, Kevin
D

MIN --> 0

28

$700,000

$700,000

$0

UFA

Angello, Anthony

RW

MIN --> 0

23

$833,750

$0

RFA

$0

UFA

Taylor, Jeff
D

MIN --> 0

25

$0

UFA

$0

UFA

Martinsen, Andreas
LW

MIN --> 0

29

$750,000

$0

UFA

Knott, Graham

LW

MIN --> 0

22

$728,333

$0

RFA

Pavlychev, Nikita
C

--> 0

22

$0

Bengtsson, Lukas
D

MIN --> 0

25

$0

RFA

$0

UFA

Bjorkqvist, Kasper

RW

MIN --> 0

22

$790,000

$790,000

$0

RFA

Jones, Ryan
D

--> 0

23

$0

$0

UFA

Almari, Niclas

D

MIN --> 0

21

$809,166

$809,166

$809,166

$0

RFA

Masonius, Joseph
D

--> 0

22

$0

DeSmith, Casey
G

MIN --> 0

28

$1,250,000

$1,250,000

$1,250,000

$0

UFA

Joseph, Pierre-Olivier

D

MIN --> 0

20

$863,333

$863,333

$863,333

$0

RFA

Lauzon, Zachary
D

--> 0

21

$0

Phillips, Clayton
D

--> 0

20

$0

Drozg, Jan

RW

MIN --> 0

20

$809,166

$809,166

$809,166

$0

RFA

Olund, Linus

C

MIN --> 0

22

$775,833

$775,833

$0

RFA

Palojarvi, Antti
D

--> 0

20

$0

Reilly, William
D

--> 0

22

$0

Johnson, Adam
LW

MIN --> 0

25

$700,000

$0

RFA

$0

UFA

Miletic, Sam

LW

MIN --> 0

22

$710,000

$0

RFA

Addison, Calen

D

MIN --> 0

19

SLIDE

$778,333

$778,333

$778,333

$0

RFA

Hallander, Filip

MIN --> 0

22

$778,333

$778,333

$778,333

$0

RFA

Almeida, Justin

LW

MIN --> 0

20

$809,166

$809,166

$809,166

$0

RFA

Gorman, Liam
C

--> 0

19

$0

Haggerty, Ryan
RW

MIN --> 0

26

$675,000

$0

RFA

Bellerive, Jordan

C

MIN --> 0

20

$733,333

$733,333

$733,333

$0

RFA

D'Orio, Alex

G

MIN --> 0

20

$733,333

$733,333

$733,333

$0

RFA

Peters, Anthony
G

--> 0

28

$0

$0

UFA

$0

UFA

Uher, Dominik
C

--> 0

26

$0

RFA

$0

UFA

Lucchini, Jake

LW

MIN --> 0

24

$792,500

$0

RFA

$0

UFA

Palve, Oula

C

MIN --> 0

27

$792,500

$0

UFA

Larmi, Emil

G

MIN --> 0

23

$700,000

$700,000

$0

RFA

Poulin, Samuel

LW

MIN --> 0

18

SLIDE

$894,167

$894,167

$894,167

$0

RFA

Legare, Nathan

RW

MIN --> 0

18

SLIDE

$778,334

$778,334

$778,334

$0

RFA

Caulfield, Judd

--> 0

18

$0

$0

UFA

$0

UFA

Puustinen, Valtteri
LW

--> 0

20

$0

$0

UFA

$0

UFA

Airola, Santeri
D

--> 0

19

$0

$0

UFA

$0

UFA

Abt, Matt
D

--> 0

26

$0

$0

UFA

$0

UFA

Berger, Chase
C

--> 0

25

$0

$0

UFA

$0

UFA

Kim, Michael
D

--> 0

24

$0

$0

UFA

$0

UFA

Lizotte, Jon
D

--> 0

25

$0

$0

UFA

$0

UFA

TOTALS
TOTALS

$20,527,079

$13,052,497

$7,986,664

$2,450,834

$0

$0