| | |
| --- | --- |
| Cap Hit | $81,378,205 |
| Cap Space | $121,795 |
| LTIR Pool | $0 |
| Roster | 23/23 |
| Contracts | 46/50 |
Transactions
| | |
| --- | --- |
| Matt Bartkowski | Bartkowski signed a professional tryout agreement with Pittsburgh on Friday. | Sep 6 |
| Brian Boyle | Boyle signed a professional tryout agreement with the Penguins on Friday. | Sep 6 |
| Radim Zohorna | Zohorna inked a two-year, $1.5 million contract with Pittsburgh on Tuesday which will be two-way in 2021-22 and one-year in the second year. | Aug 3 |
| Danton Heinen | Heinen inked a one-year, $1.1 million contract with Pittsburgh on Thursday. | Jul 29 |
| Michael Chaput | Chaput inked a one-year, two-way contract with Pittsburgh on Thursday. | Jul 29 |
Line Combinations
Updated: Aug 05 (11:20am)
Line 1 $18,200,000
Pairing 1 $11,350,000
Line 2 $18,200,000
Pairing 2 $9,275,000
Line 3 $6,486,364
Pairing 3 $4,750,175
Line 4 $4,925,000
Goalies $4,750,000
Injury Report
Expected Return Fri Oct 1, 2021

Evgeni Malkin - OUT - Knee

Surgery

Fri Jun 4, 2021

Evgeni Malkin

| Malkin underwent successful knee surgery and is not expected to be ready for training camp.

Expected Return Sat Oct 23, 2021

Sidney Crosby - OUT - Wrist

Surgery

Wed Sep 8, 2021

Sidney Crosby

| Crosby underwent a successful wrist procedure Wednesday and is expected to be sidelined for six weeks.
Pittsburgh Penguins Voices
Lights 💡 Camera 📸 Action! 🎬 Sidney Crosby and Jake Guentzel make quite the dynamic duo on the
#NHLMediaTour
!
t.co/SHkIjfLAdr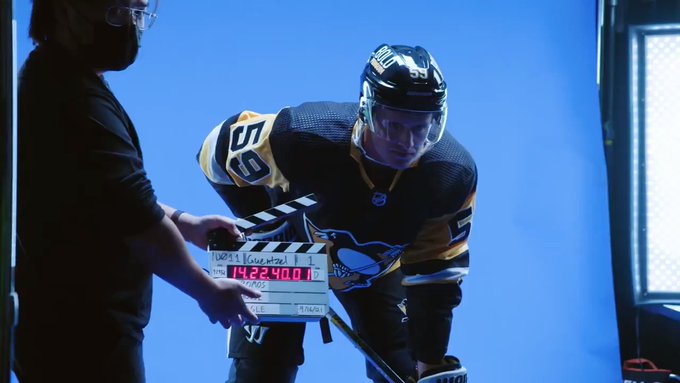 We're going to look pretty 'bold' on the ice this season! 🐧 The
@bold_penguin
logo will be featured on the players' black helmets for the 2021.22 season, and
@PPG
will be featured once again on the players' white helmets. More details:
t.co/cnS17anwd1
t.co/HYuqBDAWnS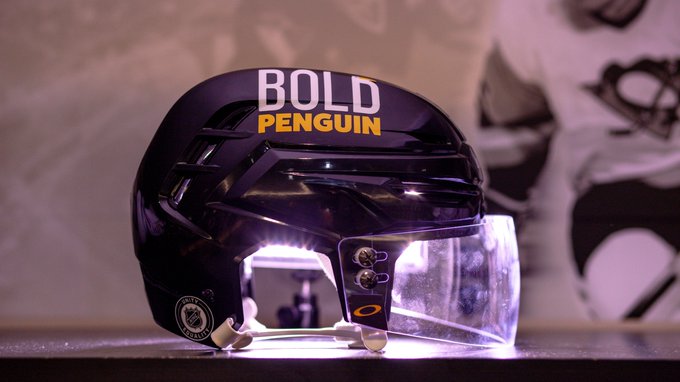 Penguins Add Insurance Technology Agency 'Bold Penguin' As Helmet Advertisement.
t.co/Pa1DaN2rTi
I keep thinking Norm MacDonald would say— Oh geez, now that I'm dead, Sandler is gonna do one of those songs about me. I mean, I'm no red-hooded sweatshirt or nothin'.
Entry Level Contract
Waiver Exempt
Has Arbitration Rights
Two-way contract
(14) Forwards
$49,311,364
60.5% of cap
Player
POS
Age
2021-2022
2022-2023
2023-2024
2024-2025
2025-2026
Carter, Jeff
C

NHL --> 0

36

$0

UFA

Crosby, Sidney
C

NHL --> 0

34

$8,700,000

NMC

$8,700,000

NMC

$8,700,000

NMC

$8,700,000

NMC

$0

UFA

Malkin, Evgeni
C

NHL --> 0

35

$9,500,000

NMC

$0

UFA

Boyle, Brian
C

NHL --> 0

36

$0

UFA

Zucker, Jason
LW

NHL --> 0

29

$5,500,000

M-NTC

$5,500,000

M-NTC

$0

UFA

Rust, Bryan
RW

NHL --> 0

29

$3,500,000

$0

UFA

McGinn, Brock
LW

NHL --> 0

27

$2,750,000

$2,750,000

$2,750,000

$2,750,000

$0

UFA

Blueger, Teddy
C

NHL --> 0

27

$2,200,000

$2,200,000

$0

RFA

Guentzel, Jake
LW

NHL --> 0

26

$6,000,000

$6,000,000

M-NTC

$6,000,000

M-NTC

$0

UFA

Kapanen, Kasperi
RW

NHL --> 0

25

$3,200,000

$0

RFA

$0

UFA

Lafferty, Sam
C

NHL --> 0

26

$750,000

$0

UFA

Rodrigues, Evan
LW

NHL --> 0

28

$1,000,000

$0

UFA

Heinen, Danton
LW

NHL --> 0

26

$1,100,000

$0

RFA

$0

UFA

Aston-Reese, Zach
LW

NHL --> 0

27

$1,725,000

$0

UFA

Zohorna, Radim
LW

NHL --> 0

25

$750,000

$750,000

$0

UFA

TOTALS
TOTALS

$49,311,364

$25,900,000

$17,450,000

$11,450,000

$0

$0
(7) Defence
$26,125,175
32.1% of cap
Player
POS
Age
2021-2022
2022-2023
2023-2024
2024-2025
2025-2026
Letang, Kris
D

NHL --> 0

34

$7,250,000

NMC

M-NTC

$0

UFA

Dumoulin, Brian
D

NHL --> 0

30

$4,100,000

$4,100,000

$0

UFA

Matheson, Mike
D

NHL --> 0

27

$4,875,000

M-NTC

$4,875,000

M-NTC

$4,875,000

M-NTC

$4,875,000

M-NTC

$4,875,000

M-NTC

$0

UFA

(2026)
Ruhwedel, Chad
D

NHL --> 0

31

$750,000

$0

UFA

Pettersson, Marcus
D

NHL --> 0

25

$4,025,175

$4,025,175

$4,025,175

M-NTC

$4,025,175

M-NTC

$0

UFA

Friedman, Mark
D

NHL --> 0

25

$725,000

$0

RFA

$0

UFA

Marino, John
D

NHL --> 0

24

$4,400,000

$4,400,000

$4,400,000

$4,400,000

M-NTC

$4,400,000

M-NTC

$0

UFA

(2027)
TOTALS
TOTALS

$26,125,175

$17,400,175

$13,300,175

$13,300,175

$9,275,000

$0
(2) Goalies
$4,750,000
5.8% of cap
Player
POS
Age
2021-2022
2022-2023
2023-2024
2024-2025
2025-2026
Jarry, Tristan
G

NHL --> 0

26

$3,500,000

$3,500,000

$0

UFA

DeSmith, Casey
G

NHL --> 0

30

$1,250,000

$0

UFA

TOTALS
TOTALS

$4,750,000

$3,500,000

$0

$0

$0

$0
(1) Buried
$25,000
0.0% of cap
Player
POS
Age
2021-2022
2022-2023
2023-2024
2024-2025
2025-2026
Riikola, Juuso
D

MIN --> 0

27

$25,000

$0

UFA

TOTALS
TOTALS

$25,000

$0

$0

$0

$0

$0
(1) Buyout & Retained Salary
$1,166,667
1.4% of cap
Player
POS
Age
2021-2022
2022-2023
2023-2024
2024-2025
2025-2026
Johnson, Jack
Buyout
D

MIN --> 0

34

$1,166,667

$1,916,667

$916,667

$916,667

$916,667

TOTALS
TOTALS

$1,166,667

$1,916,667

$916,667

$916,667

$916,667

$0
Cap Summary Projection Share Copy Link Embed Tweet It
2021-2022
2022-2023
2023-2024
2024-2025
Roster Size
23
11
6
5
Standard Player Contracts

Number of players signed to Standard Player Contracts (SPC's). Cannot exceed 50 players. Some players do not count towards this, such as 18/19 Year-Old players in Junior with less than 10 NHL Games Played in Season.

Learn More Or Ask A Question

46
18
8
5
Upper Limit

The maximum Salary Cap Hit of all players counting towards the active roster. Often referred to as "Salary Cap". This is determined in the summer and is based on the previous season's revenues, per the CBA.

Learn More Or Ask A Question

$81,500,000
$81,500,000
$81,500,000
$81,500,000
Projected Cap Hit

Anticipated Season-End Cap Hit based on the current roster, calculated by summing all Cap Hits of players currently counting towards the Salary Cap. Assumes current roster is in effect for the remainder of season.

Learn More Or Ask A Question

$81,378,205
$48,716,842
$31,666,842
$25,666,842
Projected Cap Space

Amount of Cap Space projected to be available at end of year. Calculated as Annual Salary Cap minus Projected Cap Hit.

Learn More Or Ask A Question

$121,795
$32,783,158
$49,833,158
$55,833,158
Current Cap Space

Amount of Annual Cap Hit that can be added to the roster without exceeding the Upper Limit (Salary Cap Maximum) based on the current roster. For teams using LTIR, Current Cap Space is the amount of annual cap hit that can be added without exceeding the Salary Cap by more than the team's LTIR Pool.

Learn More Or Ask A Question

$121,795
$32,783,158
$49,833,158
$55,833,158
Maximum LTIR Pool

The maximum amount of Long Term Injured Reserve space potentially available. This is the Cap Hit of player on LTIR less the Cap Space available for team at time player was on LTIR. A player can go on LTIR when they expect to miss 10 games and 24 days in the season. A player on LTIR does not come off of the salary cap, instead a team is allowed to exceed the cap by the LTIR amount.

Learn More Or Ask A Question

$0
$0
$0
$0
Current Roster Annual Cap Hit

Anticipated Cap Hit based on the current roster, calculated by summing all Cap Hits of players currently counting towards the Salary Cap + retained salary + buyouts.

Learn More Or Ask A Question

$81,378,205
$48,716,842
$31,666,842
$25,666,842
Carryover Bonus Overages

Teams can exceed the salary cap due to players receiving performance bonuses. If a team exceeds the salary cap due to performance bonuses, they carryover to the previous season and reduce the cap space a team has.

Learn More Or Ask A Question

$0
$0
$0
$0
Potential Bonuses

Performance Bonuses that players on the active roster are eligible to achieve. A team can exceed the salary cap due to performance bonuses, but they carry over to the following season.

Learn More Or Ask A Question

$0
$0
$0
$0
Retained Salary Remaining

Teams can retain salary/cap hit when they trade a player. A team can only have a maximum of 3 players that they retained salary on.

Learn More Or Ask A Question

3
3
3
3
(23) Non-Roster
Player
POS
Age
2021-2022
2022-2023
2023-2024
2024-2025
2025-2026
Weber, Yannick
D

MIN --> 0 -->

32

$0

UFA

Chaput, Michael
C

MIN --> 0 -->

29

$750,000

$0

UFA

Domingue, Louis
G

NHL --> 0 -->

29

$750,000

$0

UFA

Trotman, Zach
D

MIN --> 0 -->

31

$0

UFA

Bartkowski, Matt
D

MIN --> 0 -->

33

$0

UFA

Fedun, Taylor
D

MIN --> 0 -->

33

$750,000

$0

UFA

Segalla, Ryan
D

--> 0 -->

26

$0

$0

UFA

Angello, Anthony
RW

MIN --> 0 -->

25

$725,000

$0

RFA

$0

UFA

Lindgren, Jesper
D

MIN --> 0 -->

24

$0

UFA

$0

UFA

Simon, Dominik
RW

MIN --> 0 -->

27

$750,000

$0

UFA

Bengtsson, Lukas
D

MIN --> 0 -->

27

$0

RFA

Bjorkqvist, Kasper
RW

MIN --> 0 -->

24

$750,000

$0

RFA

$0

UFA

Almari, Niclas

D

MIN --> 0 -->

23

$809,166

$0

RFA

$0

UFA

Masonius, Joseph
D

--> 0 -->

24

$0

$0

UFA

Joseph, Pierre-Olivier

D

MIN --> 0 -->

22

$863,333

$0

RFA

Lauzon, Zachary
D

--> 0 -->

22

$0

Phillips, Clayton
D

--> 0 -->

22

$0

Drozg, Jan

RW

MIN --> 0 -->

22

$809,166

$0

RFA

Palojarvi, Antti
D

--> 0 -->

22

$0

Reilly, William

D

MIN --> 0 -->

24

$806,250

$0

RFA

$0

UFA

Hallander, Filip

C

MIN --> 0 -->

21

$764,167

$764,167

$0

RFA

Gruden, Jonathan

C

MIN --> 0 -->

21

$788,333

$788,333

$0

RFA

Almeida, Justin

LW

MIN --> 0 -->

22

$809,166

$0

RFA

Gorman, Liam
C

--> 0 -->

21

$0

Riikola, Juuso
D

MIN --> 0 -->

27

$1,150,000

$0

UFA

Currie, Josh
RW

MIN --> 0 -->

28

$0

UFA

Bellerive, Jordan

C

MIN --> 0 -->

22

$733,333

$0

RFA

D'Orio, Alex

G

NHL --> 0 -->

22

$733,333

$0

RFA

Peters, Anthony
G

--> 0 -->

30

$0

$0

UFA

$0

UFA

Uher, Dominik
C

--> 0 -->

28

$0

RFA

Larmi, Emil
G

MIN --> 0 -->

24

$0

UFA

$0

UFA

Poulin, Samuel

LW

MIN --> 0 -->

20

$863,334

$863,334

$863,334

$0

RFA

Legare, Nathan

RW

MIN --> 0 -->

20

$789,167

$789,167

$789,167

$0

RFA

Caulfield, Judd

--> 0 -->

20

$0

$0

UFA

$0

UFA

Lindberg, Filip

G

--> 0 -->

22

$925,000

$925,000

$0

UFA

Puustinen, Valtteri

LW

--> 0 -->

22

$842,500

$842,500

$0

RFA

$0

UFA

$0

UFA

Airola, Santeri
D

--> 0 -->

21

$0

$0

UFA

$0

UFA

Abt, Matt
D

--> 0 -->

28

$0

$0

UFA

$0

UFA

Berger, Chase
C

--> 0 -->

26

$0

$0

UFA

$0

UFA

Kim, Michael
D

--> 0 -->

26

$0

$0

UFA

$0

UFA

O'Connor, Drew

LW

MIN --> 0 -->

23

$925,000

$0

RFA

$0

UFA

Lee, Cam

D

MIN --> 0 -->

24

$925,000

$0

RFA

$0

UFA

Blomqvist, Joel
G

--> 0 -->

19

$0

$0

UFA

$0

UFA

Clang, Calle
G

--> 0 -->

19

$0

$0

UFA

$0

UFA

Svejkovsky, Lukas
C

--> 0 -->

19

$0

$0

UFA

$0

UFA

Ansons, Raivis
RW

--> 0 -->

19

$0

$0

UFA

$0

UFA

Yoder, Chase

--> 0 -->

19

$0

$0

UFA

$0

UFA

Maniscalco, Josh

D

--> 0 -->

22

$853,333

$853,333

$0

RFA

Broz, Tristan

--> 0 -->

18

$0

$0

UFA

$0

UFA

Belliveau, Isaac
D

--> 0 -->

18

$0

$0

UFA

$0

UFA

McCleary, Ryan
D

--> 0 -->

18

$0

$0

UFA

$0

UFA

Laatsch, Daniel
D

--> 0 -->

19

$0

$0

UFA

$0

UFA

Sillinger, Kirill

--> 0 -->

19

$0

$0

UFA

$0

UFA

TOTALS
TOTALS

$17,714,581

$5,825,834

$1,652,501

$0

$0

$0