Pittsburgh Penguins Injury Report
Matt Murray - Rest
Murray is not expected to participate in Thursday's matchup against the Sharks as he is to be rested.

doubtful - Doub Thurs

Updated Feb 21, 2019

doubtful - Doub Thurs

Updated Feb 21, 2019

Justin Schultz - Leg
Schultz has been removed from injured reserve where he was recovering from a left lower-leg fracture. It is expected he will return Saturday against the Flames.

probable - Prob Sat

Updated Feb 16, 2019

probable - Prob Sat

Updated Feb 16, 2019

Zach Aston-Reese - Upper Body
Aston-Reese has been activated from the injured reserve list after healing from an upper-body injury and is expected to draw back into the lineup against the Oilers on Wednesday.

probable - Prob Wed

Updated Feb 13, 2019

probable - Prob Wed

Updated Feb 13, 2019

Evgeni Malkin - Suspension
Malkin has been suspended one game for high-sticking an opponent but is expected to be reinstated in time for Saturday's tilt against the Flames.

out - Elig Sat

Updated Feb 13, 2019

out - Elig Sat

Updated Feb 13, 2019
Pittsburgh Penguins Voices
@penguins (official)
Coach Sullivan will be answering questions from the media shortly. Tune in for the live stream:
t.co/9bs4YIyPLV
FINAL: Penguins 0, Sharks 4 Snap Shots:
t.co/gH7OrkmdKd
t.co/QyS7tmTh4V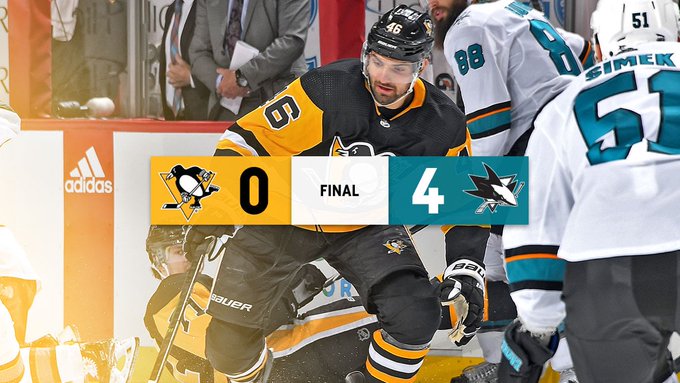 The Sharks score on the power play and take the 4-0 lead. 3:09 left in the game.
Josh Yohe
RT
@Real_RobRossi
: Evander Kane on looking at
#pens
white board before scuffle: "Well, they're about to pull their goalie, right? I just t…
Good to see Michael Haley making his presence felt. Always a classy hockey player as I recall.
The Penguins' refusal to take open shots in this game is almost entertaining. I'm sure they aren't trying to be openly defiant of Sullivan's wishes, but it comes across that way.
Entry Level Contract
Waiver Exempt
Has Arbitration Rights
Two-way contract
(14) Forwards
$47,259,167
59.4% of cap
Player
POS
Status
Age
2018-2019
2019-2020
2020-2021
2021-2022
2022-2023
2023-2024
Kessel, Phil
RW
NHL --> 0
31

NMC

M-NTC

NMC

M-NTC

NMC

M-NTC

NMC

M-NTC

$0

UFA

Cullen, Matt

+35

C
NHL --> 0
42

$650,000

$0

UFA

Crosby, Sidney
C
NHL --> 0
31

$8,700,000

NMC

$8,700,000

NMC

$8,700,000

NMC

$8,700,000

NMC

$8,700,000

NMC

$8,700,000

NMC

$0

UFA

(2025)
Malkin, Evgeni
C
NHL --> 0
32

$9,500,000

NMC

$9,500,000

NMC

$9,500,000

NMC

$9,500,000

NMC

$0

UFA

Hornqvist, Patric
RW
NHL --> 0
32

$5,300,000

NTC

$5,300,000

NTC

$5,300,000

NTC

$5,300,000

M-NTC

$5,300,000

M-NTC

$0

UFA

Wilson, Garrett
LW
NHL --> 0
27

$650,000

$0

UFA

Bjugstad, Nick
C
NHL --> 0
26

$4,100,000

$4,100,000

$4,100,000

M-NTC

$0

UFA

Rust, Bryan
RW
NHL --> 0
26

$3,500,000

$3,500,000

$3,500,000

$3,500,000

$0

UFA

Pearson, Tanner
LW
NHL --> 0
26

$3,750,000

$3,750,000

$3,750,000

$0

UFA

Blueger, Teddy
C
NHL --> 0
24

$650,000

$0

RFA

Guentzel, Jake
LW
NHL --> 0
24

$734,167

$6,000,000

$6,000,000

$6,000,000

$6,000,000

M-NTC

$6,000,000

M-NTC

$0

UFA

(2024)
McCann, Jared
C
NHL --> 0
22

$1,250,000

$1,250,000

$0

UFA

Simon, Dominik
LW
NHL --> 0
24

$750,000

$750,000

$0

RFA

Aston-Reese, Zach

LW
NHL --> 0
24

$925,000

$0

RFA

TOTALS
TOTALS

$47,259,167

$49,650,000

$47,650,000

$39,800,000

$20,000,000

$14,700,000
(7) Defence
$26,552,500
33.4% of cap
Player
POS
Status
Age
2018-2019
2019-2020
2020-2021
2021-2022
2022-2023
2023-2024
Johnson, Jack
D
NHL
32

$3,250,000

$3,250,000

$3,250,000

$3,250,000

$3,250,000

$0

UFA

Letang, Kris
D
NHL
31

$7,250,000

NMC

M-NTC

$7,250,000

NMC

M-NTC

$7,250,000

NMC

M-NTC

$7,250,000

NMC

M-NTC

$0

UFA

Dumoulin, Brian
D
NHL
27

$4,100,000

$4,100,000

$4,100,000

$4,100,000

$4,100,000

$0

UFA

Maatta, Olli
IR
D
IR
24

$4,083,333

$4,083,333

$4,083,333

M-NTC

$4,083,333

M-NTC

$0

UFA

Schultz, Justin
D
NHL
28

$5,500,000

M-NTC

$5,500,000

M-NTC

$0

UFA

Ruhwedel, Chad
D
NHL
28

$650,000

$0

UFA

Pettersson, Marcus

D
NHL
22

$794,167

$0

RFA

Riikola, Juuso

D
NHL
25

$925,000

$0

RFA

TOTALS
TOTALS

$26,552,500

$24,183,333

$18,683,333

$18,683,333

$7,350,000

$0
(2) Goalies
$4,425,000
5.6% of cap
Player
POS
Status
Age
2018-2019
2019-2020
2020-2021
2021-2022
2022-2023
2023-2024
Murray, Matt
G
NHL
24

$3,750,000

$3,750,000

$0

RFA

DeSmith, Casey
G
NHL
27

$675,000

$1,250,000

$1,250,000

$1,250,000

$0

UFA

TOTALS
TOTALS

$4,425,000

$5,000,000

$1,250,000

$1,250,000

$0

$0
(0) Buried
$0
0.0% of cap
Player
POS
Status
Age
2018-2019
2019-2020
2020-2021
2021-2022
2022-2023
2023-2024
TOTALS
TOTALS

$0

$0

$0

$0

$0

$0
(1) Buyout & Retained Salary
$250,000
0.3% of cap
Player
POS
Status
Age
2018-2019
2019-2020
2020-2021
2021-2022
2022-2023
2023-2024
Hagelin, Carl
Retained Salary
LW
NHL
30

TOTALS
TOTALS

$250,000

$0

$0

$0

$0

$0
Cap Summary Projection
2018-2019
2019-2020
2020-2021
2021-2022
Roster Size
24
17
13
11
Standard Player Contracts

Number of players signed to Standard Player Contracts (SPC's). Cannot exceed 50 players. Some players do not count towards this, such as 18/19 Year-Old players in Junior with less than 10 NHL Games Played in Season.

Learn More Or Ask A Question

48
27
17
11
Upper Limit

The maximum Salary Cap Hit of all players counting towards the active roster. Often referred to as "Salary Cap". This is determined in the summer and is based on the previous season's revenues, per the CBA.

Learn More Or Ask A Question

$79,500,000
$79,500,000
$79,500,000
$79,500,000
Projected Cap Hit

Anticipated Season-End Cap Hit based on the current roster, calculated by summing all Cap Hits of players currently counting towards the Salary Cap. Assumes current roster is in effect for the remainder of season.

Learn More Or Ask A Question

$79,707,299
$78,833,333
$67,583,333
$59,733,333
Projected Cap Space

Amount of Cap Space projected to be available at end of year. Calculated as Annual Salary Cap minus Projected Cap Hit.

Learn More Or Ask A Question

$-207,299
$666,667
$11,916,667
$19,766,667
Current Cap Space

Amount of Cap Space that can be added to the roster without exceeding the Upper Limit (Salary Cap Maximum) based on the current roster.

Learn More Or Ask A Question

$-207,299
$666,667
$11,916,667
$19,766,667
Maximum LTIR Pool

The maximum amount of Long Term Injured Reserve space potentially available. This is the Cap Hit of player on LTIR less the Cap Space available for team at time player was on LTIR. A player can go on LTIR when they expect to miss 10 games and 24 days in the season. A player on LTIR does not come off of the salary cap, instead a team is allowed to exceed the cap by the LTIR amount.

Learn More Or Ask A Question

$5,457,030
$0
$0
$0
Current Roster Annual Cap Hit

Anticipated Cap Hit based on the current roster, calculated by summing all Cap Hits of players currently counting towards the Salary Cap + retained salary + buyouts.

Learn More Or Ask A Question

$78,486,667
$78,833,333
$67,583,333
$59,733,333
Carryover Bonus Overages

Teams can exceed the salary cap due to players receiving performance bonuses. If a team exceeds the salary cap due to performance bonuses, they carryover to the previous season and reduce the cap space a team has.

Learn More Or Ask A Question

$0
$0
$0
$0
Potential Bonuses

Performance Bonuses that players on the active roster are eligible to achieve. A team can exceed the salary cap due to performance bonuses, but they carry over to the following season.

Learn More Or Ask A Question

$982,500
$0
$0
$0
Retained Salary Remaining

Teams can retain salary/cap hit when they trade a player. A team can only have a maximum of 3 players that they retained salary on.

Learn More Or Ask A Question

2
3
3
3
(24) Non-Roster
Player
POS
Status
Age
2018-2019
2019-2020
2020-2021
2021-2022
2022-2023
2023-2024
Hayes, Jimmy
RW
MIN
29

$650,000

$0

UFA

Summers, Chris
D
MIN
31

$650,000

$0

UFA

Sexton, Ben
C
MIN
27

$725,000

$0

UFA

Trotman, Zach
D
MIN
28

$650,000

$0

UFA

Pedan, Andrey
D
MIN
25

$0

RFA

Corrado, Frank
D
MIN
25

$0

UFA

Muse, John
G
MIN
30

$650,000

$0

UFA

Di Pauli, Thomas
LW
MIN
24

$650,000

$0

RFA

Blandisi, Joseph
C
MIN
24

$680,000

$0

RFA

Dea, Jean-Sebastien
C
MIN
25

$650,000

$0

RFA

Jarry, Tristan
G
MIN
23

$675,000

$675,000

$0

RFA

Segalla, Ryan
D
24

$0

Birks, Dane

D
MIN
23

$755,000

$755,000

$0

RFA

Czuczman, Kevin
D
MIN
28

$650,000

$0

UFA

Siebenaler, Blake

D
MIN
22

$695,000

$0

RFA

Lafferty, Sam

C
MIN
23

$767,500

$767,500

$0

RFA

Angello, Anthony

RW
MIN
22

$833,750

$833,750

$0

RFA

Taylor, Jeff

D
MIN
24

$742,500

$0

RFA

Pavlychev, Nikita
C
21

$0

Bengtsson, Lukas
D
MIN
24

$0

RFA

Bjorkqvist, Kasper
RW
21

$0

Jones, Ryan
D
22

$0

Almari, Niclas
D
20

$0

Masonius, Joseph
D
22

$0

Lauzon, Zachary
D
20

$0

Phillips, Clayton
D
19

$0

Drozg, Jan
RW
19

$0

Olund, Linus

C
MIN
21

$775,833

$775,833

$775,833

$0

RFA

Palojarvi, Antti
D
20

$0

Reilly, William
D
21

$0

Johnson, Adam

LW
MIN
24

$925,000

$0

RFA

Miletic, Sam

LW
MIN
21

$710,000

$710,000

$0

RFA

Addison, Calen
D
18

$0

Hallander, Filip

C
MIN
21

$775,833

$775,833

$775,833

$0

RFA

Almeida, Justin
C
20

$0

Gorman, Liam
C
18

$0

Prow, Ethan
D
MIN
26

$650,000

$0

RFA

Haggerty, Ryan
RW
MIN
25

$675,000

$675,000

$0

RFA

Bellerive, Jordan

C
MIN
19

$716,666

$716,666

$716,666

$0

RFA

D'Orio, Alex

G
MIN
19

$716,666

$716,666

$716,666

$0

RFA

Peters, Anthony
G
28

$0

Erkamps, Macoy

D
MIN
24

$655,000

$0

RFA

Uher, Dominik
C
26

$0

RFA

TOTALS
TOTALS

$17,023,748

$7,401,248

$2,984,998

$0

$0

$0