| | |
| --- | --- |
| Cap Hit | $81,782,461 |
| Cap Space | $-282,461 |
| LTIR Pool | $6,000,000 |
| Roster | 26/23 |
| Contracts | 48/50 |
Transactions
| | |
| --- | --- |
| announced C Ben Sexton has retired. | May 9 |
| signed LW Radim Zohorna to a one-year, two-way contract worth $925,000. | Apr 29 |
| signed D William Reilly to a two-year, entry-level contract. | Apr 15 |
| signed D Cam Lee to a two-year, entry-level contract. | Mar 17 |
| signed LW Drew O'Connor to a two-year, entry-level contract. | Mar 10 |
No games currently scheduled
Line Combinations
Updated: Mar 10 (9:25am)
Line 1 $17,200,000
Pairing 1 $11,350,000
Line 2 $13,700,000
Pairing 2 $1,799,125
Line 3 $8,550,000
Pairing 3 $8,750,000
Line 4 $5,017,500
Goalies $4,425,000
Injury Report
Nick Bjugstad - Back

Bjugstad will miss the remainder of the season after having a surgery to repair a herniated disc in his back.

out - out for season

Updated May 27, 2020

Jake Guentzel - Shoulder

Guentzel has been placed on the injured reserve list after shoulder surgery. It is projected that he will be activated prior to Game 1 of the Eastern Conference qualifying round versus the Canadiens.

I-R - day-to-day

Updated May 27, 2020

Dominik Simon - Shoulder

Simon opted to have surgery to repair a torn labrum in his left shoulder and is expected to miss the remainder of the season.

out - out for season

Updated May 15, 2020
Pittsburgh Penguins Voices
@penguins (official)
It's a great day for Stanley Cup Final hockey. See you soon.
t.co/NsdoDmSDd3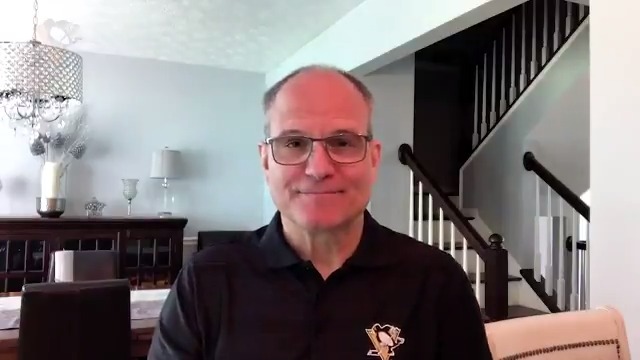 Yesterday, Nick Bjugstad underwent successful spinal surgery for a herniated disc. The surgery was performed by Dr. Bradford Currier of the Mayo Clinic in Rochester, Minnesota. The forward is expected to be sidelined for a minimum of eight weeks.
t.co/iStBmP0hHA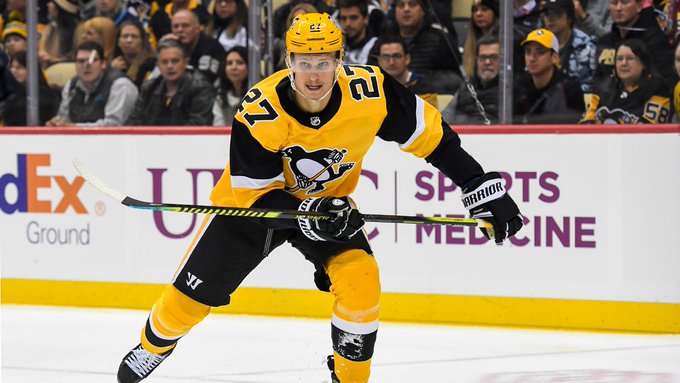 Don't remember who took the ice for the 1992 Stanley Cup Final? We got ya covered.
t.co/Zywj063Adw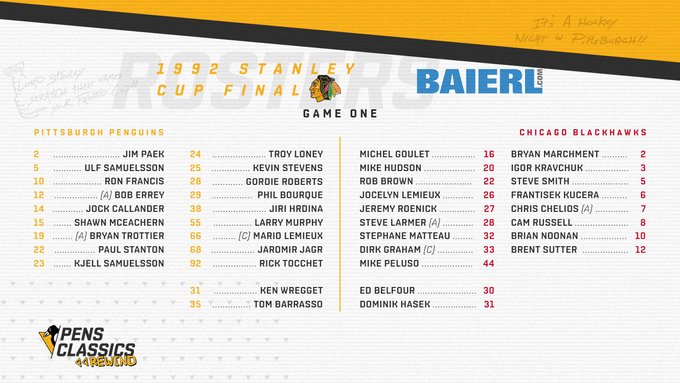 Pittsburgh Penguins Tweets
Go back and read the others in this series and ask yourself how many of those would be No. 1 for 99 percent — or should I say 66 percent? — of NHL players. Then enjoy this top 10 moments by ⁦
@MarioLemieuxFdn
⁩ from ⁦
@JoshYohe_PGH
⁩
t.co/kSPOIpVlbB
GMJR on the Penguins' health, their salary cap plans for next year, Guentzel, Letang, the Habs and much more:
t.co/d2Z0HAkQeZ
Here's what GMJR had to say about the Penguins' health (it's a mixed bag), Kris Letang's willingness to play this summer, spending to the cap next season, Pittsburgh as a host city and much more:
t.co/d2Z0HAkQeZ
Entry Level Contract
Waiver Exempt
Has Arbitration Rights
Two-way contract
(16) Forwards
$57,151,250
70.1% of cap
Player
POS
Age
2019-2020
2020-2021
2021-2022
2022-2023
2023-2024
Marleau, Patrick
LW

NHL --> 0

40

$700,000

$0

UFA

Crosby, Sidney
C

NHL --> 0

32

$8,700,000

NMC

$8,700,000

NMC

$8,700,000

NMC

$8,700,000

NMC

$8,700,000

NMC

$0

UFA

(2025)
Malkin, Evgeni
C

NHL --> 0

33

$9,500,000

NMC

$9,500,000

NMC

$9,500,000

NMC

$0

UFA

Hornqvist, Patric
RW

NHL --> 0

33

$5,300,000

NTC

$5,300,000

NTC

$5,300,000

M-NTC

$5,300,000

M-NTC

$0

UFA

Bjugstad, Nick
C

NHL --> 0

27

$4,100,000

$4,100,000

M-NTC

$0

UFA

Zucker, Jason
LW

NHL --> 0

28

$5,500,000

M-NTC

$5,500,000

M-NTC

$5,500,000

M-NTC

$5,500,000

M-NTC

$0

UFA

Rust, Bryan
RW

NHL --> 0

28

$3,500,000

$3,500,000

$3,500,000

$0

UFA

Blueger, Teddy
C

NHL --> 0

25

$750,000

$750,000

$0

RFA

$0

UFA

Guentzel, Jake
LTIR
LW

LTIR --> 0

25

$6,000,000

$6,000,000

$6,000,000

$6,000,000

M-NTC

$6,000,000

M-NTC

$0

UFA

(2024)
McCann, Jared
LW

NHL --> 0

23

$1,250,000

$0

RFA

$0

UFA

Lafferty, Sam

C

NHL --> 0

25

$767,500

$0

RFA

$0

UFA

Angello, Anthony

RW

NHL --> 0

24

$833,750

$0

RFA

$0

UFA

Sheary, Conor
LW

NHL --> 0

27

$3,000,000

$0

UFA

Rodrigues, Evan
LW

NHL --> 0

26

$2,000,000

$0

RFA

$0

UFA

Simon, Dominik
RW

NHL --> 0

25

$750,000

$0

RFA

$0

UFA

Tanev, Brandon
LW

NHL --> 0

28

$3,500,000

M-NTC

$3,500,000

M-NTC

$3,500,000

M-NTC

$3,500,000

M-NTC

$3,500,000

M-NTC

$0

UFA

(2025)
Aston-Reese, Zach
LW

NHL --> 0

25

$1,000,000

$1,000,000

$0

RFA

$0

UFA

TOTALS
TOTALS

$57,151,250

$47,850,000

$42,000,000

$29,000,000

$18,200,000

$0
(8) Defence
$23,449,125
28.8% of cap
Player
POS
Age
2019-2020
2020-2021
2021-2022
2022-2023
2023-2024
Johnson, Jack
D

NHL --> 0

33

$3,250,000

$3,250,000

$3,250,000

$3,250,000

$0

UFA

Letang, Kris
D

NHL --> 0

33

$7,250,000

NMC

M-NTC

$7,250,000

NMC

M-NTC

$7,250,000

NMC

M-NTC

$0

UFA

Dumoulin, Brian
D

NHL --> 0

28

$4,100,000

$4,100,000

$4,100,000

$4,100,000

$0

UFA

Schultz, Justin
D

NHL --> 0

29

$5,500,000

M-NTC

$0

UFA

Ruhwedel, Chad
D

NHL --> 0

30

$700,000

$700,000

$0

UFA

Pettersson, Marcus
D

NHL --> 0

24

$874,125

$4,025,175

$4,025,175

$4,025,175

$4,025,175

M-NTC

$0

UFA

(2025)
Marino, John

D

NHL --> 0

23

$925,000

$925,000

$0

RFA

Riikola, Juuso
D

NHL --> 0

26

$850,000

$0

RFA

$0

UFA

TOTALS
TOTALS

$23,449,125

$20,250,175

$18,625,175

$11,375,175

$4,025,175

$0
(2) Goalies
$4,425,000
5.4% of cap
Player
POS
Age
2019-2020
2020-2021
2021-2022
2022-2023
2023-2024
Murray, Matt
G

NHL --> 0

26

$3,750,000

$0

RFA

$0

UFA

Jarry, Tristan
G

NHL --> 0

25

$675,000

$0

RFA

$0

UFA

TOTALS
TOTALS

$4,425,000

$0

$0

$0

$0

$0
(1) Buried
$175,000
0.2% of cap
Player
POS
Age
2019-2020
2020-2021
2021-2022
2022-2023
2023-2024
DeSmith, Casey
G

MIN --> 0

28

$175,000

$175,000

$125,000

$0

UFA

TOTALS
TOTALS

$175,000

$175,000

$125,000

$0

$0

$0
Cap Summary Projection Share Copy Link Embed Tweet It
2019-2020
2020-2021
2021-2022
2022-2023
Roster Size
27
16
11
8
Standard Player Contracts

Number of players signed to Standard Player Contracts (SPC's). Cannot exceed 50 players. Some players do not count towards this, such as 18/19 Year-Old players in Junior with less than 10 NHL Games Played in Season.

Learn More Or Ask A Question

48
34
23
11
Upper Limit

The maximum Salary Cap Hit of all players counting towards the active roster. Often referred to as "Salary Cap". This is determined in the summer and is based on the previous season's revenues, per the CBA.

Learn More Or Ask A Question

$81,500,000
$81,500,000
$81,500,000
$81,500,000
Projected Cap Hit

Anticipated Season-End Cap Hit based on the current roster, calculated by summing all Cap Hits of players currently counting towards the Salary Cap. Assumes current roster is in effect for the remainder of season.

Learn More Or Ask A Question

$81,782,461
$68,275,175
$60,750,175
$42,795,176
Projected Cap Space

Amount of Cap Space projected to be available at end of year. Calculated as Annual Salary Cap minus Projected Cap Hit.

Learn More Or Ask A Question

$-282,461
$13,224,825
$20,749,825
$38,704,824
Current Cap Space

Amount of Cap Space that can be added to the roster without exceeding the Upper Limit (Salary Cap Maximum) based on the current roster.

Learn More Or Ask A Question

$-282,461
$13,224,825
$20,749,825
$38,704,824
Maximum LTIR Pool

The maximum amount of Long Term Injured Reserve space potentially available. This is the Cap Hit of player on LTIR less the Cap Space available for team at time player was on LTIR. A player can go on LTIR when they expect to miss 10 games and 24 days in the season. A player on LTIR does not come off of the salary cap, instead a team is allowed to exceed the cap by the LTIR amount.

Learn More Or Ask A Question

$6,000,000
$0
$0
$0
Current Roster Annual Cap Hit

Anticipated Cap Hit based on the current roster, calculated by summing all Cap Hits of players currently counting towards the Salary Cap + retained salary + buyouts.

Learn More Or Ask A Question

$85,332,875
$68,275,175
$60,750,175
$42,795,176
Carryover Bonus Overages

Teams can exceed the salary cap due to players receiving performance bonuses. If a team exceeds the salary cap due to performance bonuses, they carryover to the previous season and reduce the cap space a team has.

Learn More Or Ask A Question

$132,500
$0
$0
$0
Potential Bonuses

Performance Bonuses that players on the active roster are eligible to achieve. A team can exceed the salary cap due to performance bonuses, but they carry over to the following season.

Learn More Or Ask A Question

$982,500
$850,000
$0
$0
Retained Salary Remaining

Teams can retain salary/cap hit when they trade a player. A team can only have a maximum of 3 players that they retained salary on.

Learn More Or Ask A Question

3
3
3
3
(24) Non-Roster
Player
POS
Age
2019-2020
2020-2021
2021-2022
2022-2023
2023-2024
Varone, Phil
C

MIN --> 0

29

$700,000

$0

UFA

Trotman, Zach
D

MIN --> 0

29

$700,000

$700,000

$0

UFA

Warsofsky, David
D

MIN --> 0

29

$700,000

$700,000

$0

UFA

Pedan, Andrey
D

MIN --> 0

26

$0

RFA

$0

UFA

Roy, Kevin
LW

MIN --> 0

27

$850,000

$0

UFA

Di Pauli, Thomas
RW

MIN --> 0

26

$700,000

$0

RFA

$0

UFA

Barber, Riley
RW

MIN --> 0

26

$700,000

$0

RFA

$0

UFA

Segalla, Ryan
D

--> 0

25

$0

$0

UFA

Czuczman, Kevin
D

MIN --> 0

29

$700,000

$700,000

$0

UFA

Nyberg, John

D

MIN --> 0

23

$745,000

$0

RFA

Taylor, Jeff
D

MIN --> 0

26

$0

UFA

$0

UFA

Knott, Graham

LW

MIN --> 0

23

$728,333

$0

RFA

Pavlychev, Nikita
C

--> 0

23

$0

Bengtsson, Lukas
D

MIN --> 0

26

$0

RFA

$0

UFA

Bjorkqvist, Kasper

RW

MIN --> 0

22

$790,000

$790,000

$0

RFA

Jones, Ryan
D

--> 0

24

$0

$0

UFA

Almari, Niclas

D

MIN --> 0

22

$809,166

$809,166

$809,166

$0

RFA

Masonius, Joseph
D

--> 0

23

$0

DeSmith, Casey
G

MIN --> 0

28

$1,250,000

$1,250,000

$1,250,000

$0

UFA

Joseph, Pierre-Olivier

D

MIN --> 0

20

$863,333

$863,333

$863,333

$0

RFA

Lauzon, Zachary
D

--> 0

21

$0

Phillips, Clayton
D

--> 0

20

$0

Drozg, Jan

RW

MIN --> 0

21

$809,166

$809,166

$809,166

$0

RFA

Olund, Linus

C

MIN --> 0

22

$775,833

$775,833

$0

RFA

Palojarvi, Antti
D

--> 0

21

$0

Reilly, William
D

--> 0

22

$0

Johnson, Adam
LW

MIN --> 0

25

$700,000

$0

RFA

$0

UFA

Miletic, Sam

LW

MIN --> 0

23

$710,000

$0

RFA

Hallander, Filip

C

MIN --> 0

19

SLIDE

$747,500

$747,500

$747,500

$0

RFA

Almeida, Justin

LW

MIN --> 0

21

$809,166

$809,166

$809,166

$0

RFA

Gorman, Liam
C

--> 0

20

$0

Bellerive, Jordan

C

MIN --> 0

21

$733,333

$733,333

$733,333

$0

RFA

D'Orio, Alex

G

MIN --> 0

21

$733,333

$733,333

$733,333

$0

RFA

Peters, Anthony
G

--> 0

29

$0

$0

UFA

$0

UFA

Uher, Dominik
C

--> 0

27

$0

RFA

$0

UFA

Larmi, Emil

G

MIN --> 0

23

$792,500

$792,500

$0

RFA

Poulin, Samuel

LW

MIN --> 0

19

SLIDE

$894,167

$894,167

$894,167

$0

RFA

Legare, Nathan

RW

MIN --> 0

19

SLIDE

$778,334

$778,334

$778,334

$0

RFA

Caulfield, Judd

--> 0

19

$0

$0

UFA

$0

UFA

Puustinen, Valtteri
LW

--> 0

20

$0

$0

UFA

$0

UFA

Airola, Santeri
D

--> 0

19

$0

$0

UFA

$0

UFA

Abt, Matt
D

--> 0

26

$0

$0

UFA

$0

UFA

Berger, Chase
C

--> 0

25

$0

$0

UFA

$0

UFA

Kim, Michael
D

--> 0

24

$0

$0

UFA

$0

UFA

Lizotte, Jon
D

--> 0

25

$0

$0

UFA

$0

UFA

O'Connor, Drew

LW

--> 0

21

$925,000

$925,000

Lee, Cam

D

--> 0

23

$925,000

$925,000

TOTALS
TOTALS

$17,561,663

$13,485,831

$9,027,498

$2,420,001

$0

$0