Line Combinations
Updated: Nov 13 (9:53am)
Line 1 $17,975,000
Pairing 1 $10,607,143
Line 2 $13,065,000
Pairing 2 $5,705,833
Line 3 $9,975,000
Pairing 3 $5,350,400
Line 4 $7,625,000
Goalies $5,500,000
Injury Report
TJ Brodie - Seizure

Brodie is dealing with the effects of a seizure, and his availability against the Coyotes on Saturday is in question.

questionable - Ques Sat

Updated Nov 14, 2019

Sam Bennett - Foot

Bennett is dealing with a foot contusion, and it is unknown if he will play against the Blues on Saturday.

questionable - Ques Sat

Updated Nov 8, 2019

Milan Lucic - Suspension

Lucic has been handed a two-game suspension due to a roughing penalty. He is likely to be reinstated in time for Thursday's contest versus the Coyotes.

out - Elig Thurs

Updated Nov 7, 2019
@NHLFlames (official)
Wanna win some new wheels,
#Flames
fans? Enter for your chance to win a brand new 2019 Chevrolet Malibu LT, courtesy of
@ShaganappiGm
! Enter now:
t.co/vkA3LUuSnI
t.co/XrM3QagfGx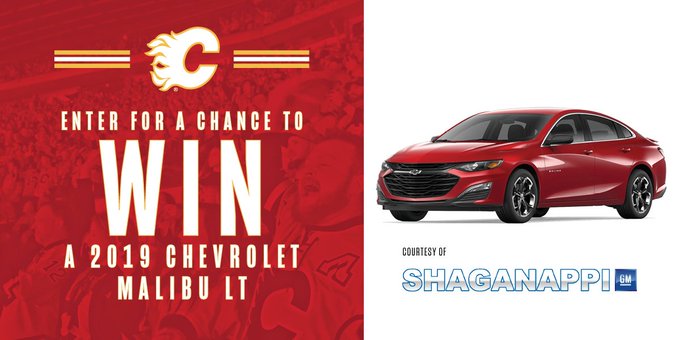 'TJ Brodie experienced an episode on ice at practice today. He is alert and responsive and has been transported to local area hospital for evaluation. We will provide a further update when available. Thank you.'
#Flames
GM Brad Treliving
t.co/VQYqHw717p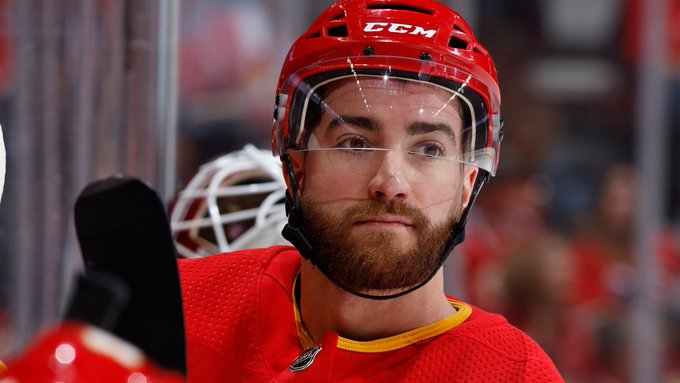 Calgary Flames Tweets
"We're really close friends, so it was really tough to see him like that. It was probably the scariest moment for me in my career. I don't think I've ever seen a guy down in that state." - Mark Giordano on seeing TJ Brodie in medical distress after collapsing at practice today.
For those asking, no, TJ Brodie will not be joining the team for its weekend road trip to Phx/Vegas. He will remain in Calgary under medical supervision.
Entry Level Contract
Waiver Exempt
Has Arbitration Rights
Two-way contract
(13) Forwards
$50,625,000
62.1% of cap
Player
POS
Age
2019-2020
2020-2021
2021-2022
2022-2023
2023-2024
Lucic, Milan
LW

NHL --> 0

31

NMC

NMC

NMC

M-NTC

NMC

M-NTC

$0

UFA

Backlund, Mikael
C

NHL --> 0

30

$5,350,000

NTC

$5,350,000

NTC

$5,350,000

M-NTC

$5,350,000

M-NTC

$5,350,000

M-NTC

$0

UFA

(2024)
Frolik, Michael
RW

NHL --> 0

31

$4,300,000

M-NTC

$0

UFA

Quine, Alan
C

NHL --> 0

26

$735,000

$0

UFA

Gaudreau, Johnny
LW

NHL --> 0

26

$6,750,000

$6,750,000

$6,750,000

M-NTC

$0

UFA

Rieder, Tobias
RW

NHL --> 0

26

$700,000

$0

RFA

Jankowski, Mark
C

NHL --> 0

25

$1,675,000

$0

RFA

$0

UFA

Lindholm, Elias
C

NHL --> 0

24

$4,850,000

$4,850,000

$4,850,000

$4,850,000

$4,850,000

$0

UFA

(2024)
Monahan, Sean
C

NHL --> 0

25

$6,375,000

$6,375,000

M-NTC

$6,375,000

M-NTC

$6,375,000

M-NTC

$0

UFA

Bennett, Sam
C

NHL --> 0

23

$2,550,000

$2,550,000

$0

RFA

$0

UFA

Czarnik, Austin
LTIR
C

LTIR --> 0

26

$1,250,000

$0

UFA

Ryan, Derek
C

NHL --> 0

32

$3,125,000

$3,125,000

$0

UFA

Mangiapane, Andrew
LW

NHL --> 0

23

$715,000

$0

RFA

$0

UFA

Tkachuk, Matthew
LW

NHL --> 0

21

$7,000,000

$7,000,000

$7,000,000

$0

RFA

$0

UFA

TOTALS
TOTALS

$50,625,000

$41,250,000

$35,575,000

$21,825,000

$10,200,000

$0
(7) Defence
$23,257,543
28.5% of cap
Player
POS
Age
2019-2020
2020-2021
2021-2022
2022-2023
2023-2024
Giordano, Mark
D

NHL --> 0

36

$6,750,000

NTC

$6,750,000

M-NTC

$6,750,000

M-NTC

$0

UFA

Brodie, TJ
D

NHL --> 0

29

$4,650,400

NMC

M-NTC

$0

UFA

Davidson, Brandon
D

NHL --> 0

28

$700,000

$0

UFA

Hamonic, Travis
D

NHL --> 0

29

$3,857,143

$0

UFA

Hanifin, Noah
D

NHL --> 0

22

$4,950,000

$4,950,000

$4,950,000

$4,950,000

M-NTC

$4,950,000

M-NTC

$0

UFA

(2024)
Andersson, Rasmus

D

NHL --> 0

23

$755,833

$0

RFA

Valimaki, Juuso
IR

D

IR --> 0

21

$894,167

$894,166

$0

RFA

Stone, Michael
D

NHL --> 0

29

$700,000

$0

UFA

TOTALS
TOTALS

$23,257,543

$12,594,166

$11,700,000

$4,950,000

$4,950,000

$0
(2) Goalies
$5,500,000
6.7% of cap
Player
POS
Age
2019-2020
2020-2021
2021-2022
2022-2023
2023-2024
Talbot, Cam
G

NHL --> 0

32

$2,750,000

$0

UFA

Rittich, David
G

NHL --> 0

27

$2,750,000

$2,750,000

$0

UFA

TOTALS
TOTALS

$5,500,000

$2,750,000

$0

$0

$0

$0
(0) Buried
$0
0.0% of cap
| Player | POS | Age | 2019-2020 | 2020-2021 | 2021-2022 | 2022-2023 | 2023-2024 | |
| --- | --- | --- | --- | --- | --- | --- | --- | --- |
| TOTALS | TOTALS | $0 | $0 | $0 | $0 | $0 | $0 | |
(2) Buyout & Retained Salary
$2,666,667
3.3% of cap
Player
POS
Age
2019-2020
2020-2021
2021-2022
2022-2023
2023-2024
Brouwer, Troy
Buyout
RW

NHL --> 0

34

$1,500,000

$1,500,000

$1,500,000

Stone, Michael
Buyout
D

NHL --> 0

29

$1,166,667

$1,166,667

TOTALS
TOTALS

$2,666,667

$2,666,667

$1,500,000

$0

$0

$0
Cap Summary Projection Share Copy Link Embed Tweet It
2019-2020
2020-2021
2021-2022
2022-2023
Roster Size
24
12
8
5
Standard Player Contracts

Number of players signed to Standard Player Contracts (SPC's). Cannot exceed 50 players. Some players do not count towards this, such as 18/19 Year-Old players in Junior with less than 10 NHL Games Played in Season.

Learn More Or Ask A Question

44
20
10
6
Upper Limit

The maximum Salary Cap Hit of all players counting towards the active roster. Often referred to as "Salary Cap". This is determined in the summer and is based on the previous season's revenues, per the CBA.

Learn More Or Ask A Question

$81,500,000
$81,500,000
$81,500,000
$81,500,000
Projected Cap Hit

Anticipated Season-End Cap Hit based on the current roster, calculated by summing all Cap Hits of players currently counting towards the Salary Cap. Assumes current roster is in effect for the remainder of season.

Learn More Or Ask A Question

$81,964,335
$59,260,833
$48,775,000
$27,538,334
Projected Cap Space

Amount of Cap Space projected to be available at end of year. Calculated as Annual Salary Cap minus Projected Cap Hit.

Learn More Or Ask A Question

$-464,335
$22,239,167
$32,725,000
$53,961,666
Current Cap Space

Amount of Cap Space that can be added to the roster without exceeding the Upper Limit (Salary Cap Maximum) based on the current roster.

Learn More Or Ask A Question

$-464,335
$22,239,167
$32,725,000
$53,961,666
Maximum LTIR Pool

The maximum amount of Long Term Injured Reserve space potentially available. This is the Cap Hit of player on LTIR less the Cap Space available for team at time player was on LTIR. A player can go on LTIR when they expect to miss 10 games and 24 days in the season. A player on LTIR does not come off of the salary cap, instead a team is allowed to exceed the cap by the LTIR amount.

Learn More Or Ask A Question

$1,095,088
$0
$0
$0
Current Roster Annual Cap Hit

Anticipated Cap Hit based on the current roster, calculated by summing all Cap Hits of players currently counting towards the Salary Cap + retained salary + buyouts.

Learn More Or Ask A Question

$82,049,210
$59,260,833
$48,775,000
$27,538,334
Carryover Bonus Overages

Teams can exceed the salary cap due to players receiving performance bonuses. If a team exceeds the salary cap due to performance bonuses, they carryover to the previous season and reduce the cap space a team has.

Learn More Or Ask A Question

$0
$0
$0
$0
Potential Bonuses

Performance Bonuses that players on the active roster are eligible to achieve. A team can exceed the salary cap due to performance bonuses, but they carry over to the following season.

Learn More Or Ask A Question

$482,500
$425,000
$0
$0
Retained Salary Remaining

Teams can retain salary/cap hit when they trade a player. A team can only have a maximum of 3 players that they retained salary on.

Learn More Or Ask A Question

3
3
3
3
(21) Non-Roster
Player
POS
Age
2019-2020
2020-2021
2021-2022
2022-2023
2023-2024
Froese, Byron
C

MIN --> 0

28

$700,000

$0

UFA

Rinaldo, Zac
LW

MIN --> 0

29

$700,000

$0

UFA

Gillies, Jon
G

MIN --> 0

25

$750,000

$0

RFA

$0

UFA

Robinson, Buddy
RW

MIN --> 0

28

$700,000

$0

UFA

Rychel, Kerby
LW

MIN --> 0

25

$0

UFA

$0

UFA

Rafikov, Rushan
D

--> 0

24

$0

$0

UFA

McDonald, Mason
G

MIN --> 0

23

$0

UFA

$0

UFA

Pollock, Brett
LW

MIN --> 0

23

$0

UFA

$0

UFA

Kirkland, Justin
LW

MIN --> 0

23

$700,000

$0

UFA

Valiev, Rinat
D

MIN --> 0

24

$700,000

$0

RFA

$0

UFA

Kylington, Oliver

D

MIN --> 0

22

$730,833

$0

RFA

Nielsen, Andrew

D

MIN --> 0

23

$697,500

$0

RFA

Gawdin, Glenn

C

MIN --> 0

22

$775,833

$0

RFA

Karnaukhov, Pavel
C

--> 0

22

$0

Lomberg, Ryan
LW

MIN --> 0

24

$700,000

$0

RFA

$0

UFA

Schneider, Nick

G

MIN --> 0

22

$675,000

$0

RFA

Parsons, Tyler

G

MIN --> 0

22

$759,167

$0

RFA

Dube, Dillon

C

MIN --> 0

21

$778,333

$778,334

$0

RFA

Lindstrom, Linus
D

--> 0

21

$0

Mattson, Mitchell
C

--> 0

21

$0

Tuulola, Eetu
RW

--> 0

21

$0

Phillips, Matthew

RW

MIN --> 0

21

$733,333

$733,333

$0

RFA

Healey, Josh
D

MIN --> 0

25

$0

UFA

$0

UFA

Ruzicka, Adam

C

MIN --> 0

20

$801,666

$801,666

$0

RFA

Fischer, Zach
RW

--> 0

22

$0

Joly, D'Artagnan
RW

--> 0

20

$0

Sveningsson, Filip
LW

--> 0

20

$0

Foo, Spencer
RW

MIN --> 0

25

$0

RFA

$0

UFA

Pospisil, Martin

C

MIN --> 0

21

$796,667

$796,667

$796,667

$0

RFA

Koumontzis, Demetrios
LW

--> 0

19

$0

Roman, Milos
C

--> 0

20

$0

Emilio Pettersen, Mathias
C

--> 0

19

$0

Zavgorodniy, Dmitry

LW

MIN --> 0

23

SLIDE

$763,334

$763,334

$763,334

$0

RFA

Brule, Gilbert
C

--> 0

32

$0

$0

UFA

$0

UFA

Christiansen, Jake
D

--> 0

20

$0

$0

UFA

$0

UFA

Ernst, Jordan
LW

--> 0

22

$0

$0

UFA

$0

UFA

McMurty, Mike
C

--> 0

27

$0

$0

UFA

$0

UFA

Merezhko, Igor
D

--> 0

21

$0

$0

UFA

$0

UFA

Rippon, Merrick
D

--> 0

19

$0

$0

UFA

$0

UFA

Vey, Linden
RW

--> 0

28

$0

RFA

Philp, Luke

C

MIN --> 0

24

$817,500

$817,500

$0

RFA

$0

UFA

Zagidulin, Artyom

G

MIN --> 0

24

$842,500

$0

RFA

$0

UFA

Yelesin, Alexander

D

MIN --> 0

23

$925,000

$925,000

$0

RFA

$0

UFA

Lerby, Carl-Johan

D

MIN --> 0

22

$925,000

$925,000

$0

RFA

Pelletier, Jakob
LW

--> 0

18

$0

$0

UFA

$0

UFA

Nikolaev, Ilya
D

--> 0

18

$0

$0

UFA

$0

UFA

Feuk, Lucas
C

--> 0

18

$0

$0

UFA

$0

UFA

Nodler, Joshua
C

--> 0

18

$0

$0

UFA

$0

UFA

Wolf, Dustin
G

--> 0

18

$0

$0

UFA

$0

UFA

Hamilton, Robert
D

--> 0

25

$0

$0

UFA

$0

UFA

McKenna, Jeremy
RW

--> 0

20

$0

$0

UFA

$0

UFA

Morelli, Mason
LW

--> 0

23

$0

$0

UFA

$0

UFA

Schueneman, Corey
D

--> 0

24

$0

$0

UFA

$0

UFA

TOTALS
TOTALS

$15,994,999

$6,540,834

$1,560,001

$763,334

$0

$0