Transactions
| | |
| --- | --- |
| re-signed LW Anthony Beauvillier to a two-year, $4.2 million contract. | Aug 28 |
| signed C Derick Brassard to a one-year, $1.2 million contract. | Aug 21 |
| re-signed LW Michael Dal Colle to a two-year, $1.4 million contract. | Aug 19 |
| re-signed RW Joshua Ho-Sang to a one-year, $874,000 contract. | Aug 19 |
| signed RW Simon Holmstrom to a three-year, entry-level contract. | Jul 15 |
New York Islanders Injury Report
Tom Kuhnhackl - Undisclosed
Kuhnhackl is recovering from and undisclosed injury, but it is likely that he will return in time to face the Capitals on Oct. 4.

probable - Prob Oct 4

Updated Sep 15, 2019

probable - Prob Oct 4

Updated Sep 15, 2019

Andrew Ladd - Knee
Ladd has been placed on the injured reserve list due to a torn ACL that ended his 2018-19 season, and there is no timetable for return.

I-R - Out indefinitely

Updated Sep 12, 2019

I-R - Out indefinitely

Updated Sep 12, 2019
New York Islanders Voices
@NYIslanders (official)
Holmstrom joins the group for his first day of camp.
#Isles
t.co/vNo0tHdpV8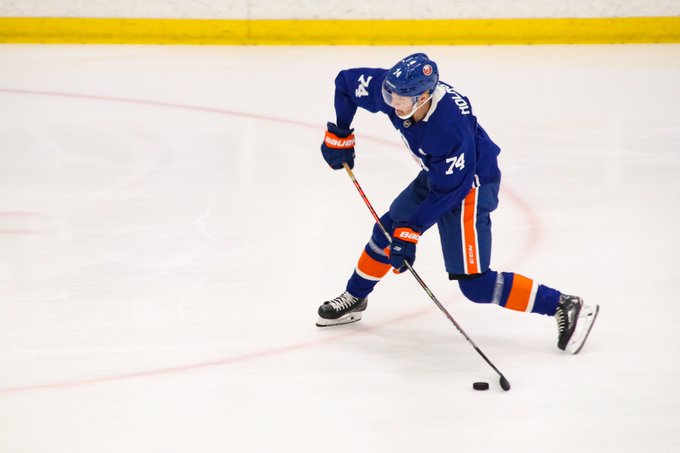 Training Camp day✌️: The latest on our goalie duo. AND a little look into Varly's 🔥🔥
#Isles
mask.
t.co/bkqwvuCgHL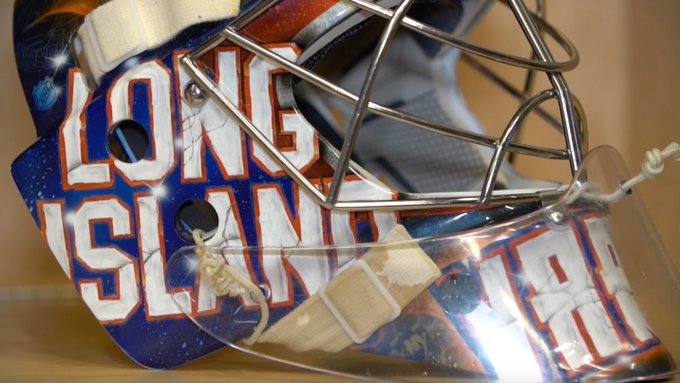 Tom Kuhnhackl and Simon Holmstrom are both considered day to day, while Mitch Vande Sompel is expected to be out for a while:
t.co/AEKcowTacS
New York Islanders Tweets
Nielsen giving up 51 for Filppula is the most Frans moment ever
t.co/fUyWklAuAY
Simon Holmstrom on the ice this morning. First time in camp.
Holmstrom, Wilde still day to day, didn't skate today. Vande Sompel walking around with his arm in a sling after crashing into the net yesterday. Tom Kuhnhackl hasn't skated first two days of camp either. Trotz will update soon.
Entry Level Contract
Waiver Exempt
Has Arbitration Rights
Two-way contract
(14) Forwards
$48,063,333
59.0% of cap
Player
POS
Age
2019-2020
2020-2021
2021-2022
2022-2023
2023-2024
Brassard, Derick
C

NHL --> 0

31

$1,200,000

$0

UFA

Ladd, Andrew
IR
LW

IR --> 0

33

$5,500,000

NTC

$5,500,000

M-NTC

$5,500,000

M-NTC

$5,500,000

M-NTC

$0

UFA

Clutterbuck, Cal
RW

NHL --> 0

31

$3,500,000

$3,500,000

$3,500,000

$0

UFA

Bailey, Josh
RW

NHL --> 0

29

$5,000,000

$5,000,000

$5,000,000

$5,000,000

$5,000,000

$0

UFA

(2024)
Eberle, Jordan
RW

NHL --> 0

29

$5,500,000

$5,500,000

$5,500,000

$5,500,000

$5,500,000

$0

UFA

(2024)
Martin, Matt
LW

NHL --> 0

30

$2,500,000

$0

UFA

Cizikas, Casey
C

NHL --> 0

28

$3,350,000

$3,350,000

$0

UFA

Lee, Anders
LW

NHL --> 0

29

$7,000,000

$7,000,000

$7,000,000

$7,000,000

$7,000,000

$0

UFA

(2026)
Nelson, Brock
C

NHL --> 0

27

$6,000,000

NTC

$6,000,000

NTC

$6,000,000

M-NTC

$6,000,000

M-NTC

$6,000,000

M-NTC

$0

UFA

(2025)
Kuhnhackl, Tom
RW

NHL --> 0

27

$850,000

$0

UFA

Komarov, Leo
RW

NHL --> 0

32

$3,000,000

M-NTC

$3,000,000

M-NTC

$3,000,000

M-NTC

$0

UFA

Johnston, Ross
LW

NHL --> 0

25

$1,000,000

$1,000,000

$1,000,000

$0

UFA

Dal Colle, Michael
LW

NHL --> 0

23

$700,000

$700,000

$0

RFA

$0

UFA

Barzal, Mathew

C

NHL --> 0

22

$863,333

$0

RFA

Beauvillier, Anthony
LW

NHL --> 0

22

$2,100,000

$2,100,000

$0

RFA

$0

UFA

TOTALS
TOTALS

$48,063,333

$42,650,000

$36,500,000

$29,000,000

$23,500,000

$0
(7) Defence
$19,750,000
24.2% of cap
Player
POS
Age
2019-2020
2020-2021
2021-2022
2022-2023
2023-2024
Boychuk, Johnny
D

NHL --> 0

35

$6,000,000

M-NTC

$6,000,000

M-NTC

$6,000,000

M-NTC

$0

UFA

Hickey, Thomas
D

NHL --> 0

30

$2,500,000

$2,500,000

$2,500,000

$0

UFA

Sbisa, Luca
D

NHL --> 0

29

$0

UFA

Leddy, Nick
D

NHL --> 0

28

$5,500,000

$5,500,000

$5,500,000

$0

UFA

Mayfield, Scott
D

NHL --> 0

26

$1,450,000

$1,450,000

$1,450,000

$1,450,000

$0

UFA

Pelech, Adam
D

NHL --> 0

25

$1,600,000

$1,600,000

$0

RFA

$0

UFA

Pulock, Ryan
D

NHL --> 0

24

$2,000,000

$0

RFA

$0

UFA

Toews, Devon
D

NHL --> 0

25

$700,000

$0

RFA

$0

UFA

TOTALS
TOTALS

$19,750,000

$17,050,000

$15,450,000

$1,450,000

$0

$0
(2) Goalies
$8,333,333
10.2% of cap
Player
POS
Age
2019-2020
2020-2021
2021-2022
2022-2023
2023-2024
Greiss, Thomas
G

NHL --> 0

33

$3,333,333

$0

UFA

Varlamov, Semyon
G

NHL --> 0

31

$5,000,000

$5,000,000

$5,000,000

$5,000,000

$0

UFA

TOTALS
TOTALS

$8,333,333

$5,000,000

$5,000,000

$5,000,000

$0

$0
(0) Buried
$0
0.0% of cap
| Player | POS | Age | 2019-2020 | 2020-2021 | 2021-2022 | 2022-2023 | 2023-2024 | |
| --- | --- | --- | --- | --- | --- | --- | --- | --- |
| TOTALS | TOTALS | $0 | $0 | $0 | $0 | $0 | $0 | |
Cap Summary Projection Share Copy Link Embed Tweet It
2019-2020
2020-2021
2021-2022
2022-2023
Roster Size
24
17
13
7
Standard Player Contracts

Number of players signed to Standard Player Contracts (SPC's). Cannot exceed 50 players. Some players do not count towards this, such as 18/19 Year-Old players in Junior with less than 10 NHL Games Played in Season.

Learn More Or Ask A Question

51
30
19
7
Upper Limit

The maximum Salary Cap Hit of all players counting towards the active roster. Often referred to as "Salary Cap". This is determined in the summer and is based on the previous season's revenues, per the CBA.

Learn More Or Ask A Question

$81,500,000
$81,500,000
$81,500,000
$81,500,000
Projected Cap Hit

Anticipated Season-End Cap Hit based on the current roster, calculated by summing all Cap Hits of players currently counting towards the Salary Cap. Assumes current roster is in effect for the remainder of season.

Learn More Or Ask A Question

$76,146,666
$64,700,000
$56,950,000
$35,450,000
Projected Cap Space

Amount of Cap Space projected to be available at end of year. Calculated as Annual Salary Cap minus Projected Cap Hit.

Learn More Or Ask A Question

$5,353,334
$16,800,000
$24,550,000
$46,050,000
Current Cap Space

Amount of Cap Space that can be added to the roster without exceeding the Upper Limit (Salary Cap Maximum) based on the current roster.

Learn More Or Ask A Question

$5,353,334
$16,800,000
$24,550,000
$46,050,000
Maximum LTIR Pool

The maximum amount of Long Term Injured Reserve space potentially available. This is the Cap Hit of player on LTIR less the Cap Space available for team at time player was on LTIR. A player can go on LTIR when they expect to miss 10 games and 24 days in the season. A player on LTIR does not come off of the salary cap, instead a team is allowed to exceed the cap by the LTIR amount.

Learn More Or Ask A Question

$0
$0
$0
$0
Current Roster Annual Cap Hit

Anticipated Cap Hit based on the current roster, calculated by summing all Cap Hits of players currently counting towards the Salary Cap + retained salary + buyouts.

Learn More Or Ask A Question

$76,146,666
$64,700,000
$56,950,000
$35,450,000
Carryover Bonus Overages

Teams can exceed the salary cap due to players receiving performance bonuses. If a team exceeds the salary cap due to performance bonuses, they carryover to the previous season and reduce the cap space a team has.

Learn More Or Ask A Question

$0
$0
$0
$0
Potential Bonuses

Performance Bonuses that players on the active roster are eligible to achieve. A team can exceed the salary cap due to performance bonuses, but they carry over to the following season.

Learn More Or Ask A Question

$400,000
$0
$0
$0
Retained Salary Remaining

Teams can retain salary/cap hit when they trade a player. A team can only have a maximum of 3 players that they retained salary on.

Learn More Or Ask A Question

3
3
3
3
(27) Non-Roster
Player
POS
Age
2019-2020
2020-2021
2021-2022
2022-2023
2023-2024
Bernier, Steve
RW

MIN --> 0

34

$0

UFA

Gionta, Stephen
RW

MIN --> 0

35

$0

UFA

Helgeson, Seth
D

MIN --> 0

28

$675,000

$0

UFA

Gibson, Christopher
G

MIN --> 0

26

$675,000

$0

UFA

Coreau, Jared
G

MIN --> 0

27

$700,000

$0

UFA

Gudlevskis, Kristers
G

MIN --> 0

27

$0

RFA

$0

UFA

Burroughs, Kyle
D

MIN --> 0

24

$675,000

$0

RFA

$0

UFA

Ho-Sang, Joshua
RW

MIN --> 0

23

$874,125

$0

RFA

$0

UFA

Sorokin, Ilya
G

--> 0

24

$0

$0

UFA

Soderstrom, Linus

G

MIN --> 0

23

$803,333

$0

RFA

Schempp, Kyle
C

MIN --> 0

25

$0

UFA

$0

UFA

Bardreau, Cole
C

MIN --> 0

26

$700,000

$700,000

$0

UFA

Bailey, Casey
C

--> 0

27

$0

Vande Sompel, Mitchell

D

MIN --> 0

22

$728,333

$0

RFA

Wotherspoon, Parker

D

MIN --> 0

22

$732,500

$0

RFA

Song, Andong
D

--> 0

22

$0

Hansson, Petter
D

--> 0

23

$0

$0

UFA

Lorito, Matt
RW

MIN --> 0

29

$675,000

$0

UFA

Bellows, Kieffer

LW

MIN --> 0

21

$894,167

$894,167

$0

RFA

Golyshev, Anatoli
LW

--> 0

24

$0

$0

UFA

Koivula, Otto

LW

MIN --> 0

21

$786,666

$786,666

$0

RFA

Adams, Collin
LW

--> 0

21

$0

Pastujov, Nick
LW

--> 0

21

$0

Quenneville, David

D

MIN --> 0

21

$775,833

$775,833

$0

RFA

Fritz, Tanner
C

NHL --> 0

28

$700,000

$700,000

$0

UFA

Stevens, John
C

MIN --> 0

25

$0

UFA

$0

UFA

Salo, Robin
D

--> 0

20

$0

Mirageas, Benjamin
D

--> 0

20

$0

Aho, Sebastian

D

MIN --> 0

23

$770,000

$0

RFA

$0

UFA

Durandeau, Arnaud

LW

--> 0

20

$756,667

$756,667

$756,667

$0

RFA

Cockerill, Logan
LW

--> 0

20

$0

Kubiak, Jeff
C

--> 0

25

$0

$0

UFA

St. Denis, Travis
C

MIN --> 0

26

$675,000

$0

UFA

Turcotte, Yannick
LW

--> 0

23

$0

$0

UFA

Eansor, Scott

C

MIN --> 0

23

$720,000

$0

RFA

$0

UFA

Wahlstrom, Oliver

RW

--> 0

19

$925,000

$925,000

$925,000

$0

RFA

Dobson, Noah

D

MIN --> 0

19

$894,167

$894,167

$894,167

$0

RFA

Wilde, Bode

D

--> 0

19

$778,333

$778,333

$778,333

$0

RFA

Iskhakov, Ruslan
C

--> 0

19

$0

Skarek, Jakub

G

MIN --> 0

19

$778,333

$778,333

$778,333

$0

RFA

Pivonka, Jacob
C

--> 0

19

$0

Jenkins, Blade
LW

--> 0

19

$0

Krygier, Christian
D

--> 0

19

$0

Bourque, Chris
C

--> 0

33

$0

$0

UFA

$0

UFA

Bourque, Ryan
C

--> 0

28

$0

$0

UFA

$0

UFA

Buitenhuis, Evan
G

--> 0

26

$0

$0

UFA

$0

UFA

Cornell, Mike
D

--> 0

31

$0

Gaudreau, Matt
RW

--> 0

24

$0

$0

UFA

$0

UFA

Gillam, Mitch
G

--> 0

26

$0

$0

UFA

$0

UFA

Hitchcock, Ryan
C

--> 0

23

$0

$0

UFA

$0

UFA

Holmstrom, Ben
C

--> 0

32

$0

$0

UFA

$0

UFA

MacKinnon, Ryan
D

--> 0

25

$0

$0

UFA

$0

UFA

MacLean, Kyle
LW

--> 0

20

$0

$0

UFA

$0

UFA

Mueller, Tyler
D

--> 0

25

$0

$0

UFA

$0

UFA

Rathgeb, Yannick

D

MIN --> 0

23

$925,000

$0

RFA

$0

UFA

Vella, Emmanuel
G

--> 0

21

$0

$0

UFA

$0

UFA

Hutton, Grant

D

--> 0

24

$925,000

$0

RFA

$0

UFA

$0

UFA

Carpenter, Bobo

LW

--> 0

23

$792,500

$792,500

$0

RFA

$0

UFA

$0

UFA

Jobst, Mason

C

--> 0

25

$792,500

$792,500

$0

RFA

Holmström, Simon

RW

--> 0

18

$925,000

$925,000

$925,000

$0

UFA

$0

UFA

$0

UFA

Bolduc, Samuel
D

--> 0

18

$0

$0

UFA

$0

UFA

Newkirk, Reece
C

--> 0

18

$0

$0

UFA

$0

UFA

Bibeau, Felix
C

--> 0

20

$0

$0

UFA

$0

UFA

Coskey, Cole
RW

--> 0

20

$0

$0

UFA

$0

UFA

TOTALS
TOTALS

$21,052,457

$10,499,166

$5,057,500

$0

$0

$0