Transactions
| | |
| --- | --- |
| NHL suspended C Evgeny Kuznetsov three games for for inappropriate conduct. | Sep 14 |
| re-signed C Chandler Stephenson to a one-year, $1.05 million contract. | Jul 27 |
| re-signed D Christian Djoos to a one-year, $1.25 million contract. | Jul 24 |
| re-signed LW Jakub Vrana to a two-year, $6.7 million contract. | Jul 16 |
| signed RW Brett Leason to a three-year, entry-level contract. | Jul 11 |
Washington Capitals Injury Report
Evgeny Kuznetsov - Suspension
Kuznetsov has been suspended for three games due to inappropriate conduct. He is likely to make his season debut against the Stars on Oct. 8.

out - Elig Oct 8

Updated Sep 15, 2019

out - Elig Oct 8

Updated Sep 15, 2019
Washington Capitals Voices
@Capitals (official)
We missed you so much DC!
#ALLCAPS
t.co/0s4WNe9WMv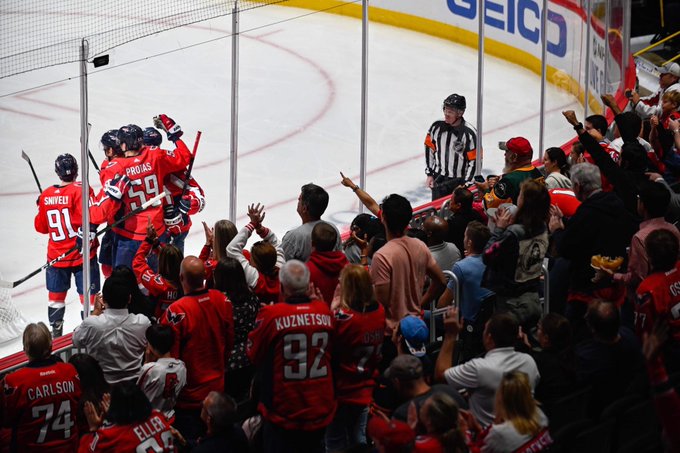 RT
@CapitalsPR
: Groups and lines for tomorrow's Training Camp session. Group Blue will begin at 9:30 a.m., Group White at 11:30 a.m. and Gr…
Washington Capitals Tweets
First time we've seen Kempny listed as being part of one of the groups. Indicates he may not be as limited tomorrow.
t.co/o6dcqWoFcN
Riat said he's returning to his Swiss team in a couple days. He doesn't have a contract there beyond this season though.
t.co/QWAyUj9tLn
Entry Level Contract
Waiver Exempt
Has Arbitration Rights
Two-way contract
(14) Forwards
$52,105,129
63.9% of cap
Player
POS
Age
2019-2020
2020-2021
2021-2022
2022-2023
2023-2024
Hagelin, Carl
LW

NHL --> 0

31

$2,750,000

$2,750,000

$2,750,000

$2,750,000

$0

UFA

Ovechkin, Alex
LW

NHL --> 0

33

$9,538,462

M-NTC

$9,538,462

M-NTC

$0

UFA

Backstrom, Nicklas
C

NHL --> 0

31

$6,700,000

M-NTC

$0

UFA

Oshie, T.J.
RW

NHL --> 0

32

$5,750,000

M-NTC

$5,750,000

M-NTC

$5,750,000

M-NTC

$5,750,000

M-NTC

$5,750,000

M-NTC

$0

UFA

(2025)
Eller, Lars
C

NHL --> 0

30

$3,500,000

$3,500,000

$3,500,000

$3,500,000

$0

UFA

Panik, Richard
RW

NHL --> 0

28

$2,750,000

$2,750,000

$2,750,000

$2,750,000

$0

UFA

Dowd, Nic
C

NHL --> 0

29

$750,000

$750,000

$750,000

$0

UFA

Kuznetsov, Evgeny
C

NHL --> 0

27

$7,800,000

M-NTC

$7,800,000

M-NTC

$7,800,000

M-NTC

$7,800,000

M-NTC

$7,800,000

M-NTC

$0

UFA

(2025)
Boyd, Travis
C

NHL --> 0

26

$800,000

$0

RFA

$0

UFA

Wilson, Tom
RW

NHL --> 0

25

$5,166,667

$5,166,667

M-NTC

$5,166,667

M-NTC

$5,166,666

M-NTC

$5,166,666

M-NTC

$0

UFA

(2024)
Stephenson, Chandler
C

NHL --> 0

25

$1,050,000

$0

RFA

$0

UFA

Leipsic, Brendan
LW

NHL --> 0

25

$700,000

$0

UFA

$0

UFA

Vrana, Jakub
LW

NHL --> 0

23

$3,350,000

$3,350,000

$0

RFA

$0

UFA

Hathaway, Garnet
RW

NHL --> 0

27

$1,500,000

$1,500,000

$1,500,000

$1,500,000

$0

UFA

TOTALS
TOTALS

$52,105,129

$42,855,129

$29,966,667

$29,216,666

$18,716,666

$0
(7) Defence
$22,409,166
27.5% of cap
Player
POS
Age
2019-2020
2020-2021
2021-2022
2022-2023
2023-2024
Gudas, Radko
D

NHL --> 0

29

$0

UFA

Carlson, John
D

NHL --> 0

29

$8,000,000

$8,000,000

$8,000,000

$8,000,000

$8,000,000

$0

UFA

(2026)
Orlov, Dmitry
D

NHL --> 0

28

$5,100,000

M-NTC

$5,100,000

M-NTC

$5,100,000

M-NTC

$5,100,000

M-NTC

$0

UFA

Jensen, Nick
D

NHL --> 0

28

$2,500,000

$2,500,000

$2,500,000

$2,500,000

$0

UFA

Djoos, Christian
D

NHL --> 0

25

$1,250,000

$0

RFA

$0

UFA

Siegenthaler, Jonas

D

NHL --> 0

22

$714,166

$0

RFA

Kempny, Michal
D

NHL --> 0

29

$2,500,000

$2,500,000

$2,500,000

$0

UFA

TOTALS
TOTALS

$22,409,166

$18,100,000

$18,100,000

$15,600,000

$8,000,000

$0
(2) Goalies
$7,200,000
8.8% of cap
Player
POS
Age
2019-2020
2020-2021
2021-2022
2022-2023
2023-2024
Holtby, Braden
G

NHL --> 0

30

$6,100,000

M-NTC

$0

UFA

Copley, Pheonix
G

NHL --> 0

27

$1,100,000

$1,100,000

$1,100,000

$0

UFA

TOTALS
TOTALS

$7,200,000

$1,100,000

$1,100,000

$0

$0

$0
(0) Buried
$0
0.0% of cap
| Player | POS | Age | 2019-2020 | 2020-2021 | 2021-2022 | 2022-2023 | 2023-2024 | |
| --- | --- | --- | --- | --- | --- | --- | --- | --- |
| TOTALS | TOTALS | $0 | $0 | $0 | $0 | $0 | $0 | |
Cap Summary Projection Share Copy Link Embed Tweet It
2019-2020
2020-2021
2021-2022
2022-2023
Roster Size
23
15
13
10
Standard Player Contracts

Number of players signed to Standard Player Contracts (SPC's). Cannot exceed 50 players. Some players do not count towards this, such as 18/19 Year-Old players in Junior with less than 10 NHL Games Played in Season.

Learn More Or Ask A Question

50
33
22
10
Upper Limit

The maximum Salary Cap Hit of all players counting towards the active roster. Often referred to as "Salary Cap". This is determined in the summer and is based on the previous season's revenues, per the CBA.

Learn More Or Ask A Question

$81,500,000
$81,500,000
$81,500,000
$81,500,000
Projected Cap Hit

Anticipated Season-End Cap Hit based on the current roster, calculated by summing all Cap Hits of players currently counting towards the Salary Cap. Assumes current roster is in effect for the remainder of season.

Learn More Or Ask A Question

$82,864,295
$62,055,129
$49,166,667
$44,816,666
Projected Cap Space

Amount of Cap Space projected to be available at end of year. Calculated as Annual Salary Cap minus Projected Cap Hit.

Learn More Or Ask A Question

$-1,364,295
$19,444,871
$32,333,333
$36,683,334
Current Cap Space

Amount of Cap Space that can be added to the roster without exceeding the Upper Limit (Salary Cap Maximum) based on the current roster.

Learn More Or Ask A Question

$-1,364,295
$19,444,871
$32,333,333
$36,683,334
Maximum LTIR Pool

The maximum amount of Long Term Injured Reserve space potentially available. This is the Cap Hit of player on LTIR less the Cap Space available for team at time player was on LTIR. A player can go on LTIR when they expect to miss 10 games and 24 days in the season. A player on LTIR does not come off of the salary cap, instead a team is allowed to exceed the cap by the LTIR amount.

Learn More Or Ask A Question

$0
$0
$0
$0
Current Roster Annual Cap Hit

Anticipated Cap Hit based on the current roster, calculated by summing all Cap Hits of players currently counting towards the Salary Cap + retained salary + buyouts.

Learn More Or Ask A Question

$82,864,295
$62,055,129
$49,166,667
$44,816,666
Carryover Bonus Overages

Teams can exceed the salary cap due to players receiving performance bonuses. If a team exceeds the salary cap due to performance bonuses, they carryover to the previous season and reduce the cap space a team has.

Learn More Or Ask A Question

$1,150,000
$0
$0
$0
Potential Bonuses

Performance Bonuses that players on the active roster are eligible to achieve. A team can exceed the salary cap due to performance bonuses, but they carry over to the following season.

Learn More Or Ask A Question

$82,500
$0
$0
$0
Retained Salary Remaining

Teams can retain salary/cap hit when they trade a player. A team can only have a maximum of 3 players that they retained salary on.

Learn More Or Ask A Question

3
3
3
3
(27) Non-Roster
Player
POS
Age
2019-2020
2020-2021
2021-2022
2022-2023
2023-2024
Sgarbossa, Michael
C

MIN --> 0

27

$700,000

$700,000

$0

UFA

Jokipakka, Jyrki
D

--> 0

28

$0

Kosmachuk, Scott
RW

MIN --> 0

25

$0

UFA

$0

UFA

O'Brien, Liam
C

MIN --> 0

25

$700,000

$0

RFA

$0

UFA

Maillet, Philippe
C

--> 0

26

$700,000

$700,000

$0

UFA

Hughes, Tommy
D

--> 0

27

$0

Pinho, Brian
C

MIN --> 0

24

$700,000

$0

RFA

$0

UFA

Lewington, Tyler
D

MIN --> 0

24

$675,000

$0

RFA

$0

UFA

Vanecek, Vitek
G

MIN --> 0

23

$716,667

$716,667

$716,667

$0

RFA

$0

UFA

Gersich, Shane
LW

MIN --> 0

23

$700,000

$0

RFA

Spinner, Steven
RW

--> 0

23

$0

$0

UFA

Elgestal, Kevin
RW

--> 0

23

$0

$0

UFA

Samsonov, Ilya

G

MIN --> 0

22

$925,000

$925,000

$0

RFA

Hobbs, Connor

D

MIN --> 0

22

$720,000

$0

RFA

Williams, Colby
D

MIN --> 0

24

$700,000

$0

RFA

$0

UFA

Johansen, Lucas

D

MIN --> 0

21

$925,000

$0

RFA

Pilon, Garrett

C

MIN --> 0

21

$745,000

$745,000

$0

RFA

Riat, Damien
LW

--> 0

22

$0

Malenstyn, Beck

LW

MIN --> 0

21

$736,666

$736,666

$0

RFA

Jonsson-Fjallby, Axel

LW

MIN --> 0

21

$860,000

$860,000

$0

RFA

Mitchell, Mason
LW

MIN --> 0

25

$0

UFA

$0

UFA

Bindulis, Kristofers

D

MIN --> 0

23

$792,500

$0

RFA

$0

UFA

Gustafsson, Hampus
C

MIN --> 0

25

$0

UFA

$0

UFA

Geisser, Tobias

D

MIN --> 0

20

$775,000

$775,000

$775,000

$0

RFA

Walfridsson, Sebastian
D

--> 0

20

$0

Maass, Benton
D

--> 0

20

$0

Roykas Marthinsen, Kristian
LW

--> 0

20

$0

Alexeyev, Alexander

D

MIN --> 0

19

$894,167

$894,167

$894,167

$0

RFA

Fehervary, Martin

D

MIN --> 0

19

$805,833

$805,833

$805,833

$0

RFA

Clark, Kody

RW

MIN --> 0

19

$839,167

$839,167

$839,167

$0

RFA

Sutter, Riley

RW

MIN --> 0

19

$786,667

$786,667

$786,667

$0

RFA

Gibson, Mitchell
G

--> 0

24

$0

$0

UFA

Kannok-Leipert, Alex
D

--> 0

19

$0

Florchuk, Eric
C

--> 0

19

$0

Ikonen, Juuso

RW

MIN --> 0

24

$925,000

$0

RFA

$0

UFA

Kammerer, Maximilian

C

MIN --> 0

22

$870,000

$870,000

$0

RFA

Bau-Hansen, Mathias
RW

MIN --> 0

26

$0

UFA

$0

UFA

Shumakov, Sergei
RW

MIN --> 0

27

$0

RFA

$0

UFA

Marthinsen, Kristian
LW

--> 0

20

$0

$0

UFA

$0

UFA

Milner, Parker
G

MIN --> 0

29

$0

UFA

Morrison, Adam
G

--> 0

28

$0

$0

UFA

$0

UFA

Thompson, Logan
G

--> 0

22

$0

$0

UFA

$0

UFA

McHale, Gavin
G

--> 0

31

$0

Snively, Joe

LW

--> 0

23

$925,000

$925,000

$0

RFA

$0

UFA

$0

UFA

Nardella, Bobby

D

--> 0

23

$925,000

$925,000

$0

RFA

$0

UFA

McMichael, Connor
C

--> 0

18

$925,000

$925,000

$925,000

$0

RFA

$0

UFA

$0

UFA

Leason, Brett

RW

--> 0

20

$842,500

$842,500

$842,500

$0

RFA

$0

UFA

$0

UFA

Protas, Aliaksei

C

--> 0

18

$825,833

$825,833

$825,833

$0

RFA

Has, Martin
D

--> 0

18

$0

$0

UFA

$0

UFA

TOTALS
TOTALS

$21,635,000

$14,797,500

$7,410,834

$0

$0

$0