| | |
| --- | --- |
| Cap Hit | $73,034,203 |
| Cap Space | $8,465,797 |
| LTIR Pool | $0 |
| Roster | 17/23 |
| Contracts | 28/50 |
No games currently scheduled
Line Combinations
Updated: Aug 19 (7:26am)
Line 1 $15,854,000
Pairing 1 $11,050,000
Line 2 $8,125,000
Pairing 2 $5,250,000
Line 3 $8,100,000
Pairing 3 $4,050,000
Line 4 $6,876,667
Goalies $6,525,000
Carolina Hurricanes Voices
@Canes (official)
┏┓ ┃┃╱╲ in this ┃╱╱╲╲ house ╱╱╭╮╲╲ we ▔▏┗┛▕▔ respect ╱▔▔▔▔▔▔▔▔▔▔╲ Dobby ╱╱┏┳┓╭╮┏┳┓ ╲╲ ▔▏┗┻┛┃┃┗┻┛▕▔
#GoStars
Carolina Hurricanes Tweets
"What's that bear doing?"
#KeepPounding
t.co/YoP0kSpAph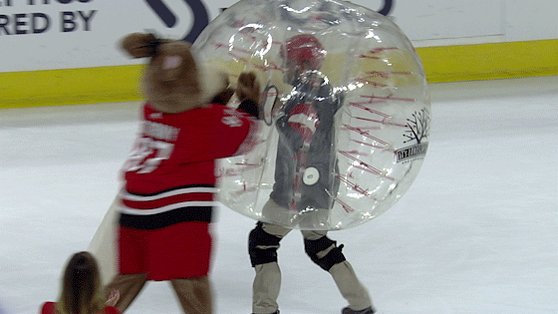 Impossible to overstate how Bailey Hockman, the accidental quarterback, calmed NC State's early nerves amid difficult circumstances. Feels like State will go back to Devin Leary as soon as he's ready, but the understudy made the most of his time on stage.
t.co/kyI9felrbe
Might have been Walker's easiest run of the night.
Entry Level Contract
Waiver Exempt
Has Arbitration Rights
Two-way contract
(10) Forwards
$39,117,334
48.0% of cap
Player
POS
Age
2020-2021
2021-2022
2022-2023
2023-2024
2024-2025
Williams, Justin
RW

NHL --> 0

38

$0

UFA

Staal, Jordan
C

NHL --> 0

32

$6,000,000

NMC

$6,000,000

NMC

$6,000,000

NMC

$0

UFA

Niederreiter, Nino
RW

NHL --> 0

28

$5,250,000

$5,250,000

$0

UFA

Trocheck, Vincent
C

NHL --> 0

27

$4,750,000

$4,750,000

$0

UFA

Dzingel, Ryan
C

NHL --> 0

28

$3,375,000

$0

UFA

Teravainen, Teuvo
LW

NHL --> 0

26

$5,400,000

$5,400,000

$5,400,000

$5,400,000

$0

UFA

McGinn, Brock
LW

NHL --> 0

26

$2,100,000

$0

UFA

Martinook, Jordan
LW

NHL --> 0

28

$2,000,000

$0

UFA

Maenalanen, Saku
RW

NHL --> 0

26

$0

RFA

$0

UFA

Foegele, Warren
LW

NHL --> 0

24

$0

RFA

$0

UFA

Aho, Sebastian
RW

NHL --> 0

23

$8,454,000

$8,454,000

$8,454,000

$8,454,000

$0

UFA

Necas, Martin

C

NHL --> 0

21

$863,334

$863,334

$0

RFA

Svechnikov, Andrei

RW

NHL --> 0

20

$925,000

$0

RFA

TOTALS
TOTALS

$39,117,334

$30,717,334

$19,854,000

$13,854,000

$0

$0
(5) Defence
$24,375,000
29.9% of cap
Player
POS
Age
2020-2021
2021-2022
2022-2023
2023-2024
2024-2025
Vatanen, Sami
D

NHL --> 0

29

$0

UFA

Gardiner, Jake
D

NHL --> 0

30

$4,050,000

$4,050,000

$4,050,000

$0

UFA

Hamilton, Dougie
D

NHL --> 0

27

$5,750,000

M-NTC

$0

UFA

Skjei, Brady
D

NHL --> 0

26

$5,250,000

$5,250,000

$5,250,000

$5,250,000

$0

UFA

Slavin, Jaccob
D

NHL --> 0

26

$5,300,000

$5,300,000

M-NTC

$5,300,000

M-NTC

$5,300,000

M-NTC

$5,300,000

M-NTC

$0

UFA

(2025)
Pesce, Brett
D

NHL --> 0

25

$4,025,000

$4,025,000

$4,025,000

$4,025,000

$0

UFA

van Riemsdyk, Trevor
D

NHL --> 0

29

$0

UFA

Fleury, Haydn
D

NHL --> 0

24

$0

RFA

$0

UFA

TOTALS
TOTALS

$24,375,000

$18,625,000

$18,625,000

$14,575,000

$5,300,000

$0
(2) Goalies
$6,525,000
8.0% of cap
Player
POS
Age
2020-2021
2021-2022
2022-2023
2023-2024
2024-2025
Reimer, James
G

NHL --> 0

32

$3,400,000

$0

UFA

Mrazek, Petr
G

NHL --> 0

28

$3,125,000

$0

UFA

TOTALS
TOTALS

$6,525,000

$0

$0

$0

$0

$0
(0) Buried
$0
0.0% of cap
| Player | POS | Age | 2020-2021 | 2021-2022 | 2022-2023 | 2023-2024 | 2024-2025 | |
| --- | --- | --- | --- | --- | --- | --- | --- | --- |
| TOTALS | TOTALS | $0 | $0 | $0 | $0 | $0 | $0 | |
(1) Buyout & Retained Salary
$2,333,333
2.9% of cap
Player
POS
Age
2020-2021
2021-2022
2022-2023
2023-2024
2024-2025
Semin, Alexander
Buyout

--> 0

36

$2,333,333

TOTALS
TOTALS

$2,333,333

$0

$0

$0

$0

$0
Cap Summary Projection Share Copy Link Embed Tweet It
2020-2021
2021-2022
2022-2023
2023-2024
Roster Size
17
10
7
5
Standard Player Contracts

Number of players signed to Standard Player Contracts (SPC's). Cannot exceed 50 players. Some players do not count towards this, such as 18/19 Year-Old players in Junior with less than 10 NHL Games Played in Season.

Learn More Or Ask A Question

28
16
9
5
Upper Limit

The maximum Salary Cap Hit of all players counting towards the active roster. Often referred to as "Salary Cap". This is determined in the summer and is based on the previous season's revenues, per the CBA.

Learn More Or Ask A Question

$81,500,000
$81,500,000
$81,500,000
$81,500,000
Projected Cap Hit

Anticipated Season-End Cap Hit based on the current roster, calculated by summing all Cap Hits of players currently counting towards the Salary Cap. Assumes current roster is in effect for the remainder of season.

Learn More Or Ask A Question

$73,034,203
$50,025,871
$38,479,000
$28,429,000
Projected Cap Space

Amount of Cap Space projected to be available at end of year. Calculated as Annual Salary Cap minus Projected Cap Hit.

Learn More Or Ask A Question

$8,465,797
$31,474,129
$43,021,000
$53,071,000
Current Cap Space

Amount of Cap Space that can be added to the roster without exceeding the Upper Limit (Salary Cap Maximum) based on the current roster.

Learn More Or Ask A Question

$8,465,797
$31,474,129
$43,021,000
$53,071,000
Maximum LTIR Pool

The maximum amount of Long Term Injured Reserve space potentially available. This is the Cap Hit of player on LTIR less the Cap Space available for team at time player was on LTIR. A player can go on LTIR when they expect to miss 10 games and 24 days in the season. A player on LTIR does not come off of the salary cap, instead a team is allowed to exceed the cap by the LTIR amount.

Learn More Or Ask A Question

$0
$0
$0
$0
Current Roster Annual Cap Hit

Anticipated Cap Hit based on the current roster, calculated by summing all Cap Hits of players currently counting towards the Salary Cap + retained salary + buyouts.

Learn More Or Ask A Question

$73,034,203
$50,025,871
$38,479,000
$28,429,000
Carryover Bonus Overages

Teams can exceed the salary cap due to players receiving performance bonuses. If a team exceeds the salary cap due to performance bonuses, they carryover to the previous season and reduce the cap space a team has.

Learn More Or Ask A Question

$683,536
$683,537
$0
$0
Potential Bonuses

Performance Bonuses that players on the active roster are eligible to achieve. A team can exceed the salary cap due to performance bonuses, but they carry over to the following season.

Learn More Or Ask A Question

$3,187,500
$537,500
$0
$0
Retained Salary Remaining

Teams can retain salary/cap hit when they trade a player. A team can only have a maximum of 3 players that they retained salary on.

Learn More Or Ask A Question

3
3
3
3
(11) Non-Roster
Player
POS
Age
2020-2021
2021-2022
2022-2023
2023-2024
2024-2025
Samuelsson, Philip
D

MIN --> 0

29

$0

RFA

Kichton, Brenden
D

MIN --> 0

28

$0

RFA

Gibbons, Brian
LW

MIN --> 0

32

$0

UFA

Hofmann, Gregory
C

--> 0

27

$0

McCormick, Max
LW

MIN --> 0

28

$0

UFA

Forsberg, Anton
G

MIN --> 0

27

$0

UFA

Smallman, Spencer
RW

MIN --> 0

24

$0

RFA

$0

UFA

Bishop, Clark
C

MIN --> 0

24

$0

RFA

$0

UFA

Nedeljkovic, Alex
G

MIN --> 0

24

$737,500

$0

RFA

$0

UFA

McKeown, Roland
D

MIN --> 0

24

$0

RFA

$0

UFA

Wesley, Josh
D

MIN --> 0

24

$0

UFA

$0

UFA

Forsling, Gustav
D

MIN --> 0

24

$0

RFA

$0

UFA

Booth, Callum
G

MIN --> 0

23

$0

RFA

$0

UFA

Cotton, David

C

--> 0

23

$858,750

$858,750

$0

RFA

Lorentz, Steven
C

MIN --> 0

24

$0

RFA

$0

UFA

Bean, Jake

D

MIN --> 0

22

$863,333

$0

RFA

Lafontaine, Jack
G

--> 0

22

$0

Helvig, Jeremy

G

MIN --> 0

23

$761,666

$0

RFA

$0

UFA

Geekie, Morgan

C

MIN --> 0

22

$763,333

$0

RFA

Mattheos, Stelio

RW

MIN --> 0

21

$809,166

$809,166

$0

RFA

Makiniemi, Eetu
G

--> 0

21

$0

De Jong, Brendan
D

--> 0

22

$0

Rasanen, Ville

--> 0

25

$0

$0

UFA

Bokk, Dominik

LW

MIN --> 0

20

$863,334

$863,334

$863,334

$0

RFA

Drury, Jack
C

--> 0

20

$0

Keane, Joey

D

MIN --> 0

21

$809,166

$809,166

$0

RFA

Henman, Luke
C

--> 0

20

$0

Killinen, Lenni
LW

--> 0

20

$0

Sellgren, Jesper

D

MIN --> 0

22

$803,333

$803,333

$0

RFA

Kucharski, Jacob
G

--> 0

20

$0

Didier, Josiah
D

--> 0

27

$0

$0

UFA

$0

UFA

Pritchard, Jacob
LW

MIN --> 0

25

$0

RFA

$0

UFA

Kaski, Oliwer
D

MIN --> 0

25

$0

RFA

$0

UFA

Suzuki, Ryan

C

MIN --> 0

19

$894,167

$894,167

$894,167

$0

RFA

Kochetkov, Pyotr
D

--> 0

23

$0

$0

UFA

$0

UFA

Rees, Jamieson
C

--> 0

19

$0

$0

UFA

$0

UFA

Puistola, Patrick
LW

--> 0

19

$0

$0

UFA

$0

UFA

Honka, Anttoni
D

--> 0

19

$0

$0

UFA

$0

UFA

Fensore, Domenick
D

--> 0

19

$0

$0

UFA

$0

UFA

Webber, Cade
D

--> 0

19

$0

$0

UFA

$0

UFA

Tieksola, Tuukka
RW

--> 0

19

$0

$0

UFA

$0

UFA

Slepets, Kirill
RW

--> 0

21

$0

$0

UFA

$0

UFA

Wall, Kevin
RW

--> 0

20

$0

$0

UFA

$0

UFA

Murphy, Blake
D

--> 0

20

$0

$0

UFA

$0

UFA

Rizzo, Massimo
C

--> 0

19

$0

$0

UFA

$0

UFA

Murray, Blake
C

--> 0

19

$0

$0

UFA

$0

UFA

Sheppard, Derek
D

--> 0

26

$0

$0

UFA

$0

UFA

Ayres, David
G

--> 0

23

$0

$0

UFA

$0

UFA

Cotton, Jason

C

--> 0

25

$725,000

$0

RFA

$0

UFA

TOTALS
TOTALS

$8,888,748

$5,037,916

$1,757,501

$0

$0

$0