| | |
| --- | --- |
| Projected Cap Hit | $83,137,501 |
| Projected Cap Space | $362,499 |
| Current Cap Space | $362,499 |
| LTIR Pool | $0 |
| Roster | 22/23 |
| Contracts | 48/50 |
Transactions
| | |
| --- | --- |
| Eetu Luostarinen | Luostarinen was in Group A for Thursday's first practice of training camp, Colby Guy of Florida Hockey Now reports. | Sep 21 |
| Sam Bennett | Bennett (lower body) feels healthy after the Florida Panthers' first training camp practice Thursday, Colby Guy of Florida Hockey Now reports. | Sep 21 |
| Brett Ritchie | Ritchie signed a professional tryout agreement with the Florida Panthers on Tuesday, per George Richards of Florida Hockey Now. | Sep 19 |
| Spencer Knight | Knight (personal) is training in South Florida in preparation for the 2023-24 campaign, David Dwork of Local 10 Miami reports. | Sep 16 |
| Matthew Tkachuk | Tkachuk (broken sternum) will be available for the start of training camp, Dan Rosen of NHL.com reports. | Sep 12 |
Injury Report
Expected Return Sun Oct 1, 2023

Carter Verhaeghe - DAY-TO-DAY - Undisclosed

Fri Sep 22, 2023

Carter Verhaeghe

| Verhaeghe is day-to-day due to muscle tightness, Panthers coach Paul Maurice told Colby Guy of Florida Hockey Now on Friday.

Expected Return Tue Dec 12, 2023

Brandon Montour - OUT - Shoulder

Expected Return Thu Dec 14, 2023

Aaron Ekblad - OUT - Shoulder

Surgery
Cats at camp 😸
t.co/AJoXbAQ5Tn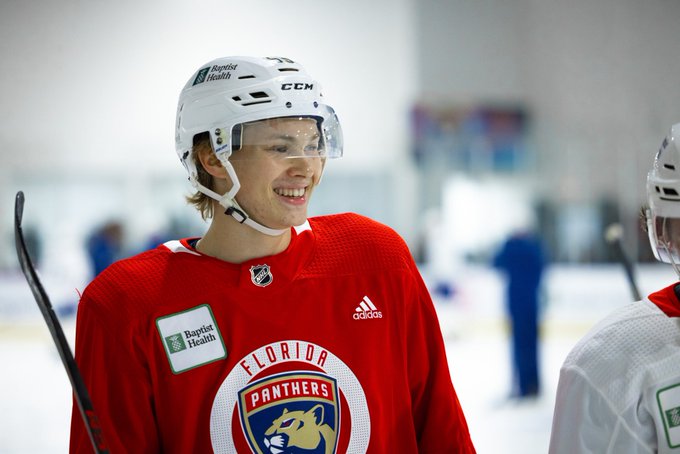 "His growth, from when I first saw him to now, is awesome."
@JamesonCoop
details Mackie Samoskevich's journey to the pros, his goals for this year, and what it's like to be back in the Sunshine State! 📝
Spencer Knight did not address why he left the
#FlaPanthers
in February, but he did speak on a variety of subjects Wednesday — including how he is trying to deal with whatever comes his way moving forward.
t.co/eqSjKWaPXk
Entry Level Contract
Slide Eligible
Has Arbitration Rights
Two-way contract
(13) Forwards
$44,741,667
53.6% of cap
Player
POS

Age

2023-2024
2024-2025
2025-2026
2026-2027
Staal, Eric

C

NHL --> 0

38

$0

UFA

Hornqvist, Patric

RW

NHL --> 0

36

$0

UFA

Ritchie, Brett

RW

NHL --> 0

30

$0

UFA

Cousins, Nick

C

NHL --> 0

30

$1,100,000

$0

UFA

Barkov, Aleksander

C

NHL --> 0

28

$10,000,000

NMC

$10,000,000

NMC

$10,000,000

NMC

$10,000,000

NMC

$0

UFA


(2030)
Verhaeghe, Carter

LW

NHL --> 0

28

$4,166,667

$4,166,667

$0

UFA

Reinhart, Sam

RW

NHL --> 0

27

$6,500,000

$0

UFA

Bennett, Sam

C

NHL --> 0

27

$4,425,000

$4,425,000

$0

UFA

Rodrigues, Evan

LW

NHL --> 0

30

$3,000,000

$3,000,000

$3,000,000

$3,000,000

$0

UFA


(2027)
Stenlund, Kevin

C

NHL --> 0

27

$1,000,000

$0

UFA

Lorentz, Steven

C

NHL --> 0

27

$1,050,000

$0

UFA

Lomberg, Ryan

LW

NHL --> 0

28

$800,000

$0

UFA

Tkachuk, Matthew

LW

NHL --> 0

25

$9,500,000

NMC

$9,500,000

NMC

$9,500,000

NMC

$9,500,000

NMC

$0

UFA


(2030)
Asplund, Rasmus

C

NHL --> 0

25

$775,000

$0

RFA

$0

UFA

Luostarinen, Eetu

C

NHL --> 0

25

$1,500,000

$3,000,000

$3,000,000

$3,000,000

$0

UFA


(2027)
Lundell, Anton

C

NHL --> 0

21

$925,000

$0

RFA

TOTALS

$44,741,667

$34,091,667

$25,500,000

$25,500,000
(6) Defence
$21,341,667
25.6% of cap
Player
POS

Age

2023-2024
2024-2025
2025-2026
2026-2027
Kulikov, Dmitry

D

NHL --> 0

32

$1,000,000

$0

UFA

Ekman-Larsson, Oliver

D

NHL --> 0

32

$2,250,000

$0

UFA

Reilly, Mike

D

MIN --> 0

30

$1,000,000

$0

UFA

Ekblad, Aaron
IR

D

IR --> 0

27

$7,500,000

NMC

$7,500,000

M-NTC

$0

UFA

Montour, Brandon
IR

D

IR --> 0

29

$3,500,000

$0

UFA

Forsling, Gustav

D

NHL --> 0

27

$2,666,667

$0

UFA

Mikkola, Niko

D

NHL --> 0

27

$2,500,000

$2,500,000

$2,500,000

$0

UFA


(2026)
Mahura, Josh

D

NHL --> 0

25

$925,000

$0

RFA

$0

UFA

TOTALS

$21,341,667

$10,000,000

$2,500,000
(3) Goalies
$15,600,000
18.7% of cap
Player
POS

Age

2023-2024
2024-2025
2025-2026
2026-2027
Bobrovsky, Sergei

G

NHL --> 0

35

$10,000,000

NMC

$10,000,000

M-NTC

$10,000,000

M-NTC

$0

UFA


(2026)
Stolarz, Anthony

G

NHL --> 0

29

$1,100,000

$0

UFA

Knight, Spencer

G

MIN --> 0

22

$4,500,000

$4,500,000

$4,500,000

$0

RFA


(2026)
TOTALS

$15,600,000

$14,500,000

$14,500,000
(0) Buried
$0
0.0% of cap
Player
POS

Age

2023-2024
2024-2025
2025-2026
2026-2027
TOTALS
(1) Buyout & Retained Salary
$1,241,667
1.5% of cap
Player
POS

Age

2023-2024
2024-2025
2025-2026
2026-2027
Yandle, Keith
Buyout
D

NHL --> 0

37

$1,241,667

$1,241,667

TOTALS

$1,241,667

$1,241,667
Cap Summary Projection Share Copy Link Embed Tweet It
2023-2024
2024-2025
2025-2026
2026-2027
Roster Size
22
10
7
4
Standard Player Contracts

Number of players signed to Standard Player Contracts (SPC's). Cannot exceed 50 players. Some players do not count towards this, such as 18/19 Year-Old players in Junior with less than 10 NHL Games Played in Season.

Learn More Or Ask A Question

48
23
11
4
Upper Limit

The maximum Salary Cap Hit of all players counting towards the active roster. Often referred to as "Salary Cap". This is determined in the summer and is based on the previous season's revenues, per the CBA.

Learn More Or Ask A Question

$83,500,000
$83,500,000
$83,500,000
$83,500,000
Projected Cap Hit

Anticipated Season-End Cap Hit based on the current roster, calculated by summing all Cap Hits of players currently counting towards the Salary Cap. Assumes current roster is in effect for the remainder of season.

Learn More Or Ask A Question

$83,137,501
$59,833,334
$42,500,000
$25,500,000
Projected Cap Space

Amount of Cap Space projected to be available at end of year. Calculated as Annual Salary Cap minus Projected Cap Hit.

Learn More Or Ask A Question

$362,499
$23,666,666
$41,000,000
$58,000,000
Current Cap Space

Amount of Annual Cap Hit that can be added to the roster without exceeding the Upper Limit (Salary Cap Maximum) based on the current roster. For teams using LTIR, Current Cap Space is the amount of annual cap hit that can be added without exceeding the Salary Cap by more than the team's LTIR Pool.

Learn More Or Ask A Question

$362,499
$23,666,666
$41,000,000
$58,000,000
Maximum LTIR Pool

The maximum amount of Long Term Injured Reserve space potentially available. This is the Cap Hit of player on LTIR less the Cap Space available for team at time player was on LTIR. A player can go on LTIR when they expect to miss 10 games and 24 days in the season. A player on LTIR does not come off of the salary cap, instead a team is allowed to exceed the cap by the LTIR amount.

Learn More Or Ask A Question

$0
$0
$0
$0
Current Roster Annual Cap Hit

Anticipated Cap Hit based on the current roster, calculated by summing all Cap Hits of players currently counting towards the Salary Cap + retained salary + buyouts.

Learn More Or Ask A Question

$83,137,501
$59,833,334
$42,500,000
$25,500,000
Carryover Bonus Overages

Teams can exceed the salary cap due to players receiving performance bonuses. If a team exceeds the salary cap due to performance bonuses, they carryover to the previous season and reduce the cap space a team has.

Learn More Or Ask A Question

$212,500
$0
$0
$0
Potential Bonuses

Performance Bonuses that players on the active roster are eligible to achieve. A team can exceed the salary cap due to performance bonuses, but they carry over to the following season.

Learn More Or Ask A Question

$850,000
$0
$0
$0
Retained Salary Remaining

Teams can retain salary/cap hit when they trade a player. A team can only have a maximum of 3 players that they retained salary on.

Learn More Or Ask A Question

3
3
3
3
(24) Non-Roster
Player
POS

Age

2023-2024
2024-2025
2025-2026
2026-2027
Bitetto, Anthony

D

MIN --> 0 -->

33

$0

UFA

Dalpe, Zac

C

MIN --> 0 -->

33

$775,000

$775,000

$0

UFA

Beauchemin, Francois

C

--> 0 -->

27

$0

Buckles, Matt

RW

--> 0 -->

28

$0

Wegwerth, Joe

LW

--> 0 -->

27

$0

Saarela, Aleksi

C

NHL --> 0 -->

26

$0

RFA

$0

UFA

Korshkov, Yegor

RW

MIN --> 0 -->

27

$0

RFA

$0

UFA

Lockwood, William

RW

MIN --> 0 -->

25

$775,000

$775,000

$0

UFA

Fitzgerald, Casey

D

NHL --> 0 -->

26

$775,000

$0

UFA

Nassen, Linus

D

--> 0 -->

25

$0

$0

UFA

Bunnaman, Connor

C

MIN --> 0 -->

25

$0

$0

UFA

Carlsson, Lucas

D

MIN --> 0 -->

26

$775,000

$0

RFA

$0

UFA

Heponiemi, Aleksi

C

MIN --> 0 -->

24

$0

RFA

$0

UFA

Gildon, Maxwell

D

MIN --> 0 -->

24

$0

UFA

$0

UFA

Sjalin, Calle

D

MIN --> 0 -->

24

$855,000

$0

RFA

Denisenko, Grigori

LW

MIN --> 0 -->

23

$775,000

$775,000

$0

RFA

Noel, Serron

RW

MIN --> 0 -->

23

$0

UFA

Hutsko, Logan

RW

MIN --> 0 -->

24

$0

RFA

$0

UFA

Schutz, Justin

LW

--> 0 -->

23

$0

Kinnunen, Santtu

D

MIN --> 0 -->

24

$855,000

$0

RFA

$0

UFA

True, Alexander

C

MIN --> 0 -->

26

$775,000

$0

RFA

$0

UFA

MacPherson, Dylan

D

--> 0 -->

25

$0

$0

UFA

Mayhew, Gerald

C

NHL --> 0 -->

30

$775,000

$0

UFA

Ludvig, John

D

MIN --> 0 -->

23

$775,000

$775,000

$0

RFA

Berger, Carter

D

--> 0 -->

24

$0

$0

UFA

Lindmark, Owen

C

--> 0 -->

22

$0

$0

UFA

Meireles, Greg

C

--> 0 -->

24

$0

$0

UFA

Wedman, Matthew

C

--> 0 -->

24

$0

$0

UFA

Lochead, Will

D

--> 0 -->

25

$0

$0

UFA

Pecararo, Liam

LW

--> 0 -->

27

$0

$0

UFA

Rockwood, Adam

C

--> 0 -->

28

$0

$0

UFA

Sourdif, Justin

C

MIN --> 0 -->

21

$847,500

$847,500

$0

RFA

Benning, Michael

D

NHL --> 0 -->

21

$916,667

$916,667

$0

RFA

Uens, Zachary

D

MIN --> 0 -->

22

$859,167

$859,167

$0

RFA

Puutio, Kasper

D

--> 0 -->

21

$0

$0

UFA

Ekmark, Elliot

C

--> 0 -->

21

$0

$0

UFA

Kiersted, Matt

D

MIN --> 0 -->

25

$762,500

$0

$0

UFA

Nause, Evan

D

MIN --> 0 -->

20

$864,167

$864,167

$864,167

$0

RFA


(2026)
Samoskevich, Matthew

C

--> 0 -->

20

$925,000

$925,000

$0

RFA

Lukashevich, Vladislav

D

--> 0 -->

20

$0

$0

UFA

Gerasimyuk, Kirill

G

--> 0 -->

20

$0

$0

UFA

Kos, Jakub

C

--> 0 -->

20

$0

$0

UFA

Hache, Braden

D

--> 0 -->

20

$0

$0

UFA

Guzda, Mack

G

MIN --> 0 -->

22

$897,500

$0

RFA

Alscher, Marek

D

--> 0 -->

19

$896,667

$896,667

$896,667

$0

RFA


(2026)
Jansson, Ludvig

D

--> 0 -->

19

$0

$0

UFA

Vilmanis, Sandis

LW

--> 0 -->

19

$0

$0

UFA

Davies, Joshua

C

--> 0 -->

19

$0

$0

UFA

Muszelik, Tyler

G

--> 0 -->

19

$0

$0

UFA

Arnsby, Liam

C

--> 0 -->

19

$0

$0

UFA

Devine, Jack

RW

--> 0 -->

19

$0

$0

UFA

Staios, Nathan

D

MIN --> 0 -->

22

$859,167

$859,167

$0

RFA

Giles, Patrick

RW

MIN --> 0 -->

23

$812,500

$0

RFA

Schwindt, Kai

LW

MIN --> 0 -->

19

$821,667

$821,667

$821,667

$0

RFA


(2026)
McAllister, Ryan

C

--> 0 -->

21

$896,667

$896,667

$896,667

$0

RFA


(2026)
Balinskis, Uvis

D

--> 0 -->

27

$870,000

$0

UFA

Waeber, Ludovic

G

--> 0 -->

27

$950,000

$0

UFA

Sawchyn, Gracyn

C

--> 0 -->

18

$0

$0

UFA

Wikman, Albert

D

--> 0 -->

18

$0

$0

UFA

Glifford, Olof

G

--> 0 -->

18

$0

$0

UFA

Coughlin, Luke

D

--> 0 -->

18

$0

$0

UFA

Zvyagin, Stepan

C

--> 0 -->

19

$0

$0

UFA

TOTALS

$20,089,169

$10,986,669

$3,479,168